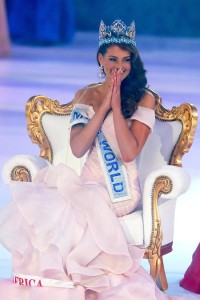 Get the latest fashion news here…
Amidst feminist concerns about the Miss World pageant, organizers cancel swimsuit segment for future shows. On British Vogue.
Looking for the ultimate luxury vacation? Take suggestions from top designers– you know they'll except nothing less than premier relaxation. On Style.com.
Reformation founder Yael Aflalo credits company's success to a combination of "altruism and narcissism." More on the New York Times.
Instagram is cracking down on "fake followers:" What are the implications for style accounts? On Fashionista.
This year, fashion and art became more integrated than ever before. On i-D.
Photo Credit: PA