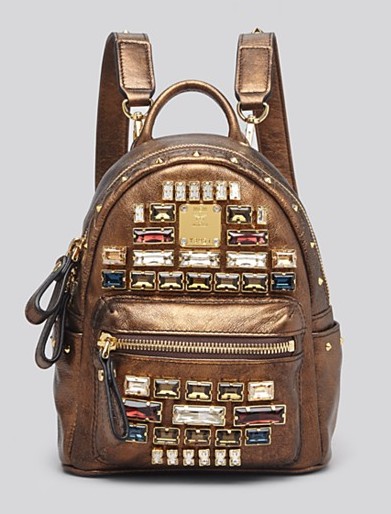 It's best to start with the truth: I am not a fan of the big studded backpacks from MCM, especially the fully monogrammed ones. (Just being totally honest.) I see them frequently at airports, and the whole situation has a really low appeal to me. But then I spot this bejeweled baby-backpack, and it's a whole other story. Instead of bringing to mind long flights and luggage, I'm seeing an alluring little ray of light that can go just about anywhere.
This newest edition is merely a tiny backpack so cute in size it lends itself to a new dimension. It performs a sparkling light show of fully encrusted crystals, sparkling in an array of sizes, shapes, and colors. And I could not be more dazzled. How could I not be swayed by a backpack that comes complete with a single, extra-long strap so you can wear the bag crossbody (since the size makes it a bit awkward to wear fully across the back)? I admit, I'm smitten. This is definitely a one-shoulder style, and I'm a one-backpack type of girl…Just don't tell my other backpacks. MCM Stark Edelin at Bloomingdale's
for $2,500.
Pair with: Don't compromise when it comes to your ankle boots! Or sandals, for that matter. Pick up Giuseppe Zanotti's hybrid, which protect your feet while showcasing them. On NET-A-PORTER
for $587.50, from $1,175.