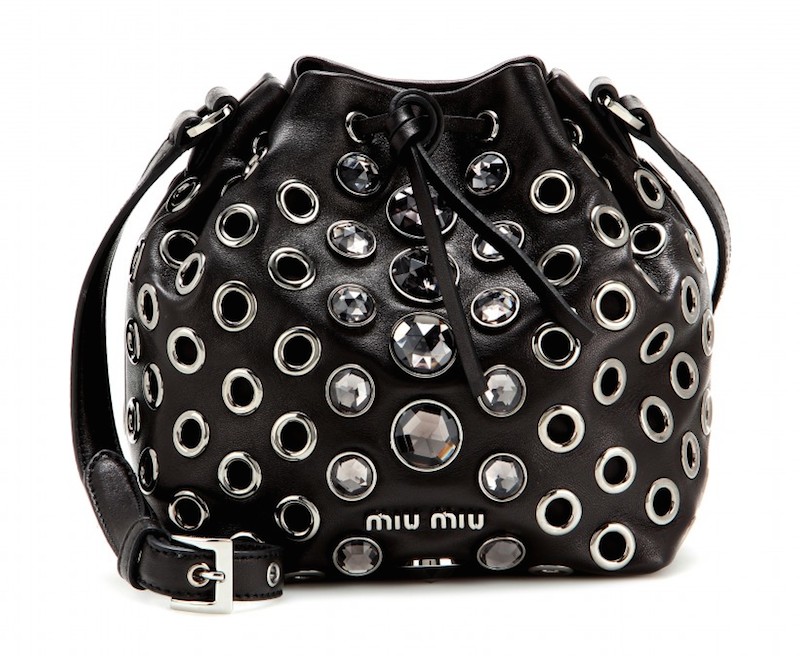 Maybe it's just the holiday mood speaking, but I'm currently really into oversized crystal embellishments. Lately, it's the bigger, the better – which isn't always the case! A bag like Miu Miu's drawstring leather bag serves as a winning example of that mantra. All the large, chunky bling looks even more appealing on this tiny bucket bag. Think of a baby's features, all round, wide eyes. The result here is pure charm and undeniable cuteness.
The fact that there are more tough, metal-topped eyelets on this mini-bag than glittering embellishments also makes it a success. The contrast lets the sprinkling of sparkle speak for itself, without overwhelming the perfectly hardware-heavy look. If decadence, without the prissiness, is what you're after for the season, then you'd better get to it. This one will be a quick seller. Miu Miu crystal-embellished leather drawstring bag on My Theresa
for $1,390.
Pair with: Make them say "Wow!" not only to your bag, but in response to your neck bling. Diane Kordas' 18-karat rose gold and diamond necklace is as lighthearted and funny as it is small and striking. On NET-A-PORTER
for $2,235.