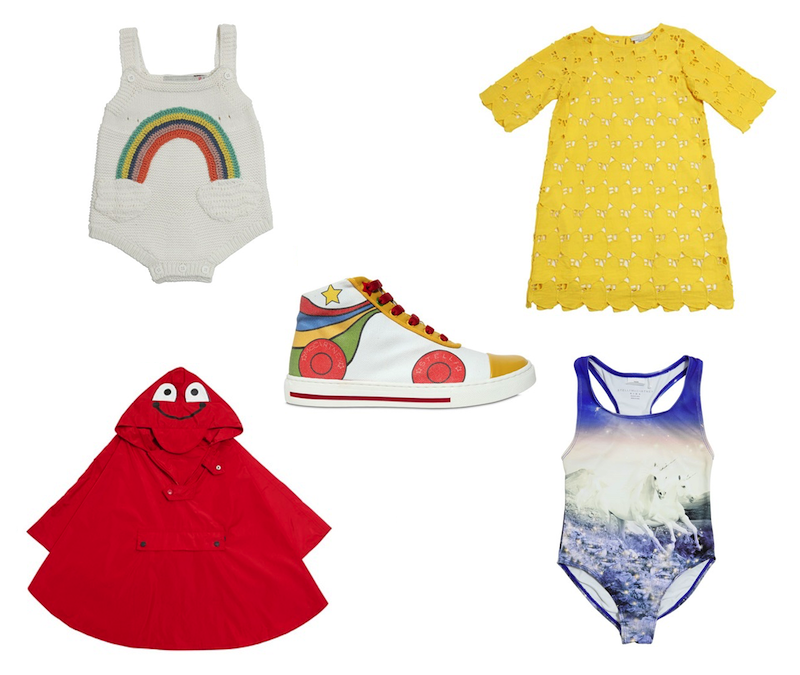 Mondays in the adult world may not conjure up the thought of rainbows and unicorns, but for Stella McCartney kids, this summer is bound to be pure magic. No one does tot fashion like the Brit designer. She brings together the playful look that little ones love with the material elements that parents appreciate: organic cotton and non-toxic dyes. For this collection, she took inspiration from her own childhood, which judging by these pieces, must have come straight out of a fairytale…
Organic Cotton Tricot Romper ($110): Tots' heads are always somewhere over the rainbow. Why not take meaning literally with a sweet, itty-bitty onesie?
Heart Lace Effect Cotton Voile Dress ($155): As if lace weren't cute enough, this yellow cotton voile comes embroidered with delicate hearts.
Printed Nylon Canvas High Top Sneakers ($170): Is it just me, or did Stella have dad's Yellow Submarine playing in the background when she designed these kicks?
Nylon Rain Poncho ($140): Tots LOVE to splash in puddles, and certainly do not care what you paid for that adorable summer dress. Keep it safe beneath this bug-eyed poncho!
Unicorn Printed Lycra One Piece Swimsuit ($100): Whether or not they know that unicorns are real, they are sure to love this digital print.