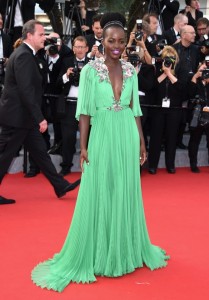 Check out the latest in fashion news here…
WhoWhatWear has a roundup of the best looks from the red carpet at this year's Cannes Film Festival in France.
The Business of Fashion's Imran Amed interviews Raf Simons just hours before the designer presented his Cruise collection for Dior at the Bubble Palace in France.
Vogue takes a virtual tour of Frida Kahlo's world for a sneak peek at what's to come from New York Botanical Garden's upcoming exhibit of the artist's work.
From Brooke Shields to Tom Ford, Dazed Digital breaks down the history of banned ad campaigns.
Everyone is buzzing about Rihanna's new campaign for Dior; the musician is the first black woman to be the face of the fashion house in 69 years. See the groundbreaking ads and a preview for the short film (out May 18th) on WWD.
Photo Credit: Venturelli/WireImage