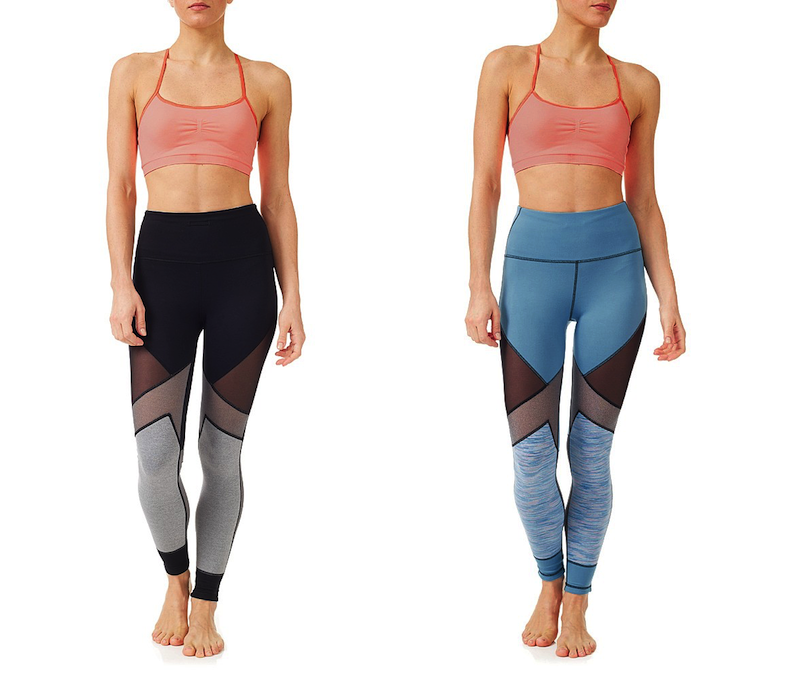 It's no secret that the market for athletic wear has exploded and that prices are anything but frugal, which is why Sweaty Betty's line of reversible leggings caught my eye. Priced at around $120 – $150 depending on the style, the pants are designed to be worn two totally different ways (usually either a vibrant print or a solid black side out). You might think that reversible means that they're thick – but they're not! They're super lightweight (a must if you're using them for your yoga practice or running in the heat – both of which I've done with them), but they're also not so thin that you have to worry about showing your bum if you're in downward dog (ahem).
The waistband is on the high side meaning you'll never be yanking your pants up, and no matter what style/print you opt for, they'll be made from sweat-wicking fabric. The above style ($150) is my favorite from their current lineup, and you can wear it with the print or the black side up; in either case you'll have visual interest via the mesh panels and contrasting cuffs. I only do hot yoga (shout out to my new favorite studio Y7…they do hot yoga set to hip hop!), and while I do see sweat stains after I work out in these (they're more obvious, naturally, when I wear the print side up versus the black), I never feel uncomfortable no matter how much I sweat.
Sweaty Betty also has a number of legging styles available in two leg lengths, as well as ones available in XXS should you be having trouble finding well-fitting pieces for a petite or tall frame.
So what are you waiting for? Grab a pair and sign-up for some hip-hop-inspired yoga…you won't regret it!