Author Archive
Sarah Hyland bloomed in her spring crops recently wearing a top by ALC, a flirty white skirt and Bionda Castana pumps. This outfit is perfectly pretty and hits all the basics for the season…
READ MORE >
Reese is always a breath of fresh air, and this look is no exception. Carrying the Row Satchel 12 tote and wearing Thierry Lasry Sexxxy sunglasses, she stepped out recently looking like a spring day.
READ MORE >
It's that time of year again: The weird in-between when it's not cold enough for tights to be a necessity, but you still need something to throw over your shoulders, especially for the fancy nights-out. Cape coats and ponchos are great transitional options for this season.
READ MORE >
Given most of the US is being hit with cold weather, it seems there's no better time to do a celebrity coat round-up to get you thinking of what to put on your Christmas list. There are many styles to choose from and layers to work with. Depending on where you live, you may want to go with a little or a lot…
READ MORE >
Taylor Swift looked Topshop chic as the weather turned in New York this past weekend…
READ MORE >
Fall is in full swing and there's nothing better than a good pair of boots to carry you through the colder weather.
READ MORE >
Sometimes, less is more. On the subject of color, this can be true, especially this time of year when everything is being toned down from the brights of summer. Fall/winter is the perfect time to go all in with a simple shade to pack a coordinated punch from head to toe.
READ MORE >
Sometimes, pumps are just too much; especially when you want to relax in something warm and casual for the fall season. If boots are too heavy for a look, try on a pair of sneakers for size!
READ MORE >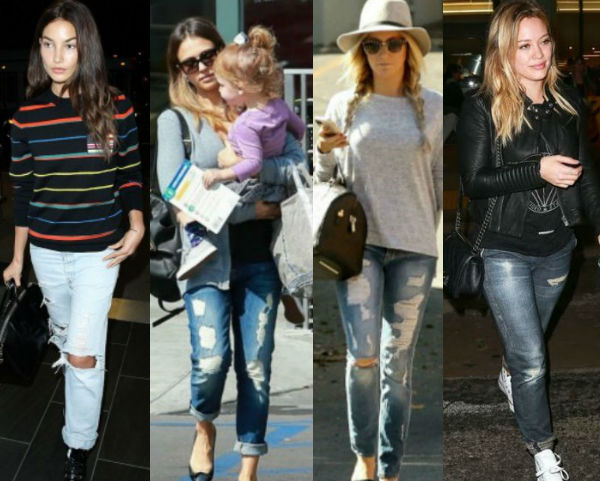 Thought ripped jeans were part of the past? Think again. They are back and more shredded than ever and celebs have been spotted all over in denim distress lately.
READ MORE >