Author Archive
Thu 08.15
Crop tops have been a celebrity favorite this summer. Steal their styles for these last few weeks of sunshine while you still can!
Fri 08.09
Jumpsuits are everywhere these days, and the trend is not just for celebs! Try one out for yourself for a fun fresh look. The one piece look can seem intimidating to pull off, but with the right fit and fabric, can look super sexy.
Fri 08.09
Reese Witherspoon was spotted leaving the Rossano Ferretti salon in Beverly Hills recently wearing a sweet and chic, smart summer look.
Thu 08.01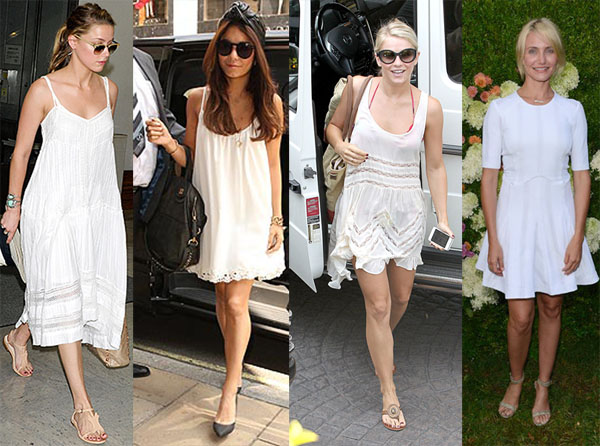 Amber Heard, Vanessa Hudgens, Julianna Hough an Cameron Diaz show off their sweet summer white dresses.
Wed 07.31
Celebrities love to keep cool in chic rompers. Steal their style here!
Thu 07.25
Are you on the list? These days travel is more hectic than ever. From the bag fees to the security lines, you're bound to be stressed while heading somewhere to relax. Check out these new airport clubs that could help ease the stress (and minimize the time) of your airport experience.
Thu 07.18
Celebs have been spotted beating the summer heat lately in pretty printed pants. These breezy numbers are wide-legged for a comfortable, summer fit and are perfect for running errands, traveling, or grabbing a quick bite to eat. They are trendy, comfortable but can be dressed up with heels and a blazer if you need to kick it up a notch in a flash.
Wed 07.17
Miranda Kerr looked chic and breezy while sporting the Blurry Floral Maxi skirt by Topshop. Steal her summer style with these look-alike steals!
Tue 07.02
Petra Nemcova attended Clinique's "Dramatically Different" party wearing a bright and sunny Azzaro jumpsuit with Fendi Pyramid Mirrored Runway Sandals. These are from the Spring 2013 runway and will certainly add a boost of bold to any look. The studded heel stands at 4 inches tall making you tower with power.