Author Archive
Tue 03.11
Here you go: a great Balenciaga classic without the signature Balenciaga fuss. Just good, clean, boxy-structured fun. Take a look at the proportions; this is a smaller bag than you might expect, which makes the overall effect so cute. Otherwise, in a big tote size, it would be a bit overwhelming.
Mon 03.10
And with plenty of embellishments! I must have this stone, stud, and grommet accented Prada. There's a lot going on here for such a small bag, but with the vintage appeal, it works oh so well.
Mon 03.10
It feels great to strike out at night with a flashy clutch; it's that extra sparkle (literally and figuratively) that makes you feel special – and like a special night is in store. But make sure your awe-inspiring accessory is tasteful.
Fri 03.07
I am completely obsessed with vintage steamer trunk suitcases, but the idea of carrying one throughout terminals at the expense of my back, arms, shoulders, and basically my entire body is very slim. Now I can have it all. The look of what I want in adorably compact form. This is impossibly cute, completely novelty (Charlotte Olympia, after all), and not actually useful on a daily basis.
Thu 03.06
I have complained that Anya Hindmarch veered too far off into Novelty Land with her Capri Sun-lookalike foil-pouch clutch, but her sense of adventure isn't all bad. Actually, she's proven she has a real sense of savvy and even outright originality for the spring season.
Thu 03.06
With daintily thin straps and a 4.5-inch stiletto, it doesn't get much sexier than this black Giuseppe sandal. Chain details are big this season, and I love that he went with delicate curb-chains to set off the velvety suede. Zanotti's all about bold, gold details, and these are his best yet. That said, they're definitely valet shoes. As in, park at valet, walk a few feet to your table, and head home!
Thu 03.06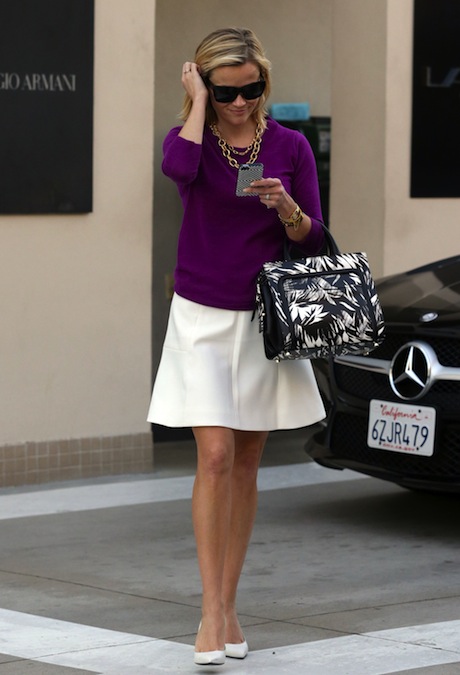 Another week, another set of swoon-worthy celebrity bags! Let us know who's carrying your favorite in the poll…
Wed 03.05
…And tulips and daisies and lilies. Some people say the first day of spring is March 21st (and technically, they are right). Others say it's when new buds have returned to the trees. But I say it's when a fresh crop of blossoms hits the shelves by way of my favorite accessory.
Tue 03.04
Not only is Gilbert Halaby outside of the box, he has no concept of what a box is. In his tenth year designing, he's made a name for himself as the coolest out there, but it's this headpiece that shows just how out there his jewelry is. Handmade in Italy with deep blue and clear Swarovski crystals, the 24K gold and gunmetal-plated brass headdress is like a bejeweled veil fit for an exotic princess.