Author Archive
Fri 04.18
There's nothing like the look of just-colored hair – the vibrant color and slick shine are hard to replicate, to the point that you wish you could get it done on a regular basis! Of course that would damage your locks, which is why I'm loving the new John Frieda Colour Refreshing Gloss.
Thu 04.17
Just another bucket bag? Not so fast. A basic black tote? It's not that simple! Marni presents a wise variation on the bucket style that we've been seeing so much of lately, yet again. But unlike the typical hard-to-access, hand-biting bucket (I'm not big on drawstrings), this one opens up like a friendly tote.
Wed 04.16
When it comes to certain snakes, the saying is, "red on black, venom lack; Red on yellow, killer fellow." Looking at this mini McQueen, though, I have to disagree. It's poisonous.
Wed 04.16
We love to dress in florals for spring, and our tots are no different. Plus, they look much more precious doing it!
Tue 04.15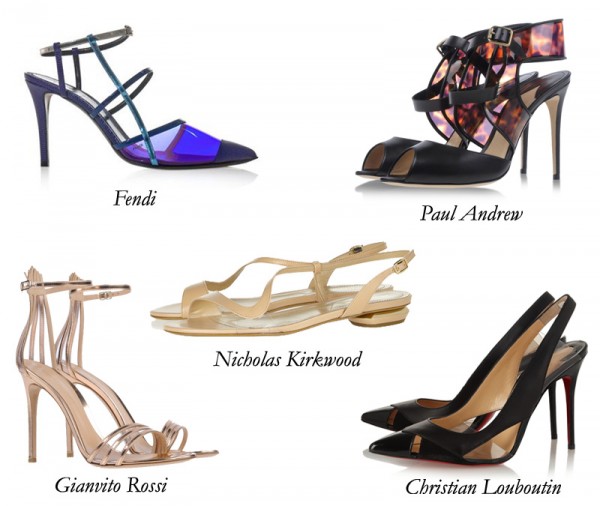 While a hint of PVC evokes thoughts of bright summer days, too much of it can send you down a slippery slope – literally. I don't need to explain the sticky situation you find yourself in the latter case (shoes made entirely from PVC are gross in more ways than one).
Tue 04.15
Sometimes the perfect handle is all it takes to make a simple tote feel special. It's the power of a detail, the potency of one great touch. And speaking of touches, it's looking like Alexander Wang still has one with some magic to it.
Mon 04.14
If you haven't won one of our four April giveaways, this just might be your lucky week! Third time's the charm, right? Each Monday, we've announced a different bag from pre-owned accessories purveyor LUXE DH, offering four chances to win, and today's prize is a pink Balenciaga First.
Mon 04.14
Fendi loves a good update, and this time they've amped up their highly successful 2Jours tote. The Trois-Jours unifies the elegantly structured, frame-top look of the 2Jours with the easy functionality of an open tote.