Author Archive
Wed 04.09
Balenciaga just got serious. The words that come to mind upon first impression of this top-handle tote? Incredible. Beautiful. Classic. Decadent. This is, of course, Balenciaga's big answer to the Birkin, but knockoff or tawdry imitation it isn't. Thanks to their signature tube-shaped hardware, it's merely a dutiful nod to the holy grail of bags, one that shows nothing but respect.
Tue 04.08
Whether you're going totally casual or out for a luxurious evening, pale gray is color to be in right now – and it's not going anywhere anytime soon. The right shade of gray is always chic and exact. There is such a sense of polish and clarity in wearing steely gray, especially when you do it with utmost confidence. For the warmer months, you ought to consider it your ultimate neutral.
Mon 04.07
Working pastels into your repertoire is an obvious necessity come spring, but that doesn't mean you necessarily feel like you need a round bag right about now. If you're unsure, I'll make it easy for you to decide: the answer is YES.
Mon 04.07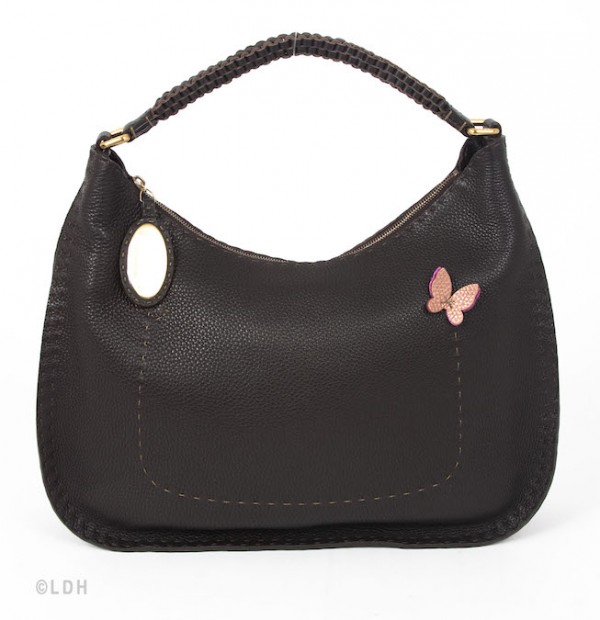 Round two of our LUXE DH giveaway has begun, and this week the object of our affection is a pebbled leather Fendi Selleria hobo! With a petal pink butterfly appliqué, the bag offers a delicate touch of spring to contrast its basic black backdrop. This is perfect for Snobs who want to give a nod to the new season without getting too frou-frou or flowery.
Mon 04.07
From nail to midi rings, it's clear that excess is in when it comes to decorating your digits. Rather than throwing on all of your favorite pieces and hoping for the best, get the job done right in one fell swoop. Multi-band rings create a put-together look without requiring you to actually spend time putting together your accessories.
Fri 04.04
Graphic black and white was last year's biggest spring trend. Actually, it was probably the biggest trend of the year, one that has stuck around and likely won't go anywhere too soon. Because really, when is the classic duo not in style?
Thu 04.03
Those looking for a compromise best look elsewhere…and who's really looking for a compromise, anyway? We make concessions and sacrifices when we have to, and when Spring 2014 Valentino has the last word on the matter, you don't have to make either.
Thu 04.03
It looks like Alaïa might have some competition in the laser-cutting department! From a distance these Kirkwoods seem as if they might be constructed from sweetly scalloped lace or cork, but closer inspection reveals luxe, nude leather. The spiky metal heel and pointed toe make for a shoe that's somewhat different from your usual, light spring fair, and I mean that in the best way.