Author Archive
Mon 02.24
I love The Row, but I'm sorry: this clutch is ridiculous. While it's not hard to embrace the bohemian tassel-accented hobos and fringe-trimmed clutches of their current Spring '14 collection, this time, they've taken their embellishments too far.
Fri 02.21
Once considered a novelty, the ubiquitous box shape is now a staple in our bag collections. It's still a fun diversion from your go-to essentials, though, which is why it can be hard to justify splurging on a piece like this Maison Martin Margielaicon (on thecorner.com for $1,745). If you're hesitant, go with Pour La Victoire's black Bonne Tonne (on Shopbop for $395).
Fri 02.21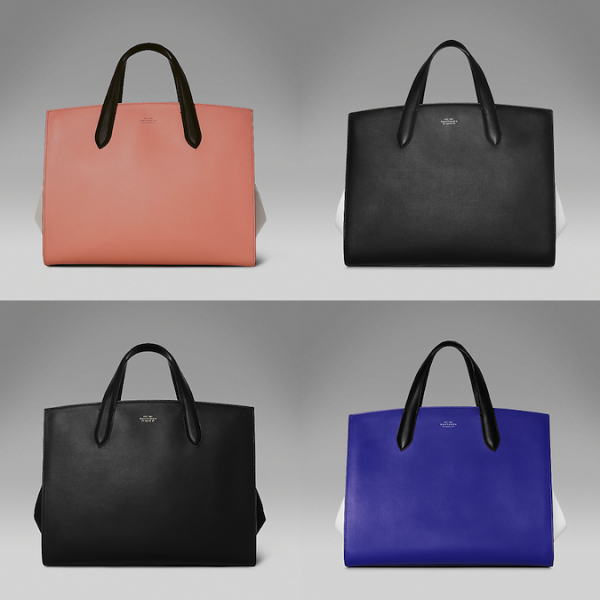 A century-plus in the bag business is no small feat. To do it with elegance, never succumbing to the trends all the while is a great feat. Commemorating over 125 years on the market as an esteemed maker of luxury handbags, Smythson unveils their 1887 bag. Named after the year the company was founded, this crisp, clean tote is at once timeless yet relevant.
Fri 02.21
With all the traveling I do there is one thing I cannot live without – the comfort and feel of home offered by my Kashwére blanket. The compact design has a zip-around pouch that turns into a pillowcase capable of making even the most awful airline pillows into little slices of heaven.
Thu 02.20
Sometimes it's okay to play favorites – at least when bags are involved! Tell us which is your favorite this week in the poll below…
Thu 02.20
A new movement in bags is literally taking shape. Forget what you've heard about beginner-level geometry; it's a mere trend – nothing more. What was once a novelty concept has now evolved into a staple.
Wed 02.19
The mix of minimalism and edge we've come to love from Helmut Lang couldn't be executed more perfectly than on these pointed-toe stingray pumps. They manage to look out there without going too far out thanks to the incredibly sexy and rocker-chic cutouts (ever so slightly reminiscent of Steven Tyler – in a good way!).
Tue 02.18
The ultimate bag would be one you can buy for your man and sometimes borrow because you actually bought it for yourself and needed a slick justification. This would be one of those bags. The carry-on is something that I have perfected. I bring A LOT of stuff on the plane with me – a blanket, a pillow, an eye mask, a cosmetic pouch with maximum hydration products, food, water, my iPad…
Mon 02.17
I have been doing some Spring cleaning in my closet, and I can tell you, I am ready to sell the bags I no longer use and get ones that are relevant to me now. There are many resale consignment sites out there, but I have found that LuxeDH has all the amazing brands, including my top 3 – Hermès, Chanel, and Celine. Their service is incredible especially for buying gently used bags.