Author Archive
Thu 02.12
I used to be all about La Prairie's Skin Caviar (even though I was probably too young to fully appreciate it), but when it comes to age-defying, hydrating beauty products, nothing tops their new Cellular Swiss Ice Crystal collection.
Thu 02.12
For every action, there's an equal and opposite reaction. So with the recent onslaught of hard, unyielding bags, you can bet there's a slew of softer options to even things out. Here it is: the counter movement to the recent structured bag obsession.
Wed 02.11
This singular new bag from Tod's heralds a new chapter for the brand. The Cape is well worth the wait, after the house took a long hiatus from new styles that got my attention. For a huge Tod's fan like me, this is all too exciting.
Tue 02.10
These Dolce & Gabbana box bags are so insanely cute for spring, I already can't get enough of them. This is the side of Domenico and Stefano I enjoy: when they blend their deeply rooted Italian pride with dreamy whimsy and a bit of humor.
Mon 02.09
It might sound nutty, but here it is: You need to accessorize your accessories right now, namely your bags. Thanks to the still-strong buzz surrounding Fendi's friendly, furry monsters, this '90s trend (remember Prada's robot charms!) is making a strong comeback.
Fri 02.06
When it came time to name Porsche Design's new doctor bag, they settled aptly on the moniker of the first female physician in ancient Greece, Agnodice. This woman was the original feminist. She pretended to be a man in order to get the education necessary to practice medicine…
Fri 02.06
A good print always catches the eye, but that's not the real eye-grabber here. The initial shocker is that this is a Sophie Hulme bag, sans her signature exaggerated hardware. While there may not be a studded or screwed-on metal plaque to be found, it's still not without her personal touch.
Thu 02.05
This bag is so brilliant, I am already totally in love. Sometimes all it takes is a simple equation to strike Snob gold, and in the case of Sonia Rykiel's Stephane bag, a tote + a pouch = genius. While you can obviously ditch the tote and use the pouch on its own when the urge strikes, that's not the clincher here.
Wed 02.04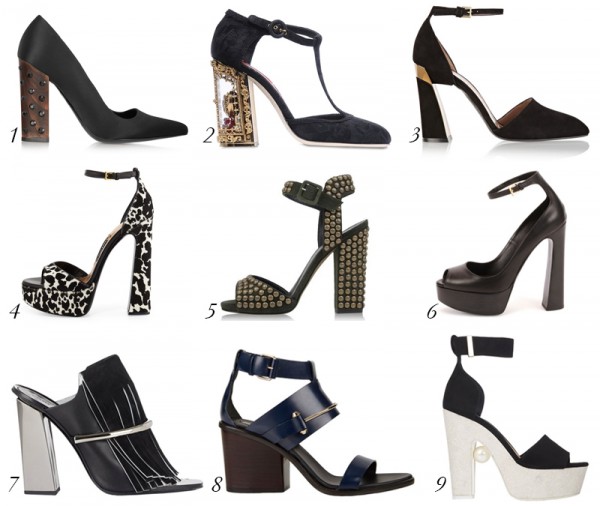 Those with weak ankles, rejoice! And pretty much all of us can enjoy a break from sky-high stilettos. Because it's all about the chunky heel right now. When working a heel with some heft, it's important the shoe have some feminine details. Otherwise, the look gets trashy way too quickly.