Author Archive
Tue 07.01
You probably already have plans this weekend that involve friends, fireworks, and a lot of delicious food. Though that's certainly a great way to celebrate July 4th, how about adding on to that? By shopping! Yes, there really are few things more American than that, however, I'm talking about socially conscious shopping – supporting a clothing line that builds up our economy and provides jobs for Americans.
Tue 07.01
When it comes to fringe, there's a fine line. Everyone is doing it now, and you can always bet designs run the gamut from good taste to bad form to just plain ugly looks…
Mon 06.30
By now, you've long since removed your rich creams from the vanity and replaced them with lighter moisturizers, but I've just found an oil-free option that's going to blow those out of the water – and actually does so by adding water!
Mon 06.30
Summer calls for bold color, strappy sandals, crop tops, and of course, a playful bag. And if you're lucky, a trip to Florence, which is where I styled this lovely model for one of our Luisa via Roma Firenze4Ever shoots!
Mon 06.30
Nancy's foray in to new exotics is as exciting as the bags themselves. When the queen of crocodile takes on a new (and arguably equally decadent) material, you take notice…
Fri 06.27
Between spearheading human rights initiatives and raising six tots, Angelina Jolie must also make time to promote her films, so it was off to Tokyo this week for the Jolie-Pitts! That kind of jet setting requires you to have every Mom Snob essential imaginable on-hand, and the best way to fit everything in is with a roomy tote like the Everlane Petra Portfolio.
Fri 06.27
Nothing makes me happier after a busy day than a nice, hot bath and a comfy set of pajamas…
Thu 06.26
I always look forward to perusing the latest from Luisa via Roma for our Firenze4Ever Style Labs, but shooting our Snob Essentials bags made the experience even more special…
Thu 06.26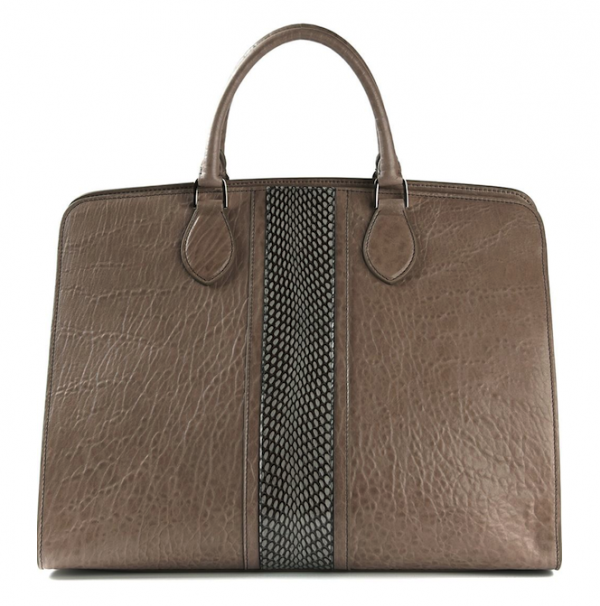 Fine design is in the details. Or the detail, for that matter. I love it when designers take a simple, classic shape and elevate it into something really special with the help of one powerful detail…