Author Archive
Thu 09.04
If you were impressed with the fusion of fashion and tech in Tory Burch's Fitbits, then Savelli is going to bowl you over. The recently established Geneva-based brand has brought together fine jewelry and tech to create the ultimate accessory – the first luxury smartphone for women!
Thu 09.04
There's nothing like a good animal print to get your engines revved, so to speak, but once you've seen so much leopard and zebra season after season, it's hard for the standard exotic motifs to do the trick. Enter the Bambi effect.
Wed 09.03

When former CFDA Fashion Incubator mentor Christine Park started Time's Arrow last year, she took inspiration from her mother's bag collection – pieces minimalist in style, yet heavy on interior organization. In this way, the Fall '14 Ishi clutches and crossbodies are certainly on-brand.
Wed 09.03
Dark dove gray, rich emerald green, burnt orange rust, and deep navy blue: these are likely the colors that are currently on your mind and making their way into your wardrobe now that Labor Day has passed and it is unofficially fall…
Tue 09.02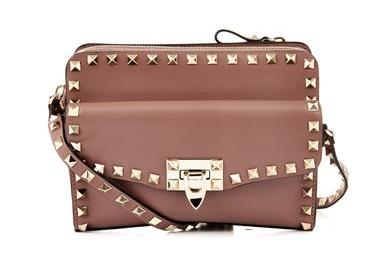 Upon first impression, this looks like your standard gorgeous, Rockstud-bedecked Valentino bag. In reality, it's so much more – with a genius design. Deftly constructed with a slim silhouette, this compact crossbody features a removable pouch that makes up the slender back portion of the bag.
Mon 09.01
While summer may feel like it's over, as long as there are new fall giveaways to win, I'd say it's worth switching seasons! We've teamed up with Italian retailer Forzieriicon to bring you four beautiful bags, ranging from the fun and unusual to the classic. Each week, we'll reveal a new accessory, starting with this Charlotte Olympia…
Fri 08.29
Fact: An elegant and timeless clutch is never wrong. Another fact: Lanvin excels at creating elegant and timeless clutches, pieces that are as refined and nuanced as they are quietly evocative of the house and the distinct brand of femininity they represent.
Fri 08.29
Only a couple of days left to enter the giveaway! With the help of sponsors Edie Parker and Spring, we have not one, but two customized Flavia #Hashtag clutches – one in pearlescent white and another in navy!
Thu 08.28
It's insane how smart this stroller is. I'm going to have another baby just so I can use it! Okay, not actually, but why do all the fun, ingenious inventions come about after they are worthless to me? Well, if you have a tot, you're in luck, and I highly highly recommend you get this.