Author Archive
Tue 09.30
Don't underestimate the bare looks of this saddle bag. Its streamlined simplicity is most deceiving. I have a Ralph Lauren Collection saddle bag and while I love it, this updated, improved version includes all the details mine lacks, keeping it from reaching perfection.
Mon 09.29
While it's not at all unusual for brands to use hardware to identify their work, McQ does this with more than the average buckle or stud. The razor blade is the company signature, and here it's been inverted so that the negative space in the center (see below to get a better idea) becomes the YT's simple key-shaped accent.
Mon 09.29
Each season, I try to prioritize essentials for the upcoming months (so as not to go wild and get five of each!). For fall, it's all about flash and function – a burst of metallic via party-ready sandals, as well as flats and galoshes for those cold, rainy days when a black and white calf hair pump wouldn't be able to hack it.
Fri 09.26
When it comes to shoppers, it's time for canvas to move on over and make room for wool! At least that's how I feel when I look at this Marni. While chilly weather doesn't necessarily require a wool bag, there's no denying that this has the right look for the season. Broad stripes give it an energized feel that I love.
Fri 09.26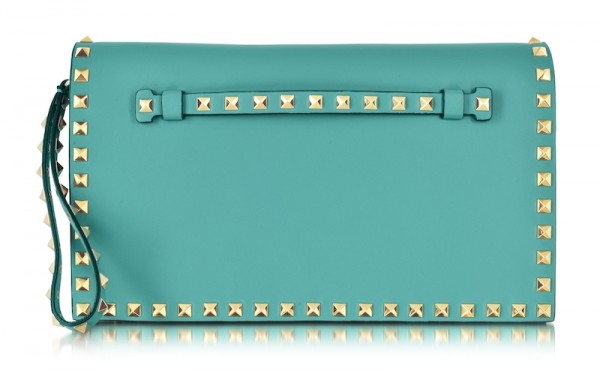 Have you entered to win our final Forzieri giveaway? We're finishing the series with a bang, courtesy of this Valentino Rockstud clutch!
Fri 09.26
I don't care how many you own; you can still never have enough basic shoulder bags that get you through the day without fuss. That being said, there's nothing standard about the latest Zagliani bag.
Thu 09.25
When it comes to sexy with a dash of athleticism, nothing beats neoprene. Every season we see more and more of the flexible fabric, on both dresses that mold flawlessly to your body and shoes that, as Balenciaga points out, fit like a glove.
Thu 09.25
This season, Mary Katrantzou has spring-boarded from her collaboration with Longchamp, which reaped a collection of brightly printed bags (think patterns featuring hot air balloons and Southeast Asian temples), to a full-fledged line of her own. The results are as astoundingly good as her trademark elaborate, highly technical prints.
Wed 09.24
Red is the color of love, sex, and fire; to sum it up in one word – passion! Wield this power wisely as we head into fall by painting your wardrobe with the richest of scarlet hues. It's the season's chicest shade. Usually, I try to mix it up, but I'll go so far as to say that I'd wear red from head to toe. Why not?