Author Archive
Mon 09.29
How's this for an oddball trend? Ear makeup! Just like New York, London, and Milan before it, the makeup looks at Paris Fashion Week have been overwhelmingly minimal this season, but one of the first unexpected trends to emerge is makeup as jewelry.
Thu 09.25
Dolce & Gabbana has gotten into the skincare game going off of their successful foray into makeup and the results are fantastic. It all starts with the completely on-brand packaging – a mix of gold and white that's at once luxe and sophisticated while being completely eye-catching (remember their leopard compact?!).
Wed 09.24
Luca Blandi, a celeb stylist at the Oscar Blandi salon who has worked with stars like Sarah Jessica Parker, Jessica Biel, Sarah Michelle Gellar, Kate Winslet and Michael J. Fox, knows a thing or two about hair.
Tue 09.23
Giorgio Armani launched his new limited edition beauty collection, Fade to Grey, on the Fall 2014 runwayicon. The products were all tested out backstage and while Armani has had a successful cosmetics line for awhile it was only recently that I started using his products. I was lured in by the gorgeous packaging.
Mon 09.22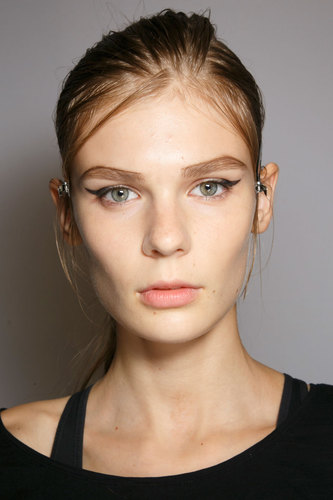 Textured hair was a big trend in Milan and it made for some very interesting looks. Here's a peek at some of the most memorable runway hair looks.
Mon 09.22
The natural trend that started in New York and continued in London was also prevalent in Milan, but it was mainly focused on the lips. A number of designers went with elaborate eye and/or hair looks, but kept the lips matte and neutral. Here's a look at some of the standouts!
Fri 09.19
A few weeks ago Barneys held a dinner, hosted by Maiyet co-founders Paul van Zyl and Kristy Caylor to fete their fragrance, which is part of an exclusive series that Barneys has been doing with various designers (the last one was with Greg Lauren).
Thu 09.18
By Kilian just launched a new collection, The Jewels & Leathers of L'Oeurve Noire, inspired by the tradition, centuries ago, when perfumers would infuse men's gloves with fragrance.
Wed 09.17
Sure we're always going to see smokey, winged, and cat eye looks in black, but this season there were a number of colorful eye looks on the London runways. Here's to rocking something bold and colorful! And all the more reason to take great care of our skin…