Author Archive
I ate my way through Europe (France, Austria and Italy!) for three weeks and as fun as it's been to wake in a new city every few days, it has wreaked havoc on my skin (admittedly, the daily glass or two or three of rosé did not help!). Luckily, my first stop was in France we all know the French are as serious about skincare as they are about wine– which is why for me, browsing French pharmacies for new beauty products is as fun as drinking champagne. One of my all time favorite French pharmacy discoveries is RoC skincare.
READ MORE >
I never thought that a flat bag would appeal to me. After all, structure and interesting details are both literally and figuratively what give an accessory depth. But after lugging one heavy tote after another, I found myself seeking a sleek bag that packs well, is easy to store, and won't cause my shoulders to slump in discomfort. Conveniently enough, Guillaume Henry had exactly the same idea in mind. His latest design, the Irrisor, is about as simple and clean as a bag can get.
READ MORE >
When Hillary Kerr and Katherine Power launched Who What Wear in 2006, it was a fun blog that revealed the brands behind our favorite celeb outfits. Now they head up a major, multi-faceted company that continues to expand. I've always greatly admired these two badass CEOs. There's something to self-made success, and now the duo is revealing all their tips, secrets, and best advice in their new (and third!) book Career Code: Must-Know Rules for a Strategic, Stylish, and Self-Made Success.
READ MORE >
With Alessandro Michele at its helm, Gucci has been going through a sweeping renaissance, with the Italian house's monogram serving as a major player. From the fur-accented loafers to the graphic bags, everything has been flying off the shelves, so to feed the beast, Gucci teamed up with NET-A-PORTER to launch an exclusive 20-piece capsule collection, ranging in price from $465 to $5,300. In what will come as a surprise to none of you, most of the pieces have already sold out. Some will be coming back in stock, but if you want your fix now, here's the best of what's still for sale today. Get them while you can!
READ MORE >
Here's a simple ode to the power of the bag. I've said a bag can make or break an outfit more times than I can count, and it seems a few celebrities of the moment tend to agree. Whether in clutch or crossbody form, these bags are petite yet potent, and their ability to elevate an otherwise ordinary outfit is proven, from slashed jeans to a sharp red suit.
READ MORE >
The term "trendy classic" may seem like an oxymoron, but investment pieces worthy of this designation truly do exist – and one of its main purveyors is Bottega Veneta. The Intrecciato weave is a timeless signature for the Italian house, and in miniaturized, bright blue crossbody form, it also somehow manages to be completely of the times. To really play up the trendiness, style it with a contrasting shoe like Saint Laurent's violet Candy platform.
READ MORE >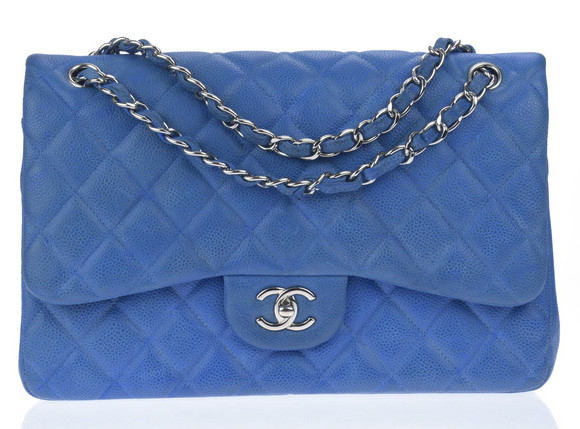 Today is the final day to enter to win this gorgeous Chanel Jumbo Flap bag from Designer Vault!
READ MORE >
This Sunday is Mother's Day, and either you're a proud mama who's about to be appreciated just a little more than you usually are or you're probably scrambling around to make suitable brunch plans and find a mom-approved gift – or you're both! We can't book a mimosa-topped brunch for you, but we can tell you what just about every mother wants, including both presents that we on the Snob staff hope to be giving and receiving this weekend, as well as a few extra ideas for good measure. The best part? Every pick is under $150.
READ MORE >