Author Archive
Fri 03.07
One of the greatest things my grandmother taught me was to live without regrets. This is a woman who lived to a long and happy 98 years, unafraid of anything and enjoying all that life had to offer. She flew to Chamonix in the French Alps at age 88 to hike in the mountains!
Fri 03.07
After a month of dashing between runway shows and presentations across two continents, I'm ready to take some time to relax. What better way is there to spend a Friday night than at an intimate wine and cheese party with your closest friends? Trouble is, being a hostess can also be draining, so I've rounded up all the greatest gadgets for minimizing the work and maximizing the enjoyment.
Fri 03.07
Jeremy Scott's first collection for Moschino made a big splash at Milan Fashion Week thanks to designs inspired by American brands like Budweiser, Hershey's, and yes, McDonald's. I was intrigued by his jacket bags, but I can't say I would wear any of these overcooked looks.
Thu 03.06
There was a time not long ago that when it came to bags, Phoebe Philo could do no wrong. But even brilliance can go tired and give way to the mundane; there are peaks and valleys (and I trust there'll be another peak!). The Céline Fall 2014 season's bags just left me feeling flat.
Thu 03.06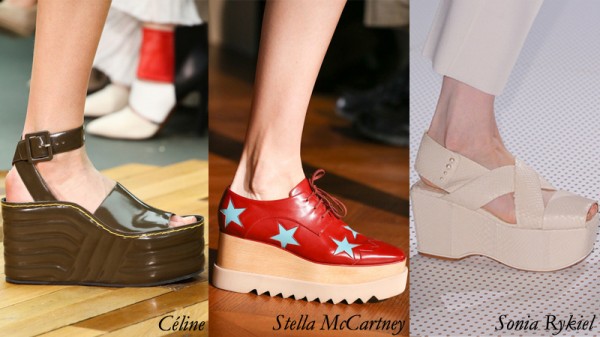 Which is your favorite shoe trend from Paris Fashion Week?
Wed 03.05
This season, Miu Miu had me at hello. Or was it Lupita Nyong'o who had me at hello? I have to admit I was distracted by her presence as we settled into the show; she is such a flawless, chic, and modern beauty! Speaking of muses and modernity, Miuccia had to have been inspired by the new Oscar winner and Miu Miu model…
Wed 03.05
No pressure or anything for Nicolas Ghesquière. He was only granted the task of taking the reins at one of the most prestigious French houses in the world, in time for Fall 2014. Not that the beloved Ghesquière, he of much-praised Balenciaga fame, doesn't come with quite a pedigree. But any time there's a shift in power and a change in creative direction, one must tread carefully.
Wed 03.05
At first glance, I quite liked this bag. How perfect for summer, I thought. The structure, polished lock, and rolled leather top handle add sophistication to seasonal favorite rattan. It's not some slouchy straw bag you'll take to the beach, but it does evoke the look and feel of summer that we all love.
Tue 03.04
I say this with confidence: When it comes to mastery of the craft and virtuosity of divine execution, Maria Grazia and Pierpaolo are unparalleled. In a most emotional Fall 2014 show, the pair made their inspiration felt by each and every onlooker: unconventional women deeply rooted in a moment of change.