Author Archive
Tue 03.11
While I consider myself both a Bag Snob and a Food Snob, I never thought the two would come together in quite this way. The results are hit or miss. Chanel, for one, did the gourmand well with steaks that were probably the most imaginative bags we've seen from the brand in years. I also fell for Nancy Gonzalez's handwoven croc wicker apples and pineapples.
Tue 03.11
Nothing puts me in the mood for spring-cleaning more than a new bag. It's motivation to put your older ones up for sale to make a little money for other must-haves! These are so fresh they have me wanting to pack away all my winter sweaters and coats, and break out the delicate colors and fabrics. Which of the white bags has you excited for this next season?
Tue 03.11
When Carrie met Manolo, it was on-screen magic. When Sarah Jessica met George, it was real-life retail magic. Meet the SJP Collection, currently sold exclusively at Nordstrom. I've seen my fair share of celebrity line launches, none as well-received as the response Ms. Parker just enjoyed.
Mon 03.10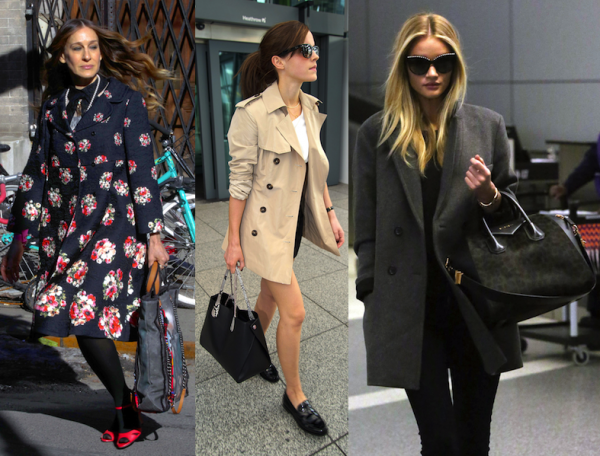 I bought four totes while I was at Paris Fashion Week. I'm an avid mini bag fan, but once I realized that I couldn't even fit so much as an invitation in, the hunt for the perfect tote began. Who better for inspiration than some of the most fashionable women in the world? Take Emma Watson's Spring 2014 Dior Addict – the look is classic with a twist, courtesy of python straps.
Mon 03.10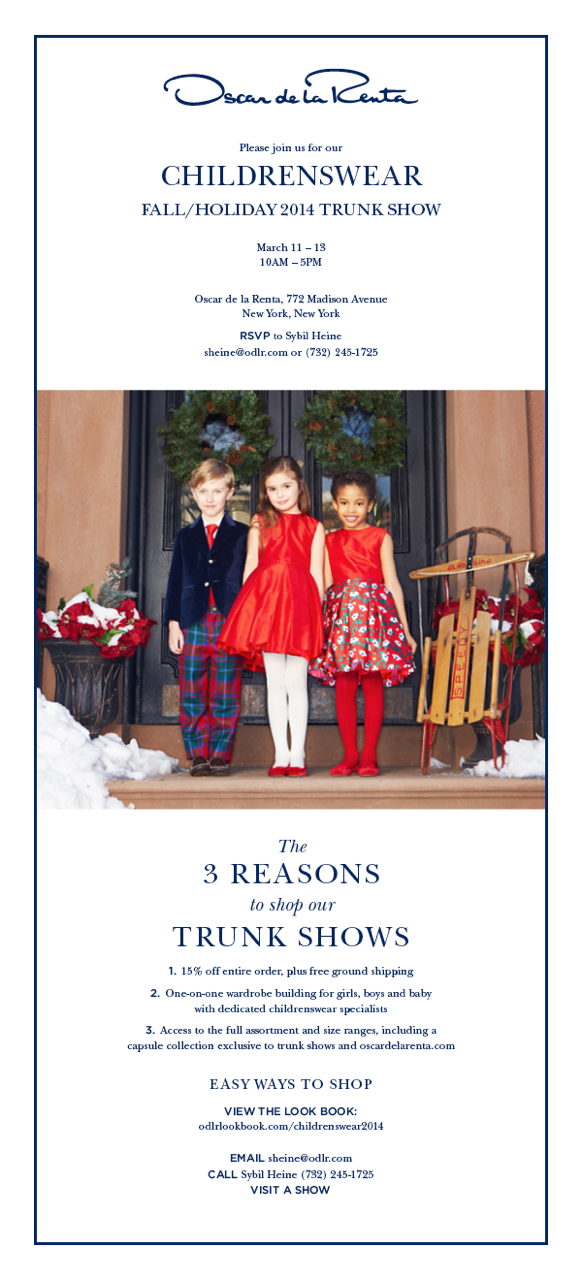 It may not be spring yet, but Oscar de la Renta childrenswear is already making its Fall/Holiday collection available – and at 15% off! They will be holding a trunk show tomorrow through Thursday at the Madison Avenue flagship. Take a look at the pieces in advance and RSVP here…
Mon 03.10
The Hermès show is always my favorite of Fashion Month. Not merely for the obvious reasons but also because it's the most civilized show of all the fashion weeks combined. The house elects a different location each season, yet the same overwhelming sense of serenity is in the air, no matter where the show is held.
Fri 03.07
One of the greatest things my grandmother taught me was to live without regrets. This is a woman who lived to a long and happy 98 years, unafraid of anything and enjoying all that life had to offer. She flew to Chamonix in the French Alps at age 88 to hike in the mountains!
Fri 03.07
After a month of dashing between runway shows and presentations across two continents, I'm ready to take some time to relax. What better way is there to spend a Friday night than at an intimate wine and cheese party with your closest friends? Trouble is, being a hostess can also be draining, so I've rounded up all the greatest gadgets for minimizing the work and maximizing the enjoyment.
Fri 03.07
Jeremy Scott's first collection for Moschino made a big splash at Milan Fashion Week thanks to designs inspired by American brands like Budweiser, Hershey's, and yes, McDonald's. I was intrigued by his jacket bags, but I can't say I would wear any of these overcooked looks.