Author Archive
With this Shopbop sale, the more you spend, the more you save! Counterintuitive? Well, I guess it depends on your definition of "save." Now through November 30th, you'll get 15% off orders of $250 or more, 20% off $500 or more, and 25% off $1,000 or more…
Featured Items
The turkey may not be cooked up yet, but sale season has already begun! With items up to 50% off, you can get an early jump on holiday shopping. I recommend picking up a variety of Anya Hindmarch stickers to use as stocking stuffers…
Featured Items
I've seen just about every fad come and go (thanks to the Digital Age, trends get recycled as quickly as the seasons change!), but one thing never goes out of style: anti-aging – or more specifically, lifting products that claim to reverse time.
Featured Items
Each and every week doesn't start with a bang. Sometimes you get the luxury of easing on in, especially when it comes to weeks that end early like this one, which officially kicks off the holiday season. Speaking of luxury, these easygoing, new bags possess a different kind of luxe appeal, proving earthy embellishments with a rustic twist can be as alluring as the all-out glam stuff.
Featured Items
Still on the fence about growing out your summer bangs? That's what my friends and I have been debating about lately (I know…very deep). When I got a cut from celebrity hairstylist Adriana Tesler (she'll come to you wherever you are in LA!), we decided to keep the bangs and just make them lighter. When they start getting longer, I'll style them side-swept, but for now, I'm enjoying a little fringe.
Calling all bad girls and rabble-rousers. There's a new bunch of florals on the scene and while they may be fresh-picked, there's nothing sweet about this garden variety. My new favorite floral bags are mysterious, unexpected, and most of all, dark, proving the enduring flower theme shouldn't be strictly reserved for spring.
Featured Items
Women who have it all are very difficult to shop for: Their closets are filled with designer clothes and Snobby bags, and they're dripping in the most expensive diamonds money can buy. So what to get them?
Featured Items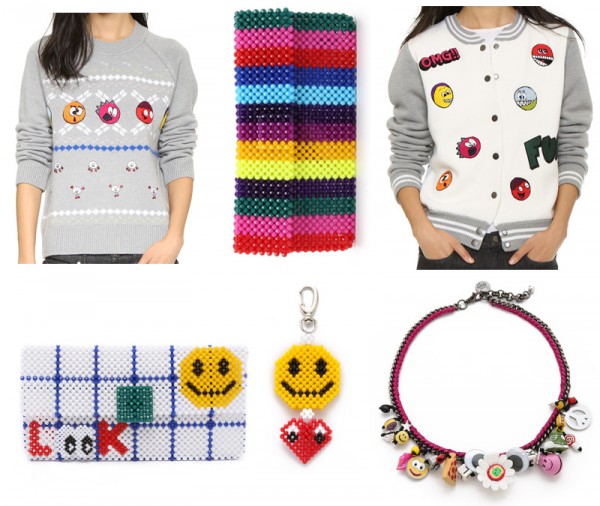 Dressing like a second-grader seems to be the thing right now. Come to think of it, it's not entirely unlike a man buying an expensive sports car during a midlife crisis. The cost of youth ain't cheap. My recommendation is to head over to Hobby Lobby and indulge in a day of DIY. For a few mere bucks, you, too, can be hip.
Featured Items
In case life has kept you too busy to pay mind to the calendar, let me note this one upcoming event: Black Friday. It's just over a week away! You need to get your sale shopping skills honed for the big day (or rather, the long weekend; you don't want to lose stamina come Cyber Monday). To build up money-saving muscle, I recommend perusing the latest of Shopbop's sale with items up to 70% off. If you're too busy, here are some CliffsNotes…
Featured Items