Author Archive
Mon 10.20
How fun is it to host a party for 900 of the chicest New Yorkers? Let's just say days like these make me love my job! The launch of shop-in-a-shop Birdcage was one of the best events I've ever had the pleasure of being involved with.
Mon 10.20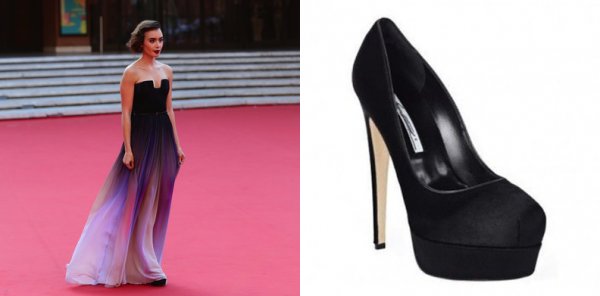 Lily Collins stunned at the Rome Film Festival in an ombre Elie Saab Spring/Summer '14 couture gown, but I was more taken by the understated pieces worn to complement the look.
Fri 10.17
How chic is Nicole Richie? It's hard to imagine this fashion designer mama of two once played Paris' sidekick. What was the name of that show again? Well, now she has her own show, and a serious sense of style to boot! This navy and black ensemble is my favorite look of the week, and a very on-trend one at that.
Fri 10.17
What's better than a present that is actually a present? Forget the bows, ribbons, and wrapping paper…and Scotch tape, scissors, and fumbling hands. When your bag is designed to look like a glamorous little gift box, every day will feel like Christmas or your birthday.
Thu 10.16
While the adage, "things aren't always as they seem," may be old, it applies to some of the freshest designs out there. In English, trompe l'oeil translates to "deceives the eye," and these designers make that deception one that you'll welcome with a smile.
Thu 10.16
Between Target and H&M collaborations, designer fashion is more accessible than ever, and those collections are just getting better all the time. If you thought Isabel Marant's H&M tour de force was highly anticipated, then there's not even a word to describe the mania that's about to ensue for Alex Wang.
Thu 10.16
What's at the end of the rainbow? It's not a pot of gold. It's something better: Kotur! Inspired by the art and design attitudes of the 1950s, Fiona Kotur looked to the Robert Indiana's sign paintings and Memphis' Lansky Brothers, the famed tailors who fashioned Elvis' signature look.
Wed 10.15
The undisputed Queen of Croc, or Mama Nancy, as I call her, will be in Beverly Hills tomorrow for a special appearance at Neiman Marcus, and she's bringing along plenty of one-of-a-kind pieces for you Cali Snobs to gawk over!
Wed 10.15
In high school, I discovered that fortune cookies are actually American (it appears the Chinese invented almost everything except these cookies). Growing up, I awaited the close of each meal at my family's favorite Chinese restaurants for those damn cookies, believing they held the keys to my future.