Author Archive
Fri 03.27
Mark my words: this is the shoulder bag of the season! Meet the Diane by Jason Wu, a bag that's every part as feminine and beautiful as its namesake, the preternaturally stylish Diane Kruger.
Thu 03.26
I'm so excited to tell you about Nancy Gonzalez's latest innovation in luxurious exotic design, one that comes with true meaning behind it. The Graffiti customization series just launched at Neiman Marcus, as part of a mutual partnership with Two x Two for AIDS and Art.
Thu 03.26
If there's one item that never goes out of style, it's the blazer. There are many different kinds to choose from, though, and the trendiest at the moment is one with a sleek shawl collar.
Thu 03.26
Sometimes it bothers me to see such lack of originality from a likable label that's successful on their own terms. Rebecca Minkoff heads one of such labels, and a bag designer with strong street cred need not go this route.
Wed 03.25
Key pieces in nude are essential for a well-rounded spring wardrobe. After months of all the heavy coats, weighty fabrics, and somber grays, I am ready for something (or a whole shopping spree's worth of things) light and refreshing.
Wed 03.25
It's no easy feat taking your work wardrobe into the night, but if you're going to do it with any suit, it'll be a hot pink one! Pallas chose this bright hue is in honor of Schiaparelli, the famed Italian designer known to reference Surrealism as one of her greatest sources of inspiration.
Wed 03.25
Here it is: the number-one winner of Bags that are Completely Useless and Lower Your IQ by 50% Upon Carrying. Yes, this is a bag so dumb it has the capacity to make you less intelligent with contact.
Tue 03.24
How small is too small? Fendi is one brand that's willing to test the limits of the baby-sized "carryall." Their Peekaboo tote is quite possibly the most overrated bag of all time, but I love it so much I can't resist, even in beyond-shrunken micro size.
Tue 03.24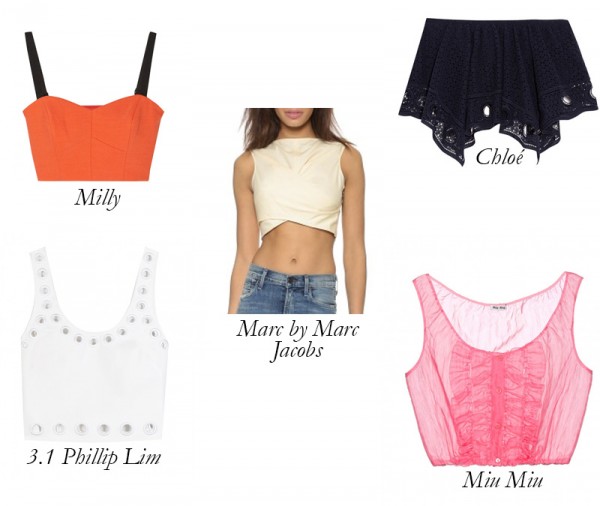 I'm here to say don't dismiss the crop top just yet! It's a trend no more, having evolved into a contemporary staple, especially as trouser and jean waists stay high.