Author Archive
Tue 04.15
I hope you have a long lunch break because Shopbop is having a sale on pretty much everything! Think of it as Treat Yourself Tuesday. From the most discounted sale items to that brand new skirt you want that's just a little out of budget, it's all 1/4th off now until Thursday night.
Tue 04.15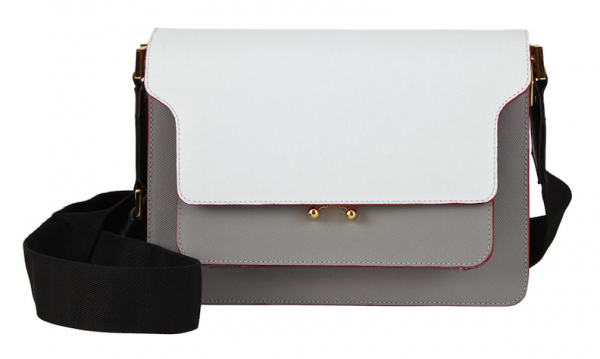 You won't find me sporting ostentatious, logo-laden pieces. My taste is quieter. I opt for bags of the subtle breed à la Valextra and Hermès because with luxury, no gimmicks are required. For an evening out, all you would need to pair this beautifully structured Marni bag with would be an equally muted and neutral dress.
Mon 04.14
The best prize at last night's MTV Movie Awards came from none other than Narciso Rodriguez. In line with Jess' eco-friendly empire, he made this black, crocheted clutch from aluminum soda bottle tops and named the bag after her! It's no wonder why this woman would inspire designers – she's a perpetually stylish muse.
Mon 04.14
I've giving huge props to Lupita Nyong'o this morning (and pretty much every other morning, but this one in particular!). Last night she was the coolest chick at the MTV Movie Awards, proving the actress knows how to dress for a fun event like this just as well as she dressed for the Oscars.
Fri 04.11
Spotted! A boho-chic fringe bag on my favorite Hilton. I just analyzed the fringe benefits of Gucci's Spring pieces, but this new sighting nearly puts them to shame. Designer Sara Battaglia showcases the best (and most fluid) use of fringe I've seen yet. And on Nicky, it's my celeb bag of the day!
Fri 04.11
Neon is back and bolder than ever! I remember it first started trending around the time Wham glowed in the dark for their "Wake Me Up Before You Go Go" video, but my son believes the fluorescent hue belongs to his generation. He thinks he's cooler than me because when he begged for a pair of blindingly yellow Nikes, I told him they were a bit bright.
Fri 04.11
Fashion jewelry is where we turn when our outfit feels like it's missing something – an oversized collar, dramatic drop earrings, a cocktail ring…To finish off your look, check out our favorite pieces here! #followitfindit
Fri 04.11
I've started writing a monthly column for HarpersBazaar.com that I hope you'll all be tuning in for! My first subject was spring cleaning, or rather, spring organizing (it's a lot easier to organize than to give away beloved bags!). At the start of a new season, I store the pieces I won't be wearing in boxes, and bring out all the others I've been waiting to carry.
Thu 04.10
This is absolutely insane. Dominique Ansel's croissant-doughnut hybrid became NYC's biggest food trend last summer, and continues to draw a huge line that stretches along the block and around the corner…