Author Archive
Spring is the season when our sartorial insecurities come out to play. Everywhere you look, some chic young thing is sporting the freshest of florals and the softest of pastels, while you're still wondering if you emptied too much of your closet during spring cleaning. Fortunately, a style rut (whether real or imagined!) is easily fixed with just a few new wardrobe additions…
Featured Items
I've been using SkinCeuticals C E Ferulic and Phyto+ serums for a while now, so when offered the opportunity to try their newly-launched Triple Lipid Restore 2:4:2 during a facial at Hiatus Spa in Texas, I was looking forward to seeing how the cream would boost the effects I'd been experiencing. My treatment was truly luxurious, starting off with a soothing foot soak (if only all facials came with head-to-toe pampering!).
Featured Items
These days, it seems that a Birkin alone is not enough to satisfy top models. To stand apart from the Hermès-clad crowd, a custom Birkin is the accessory to have. Heidi Klum carried her camo version back in January, and now Elle Macpherson is giving us even greener eyes with her zebra-print iteration.
Featured Items
If you can't be Oprah, it's nice to at least be in charge of her magazine's Instagram account for a day – and that's what I'll be doing tomorrow! I'll be sharing my thoughts on the best spring jewelry and bags (like the floral REED Atlantique above), as well trying to channel my inner O with an inspirational book recommendation and a special surprise. Tune in for all that and more tomorrow!
Featured Items
I just got back from a trip to Mexico, and even though it was only for a few days, you know I brought more than a few bags. Hey, when you pack well, you can do that! If you prefer an even more streamlined suitcase, though, just one or two of the below will do. Take this striped Sophie Anderson handmade cotton tote (on Forward by Elyse Walker for $425). You can carry it on the beach or when you're farther inland, as a daily shopper bag. If it gets dirty, just throw it in the wash and get back to relaxing!
Featured Items
From the updated tote to the most striking statement clutch to the game-changing Diorever bag that goes with anything and everything…Good Morning Texas invited me on to talk my favorite spring bag trends, and it's only natural they go hand in hand with my coveted new bags, running the gamut from the high-level investments to fabulous frugal finds.
Featured Items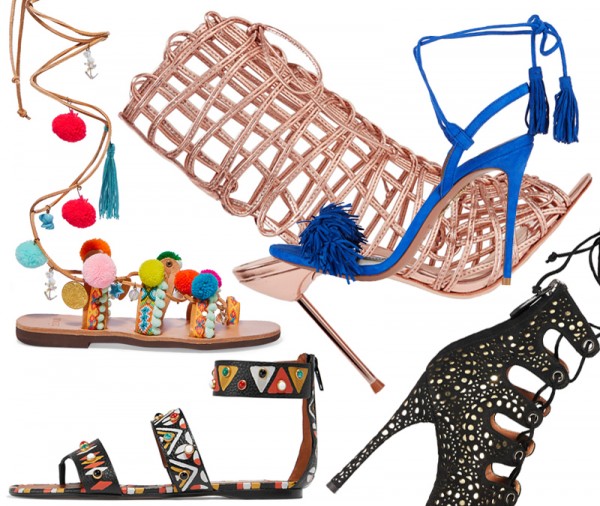 If you haven't used post-spring cleaning closet restocking as an excuse to buy new shoes yet, then I have another reason for you: the latest trends. Block heels from the likes of Mansur Gavriel, metallics via laser-cut Alaïas, and most prominently, lace-up shoes that climb like vines along your ankles are the styles at the top of every fashion girl's shopping list this season, and NET-A-PORTER has them all. Put those winter boots away until next year and indulge in my new favorite shoes below…
Featured Items
Off-duty model fashion always piques our interest – especially when covetable bags are involved – and few models get more photographer attention than Victoria's Secret Angels. Their individual styles aren't just on display in lingerie and swimwear shoots; they're even more prominent in everyday moments. From Adriana Lima's well-priced basic black tote to Alessandra Ambrosio's on-trend Fendi to Candice Swanepoel's classic Chanel Flap, there's enough variety to suit every personality – and with the frugally-priced alternatives I found, every budget as well.
Featured Items
New, now, and not to be missed: You don't want to jump on every trend the Spring '16 collections have to offer – because in the age of social media saturation, trends are a dime a dozen. You've got to be selective. That's why I'm stopping just short of a dozen…
Featured Items