Author Archive
Mon 03.16
When Victoria Beckham released her style guide, That Extra Half an Inch, in 2007, in which she stresses the importance of, yes, an extra half-inch when it comes to shoes, she was one year shy of becoming a designer.
Fri 03.13
Okay, Taylor Swift's bags have been especially on-point this week. First we had the preppy Cambridge Satchel, and now a ladylike Roger Vivier Ines!
Fri 03.13
Is Balenciaga attempting to usher in a new era of label-flashing? Looks like they're at least giving it a go. I have mixed feeling about these new Cabas totes. On the one hand, a simplistic logo set on beige canvas and trimmed with black leather is so modest and pared-down, it's chic…
Thu 03.12
Taylor Swift's style has certainly evolved over the years (as any young woman's would), but one thing has remained the same: she wears what she likes, not what costs the most.
Thu 03.12
The new era of Coach is in full effect, as Stuart Vevers continues to up the once-tired brand's game. This cute, textured-leather mini bag (long live the mini!) is an easy and accessible gem, one you'll want to toss on crossbody come weekend or off-duty hours.
Mon 03.09
I am so excited to finally share our new Cinderella bag collection with you in celebration of the launch of the movie this week. Whimsical, feminine, and a little bit dreamy: we were inspired by the film to revamp our signature bag styles with twists fit for a modern-day princess.
Mon 03.09
Trust the Italians to bring a sense of magic to the runway. While the level of craftsmanship is always elevated, it's their flair for the nonchalantly fantastical that makes the Milan runways a standout.
Fri 03.06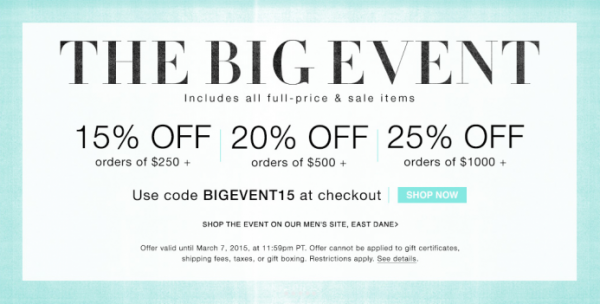 Another week down, another sale to celebrate it with! You deserve to splurge, and Shopbop's Big Event tailors to the biggest of splurgers. Now through tomorrow, you get 15% off a purchase of $250+, 20% off $500+, and 25% off $1,000+.