Author Archive
Tue 02.25
Why carry a regular bag when you could carry a little piece of art? That's how I feel every time I'm clutching one of Urania Gazelli's delectable plexiglass minaudières. Greek designer Rania Giourmetaki continues to delight for Spring 2014 with transparent fluorescents, florals (arguably harder to pull off on a plexi clutch than on an embroidered or appliquéd bag), and of course, more games.
Mon 02.24
I'm not really a fan of bucket bags, namely because no one has managed to design one that's anything short of cringe-worthy. I have to admit that Elizabeth & James has done pretty well with this precious pink mini version (pre-order at Neiman Marcus for $455), though. They kept it simple with just a single zipper to add structure.
Mon 02.24
Milan Fashion Week: land of luscious leathers, sophisticated street style with an ever-outlandish twist, and where the avant-garde is sure to merge with the classic. Fall 2014 was no exception. While it was hard to narrow the list down to just three, here are my favorites from the Milan runways…
Mon 02.24
Have you entered to win our February giveaway yet?
Mon 02.24
I always stock up on Bobbi Brown essentials during the annual Family & Friends event. 20% off? Yes, please! Not only does Bobbi give us a discount (and free shipping if you spend $65), but she also donates $10,000 to Dress for Success. And this isn't contingent upon us spending a certain amount of money. It's just a straight donation whether or not we buy anything at all. Of course we will, though!
Fri 02.21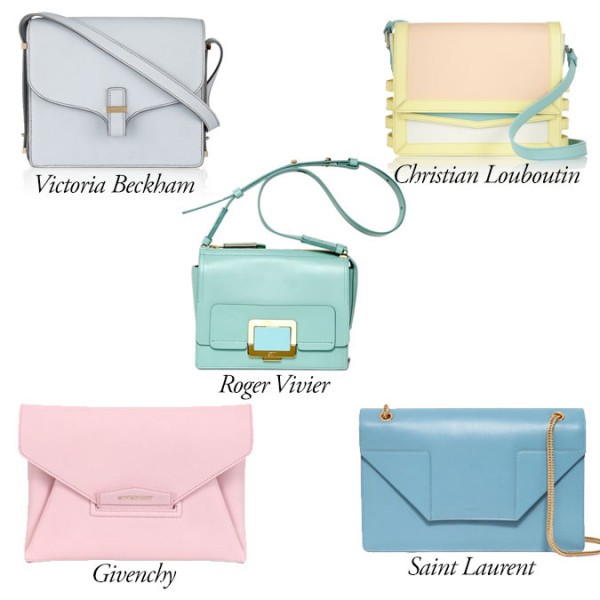 There's no need to wait for Easter to get a basket-worth of sugar-sweet confections. Pastels are where it's at this season, even for girls whose daily uniforms consist of black, gray, and more black.
Thu 02.20
Feeling bi-curious? Not in that way, silly! I'm thinking more along the lines of a super-chic shoulder bag inspired by the unified yet starkly contrasted beauty of the old black and white cookie. (To quote the prolific Jerry Seinfeld, "I love the black and white. Two races of flavor living side by side in harmony.") Sure, I'm being tongue-in-cheek about the baked good, but there's nothing ironic about my love for this two-toned bag.
Thu 02.20
Each season I sit spellbound as Oscar's stunning collection floats along the catwalk, but this man's sense of style is not reserved solely for the runway.
Wed 02.19
We're used to flipping through fashion glossies and perusing runway photos for style inspiration, but thanks to social media, the democratization of fashion can actually make your next-door neighbor more influential than even the most famous fashion editors. Take Luvocracy, where you can recommend everything from lipstick to kitchen utensils to your followers.