Author Archive
Marc Jacobs started NYFW off right with of a raucous party at '80s nightclub Tunnel, and if history is any indication, he'll end the week just as strong…
Show me a bag that's quintessentially Miu Miu and I'll show you a bag that exudes quirk and glamour in equal measure, thanks to an unfailing way with wacky combinations that somehow work. Like this well-balanced masterpiece of leopard-print calf hair, deep jade python, and aqua-blue suede (on the interior). It should add up to overkill on the eyes. Instead, it's total eye candy!
Here we are again! Back in New York City and the energy is palpable, from the searing late-summer sun to the mad dash between Lincoln Center and Milk Studios (and everywhere in between). But it's what's going on inside that's really stirring up our spirits…
As we kick off yet another New York Fashion Week, we celebrate 10 years of Snobbery with you. On September 6th, 2005 we put up our first post. It started off as a hobby for Kelly and me, an elaborate pen pal system, if you will, so we could share our love of bags…
Our Snob Essentials newsletter recently got a facelift, so if you're not already on the list, we recommend you check it out now! The e-mail includes exclusive content you won't find on the site, as well as a curated compilation of the week's best stories.
Maybe it's the annual sense of sobriety we feel each fall, as summer's laidback mood fades, but there's a new severity at play on some of my favorite bags. Think strong geometric lines and clean, bold designs.
Who knew Saint Laurent's latest bag was dangling from the shelves of your local drugstore this whole time? Now that the famed French house has put their stamp of approval on the shower staple, you can feel free to go buy a pouf from Target…
Say hello to stripes done right. Proenza Schouler is a label that's never shy about experimenting with unapologetic and unexpected mélanges of textures, elements, and references. That bold mentality even translates to their bucket bags, like this heady little statement-maker. The only thing neutral about it is the clean black and white color palette – and I mean that in the most positive way possible.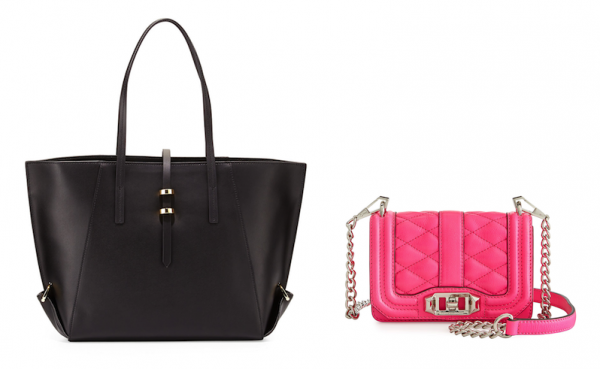 Labor Day is a day to take a rest from labor…but not from shopping. And retailers know this all too well! If you didn't peruse our sale roundup on Friday (and even if you did), I highly recommend checking out today's discounts.