Author Archive
Mon 04.07
I have never, ever liked this trend, and am always surprised to see it live through yet another spring season. Unless your name is Gisele Bündchen, I would stay far away. Sausages have a better chance of looking sexy! The sandals can also be too big or sit at an awkward place on your calves. Even if you like the gladiator look, this is definitely not a click-and-buy purchase.
Mon 04.07
Well, hello, Monday! Nothing beats the blues (and this never-ending winter) like a beautiful bag, and this Nina Ricci clutch trumps all the other cobalt, indigo, azure, navy, and true blue pick-me-ups I've seen in some time. From the shape to the shade, Nina Ricci hits all the right notes with their oversized clutch in the perfect hue of French blue.
Mon 04.07
With so many chic women cutting their hair into pixies or bobs, the desire to chop off our locks is stronger than ever. But when I cut my waist length hair into a straight bob on whim in my twenties (I cried for hours!), I vowed to never go that short again. My hair now falls a few inches below my shoulders, and tempted though I may be for a quick change, I'm not willing to make the cut again.
Fri 04.04
Some weekends call for a clutch you don't have to overthink. You know those weekends when you're going out to a festive dinner or boozy brunch with a big group and you don't want to worry about someone spilling Pinot Noir or a Bloody Mary when you set your precious bag on the table.
Fri 04.04
We've maybe finally left the snow behind, but that just means that it's time for April showers. No worries! With these boots, you'll be singing in the rain. I woke up to a downpour in NYC this morning, and honestly, I'm kind of excited about it. See? Shopping really does make things better. Here are the best boots at every price point…
Thu 04.03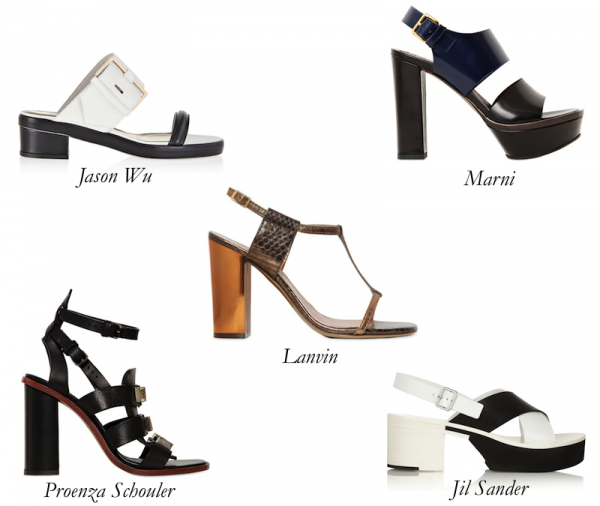 Whether you're the kind of girl who wears 2″ heels or never anything under 5″, you're going to want to jump on the block heel trend stat. The nod to the '70s is an absolute godsend for your feet – a step up from flats and a comfy alternative to razor-thin stilettos. Here are the picks you need to have a block party at any height…
Thu 04.03
By now it's quite clear that Nancy Gonzalez has a special gift for croc creations. Just look at this bouquet of exotic flowers! Now she's taking that delicate touch to little toucan charms, one of which she'll be giving away with the purchase of every bag today and tomorrow at Bergdorf Goodman.
Thu 04.03
The latest generation of Céline's "it" bag is none other than the plainly titled "Tie." Don't expect to see a total revamp of their sought-after (and now somewhat ubiquitous) Trapeze and Luggage totes; it's something of a hybrid of the two, thanks to its flamboyantly flared gusset and emphasized handle fasteners.
Wed 04.02
Have you finished spring cleaning? Reward yourself with a few pieces from Shopbop's massive sale! Nearly 4,000 items at up to 70% off guarantee that you're sure to find more indulgences than you even have room for in your newly emptied closet (you can always build a bigger closet, though, right?).