Author Archive
Tue 11.04
One year ago, American-heritage brand Palter DeLiso relaunched after lying dormant for decades. Established as the first luxury shoe company the US in 1927, its initial founders gained fame for their invention of the peep-toe slingback heel (sorry, Loubie lovers!), so to say Palter has some rich history is a bit of an understatement.
Mon 11.03
At first glance, this shot of Kate Moss suggests the style icon was perhaps a little, well, wasted. Instead, her clever costume was both a trick and a treat. The famed supermodel dressed up as the young supermodel of the moment, Cara Delevingne.
Fri 10.31
Happy Halloween, Snobs! The Outnet has a treat for us – 30% off! That in itself wouldn't necessarily be the greatest sale ever, but 30% off in addition to the Outnet's usual discounts? Well, let's just say I'm willing to arrive late to the costume party tonight. There's shopping to be done!
Fri 10.31
I started using Strivectin over 10 years ago, just after I'd turned 30 and gotten married. I'd always been a beauty addict, but with so many big life changes, I felt like being even more proactive when it came to anti-aging.
Fri 10.31
I was never that kid who dreamed of being the princess in a fancy wedding gown and castle. Not me. I wanted to be the superhero! When I immigrated to the States in the third grade, I decided to be Batman for Halloween. It didn't occur to me that only boys were supposed to be Batman.
Thu 10.30
Unlike most celebrities, RiRi isn't one to follow style rules. She wears bras as tops, doesn't wear bras with tops, and if she loves a bag, she will carry it over and over again.
Thu 10.30
Calling all croc Snobs! Creative Director Santiago Gonzalez will be at Bergdorf Goodman today until 5 pm to offer an exclusive preview of Nancy's Resort 2015 collection, and in case you can't tell from the meticulously crafted rainbow weave above, it is GOOD.
Wed 10.29
When it comes to Halloween, Rebecca Minkoff's trick-or-treat mentality is all treats! Now through November 3rd, she's offering up to half off selected bags, shoes, clothes, and jewels in everything from fall-friendly aubergine to spring pastels (which, conveniently enough, can also double as fall pastels this year).
Wed 10.29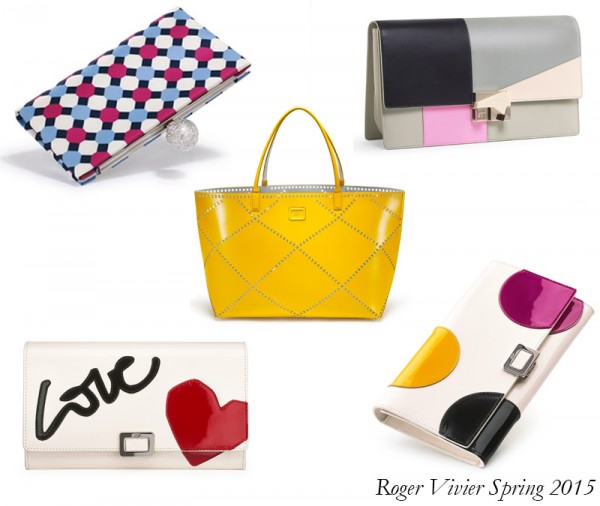 Next spring, Roger Vivier is taking us on a "stroll through the heat of summer," and I couldn't be happier to oblige early. Inspiration from the hot sun and cool evening breeze translates to pop art-heavy pieces that snap, crackle, and yes, pop.