Author Archive
I wish there was a pill for "I don't have anything to wear" days. Pop it and poof! A new outfit. If you also suffer from this chronic ailment, an eye-catching bag is always the answer. And if you're carrying one of Sarah's Bags, you can trust it will be all anyone looks at; no one will even notice what you're wearing with one of these mood elevators clutched in your hands. So tongue-in-cheek, when I'm not taking them out as my medicine, I like displaying them on my bookshelves.
Featured Items
Thanks to my longtime friend and favorite lifestyle expert, Kimberly Schlegel Whitman, I monogram anything and everything I own (though she strictly told me monogramming my child is forbidden, not to mention potentially illegal), so it seems perfectly fitting that her seventh book is all about just that! In Monograms for the Home, she not only goes into the history of these personal touches – which dates back to the sixth century BC – but she also offers ways to elegantly incorporate them into every room of your house. With gorgeous photos and tips from fellow etiquette experts, this is just the style guide you need to start the new year off with!
Featured Items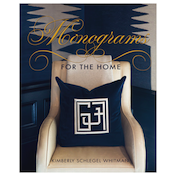 When it comes to New Year's resolutions, I say, all things in moderation…including shopping! If saving money is part of your 2016 plan, I applaud you. But as with dieting, too many restrictions may end up pushing you to a serious binge. Rather than blow your well-planned budget in one go, indulge responsibly – and moderately – with these final sales.
Featured Items
Calling all Hermès Snobs! This is one of the most incredible bags I have ever laid eyes upon. So incredible that it's going up for auction at Sotheby's on Friday, Jan 8th which means everyone has a chance to buy it. Well, everyone in theory, at least; the guide price is $75,700. Regardless, waitlists be damned!
With 2015 comfortably behind us, we're looking forward towards a fresh year, at least for the most part. As awards season quickly approaches, it's time we take stock of the best, worst, and most memorable bags of the past year. Make your voice heard, and vote from now until Sunday, January 10th! The winners will be announced on Monday, January 11th. The fate of the brands is in your hands, perhaps literally.
Featured Items
From the inimitable Kate Moss to the much-copied Alexa Chung to new head-turner Suki Waterhouse, the Brits are known for their groovy style. And is there any brand more quintessentially British than Liberty London? Opened as a store on Regent Street in 1875, Arthur Liberty launched in-house apparel in 1884, and they've been a longstanding staple of English fashion ever since.
Featured Items
Who's excited for a new year of fabulous bags? For this special post, we went to a winter ice wonderland. The magic of ice is as fleeting as life itself, as its beauty lasts only as long as it remains freezing cold outside. The healing powers of ice have long been sought after by mankind, most recently for their ability to preserve youth (cryo spas are the rage right now, as standing in extreme-cold conditions for a certain amount of time is said to stimulate circulation and promote healthy skin cells).
Featured Items
Happy New Year! The brand of 2016? G.U.C.C.I. This past year, the house received a much-needed new perspective, delivered in the form of Alessandro Michele. He came, he saw, and he conquered by way of an entirely modern, perfectly offbeat vision. Never has a brand seen a more successful reboot (at least not since Tom Ford took hold of Gucci and Yves Saint Laurent all the way back in 1994). From Michele's first look down the runway last February – a vivid red midi-length skirt, logo-laden belt, and ethereally see-through top – we were smitten.
Featured Items