Author Archive
Tue 02.18
Fall 2014 heralds a distinctively glam collection from fashion's reigning (and unofficial) King of Clean. Pristine sweeps of straps, as exhibited on the hyper-sleek, badass pumps, and crisp, uncluttered panels of high-shine beading in platinum and gunmetal, as seen on the shell tops and tank dresses, make for fuss-free cocktail ease.
Tue 02.18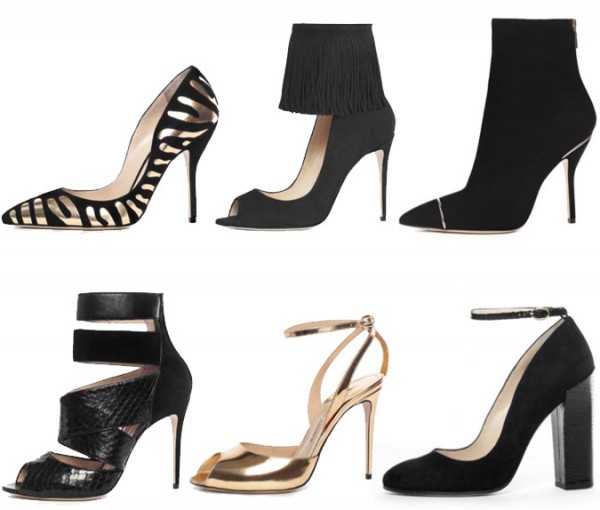 Many like to reference Paul Andrew, my number-one shoe designer to watch, as the "new Manolo," but I see him in a class all his own. With an eye both timeless and refined, he projects a genuinely modern brand of elegance. After taking in his Fall 2014 collection, I can't get enough
Mon 02.17
More of a good thing is a great thing, and in this case, that's color! The best combos are the most drastic contrasts, especially when one hue is classic and simple, while the other shocks the senses out of their winter doldrums – black and hot pink, black and metallic gold, etc. Pastel may be the unofficial tone of spring, but that just makes these surprising double acts all the more exciting.
Mon 02.17
The Olympic Games are well underway, and yet one of its biggest issues continues to loom at large – the Russian government's discrimination against the LGBT community. Enter Principle 6, a campaign to remind all of the Olympic Charter's prohibition of just such prejudice at the Games.
Fri 02.14
Inspired by the geometric color-play of the Ballet Ruses, the J. Mendel Fall 2014 collection came forth, from start to finish, with uncommon creations that ooze luxury and desirability in the truest sense of the words.
Fri 02.14
NYFW has finally drawn to a close. Eight days of incredible collections, but also incredibly horrible weather! To survive the brutally low temps and high winds, I had to keep my skin in tip-top shape, and that included my lips. I am somewhat of a lip balm aficionado, having used everything from nipple cream and cow udder balm (seriously) to fancy, flavored, department store versions.
Fri 02.14
Freezing rain and slush-filled sidewalks aside, Marc Jacobs' Fall unveiling (the first without a second gig on his agenda in 14 years) was the best show of the week for me. Billowing clouds reaching down from the ceiling instantly set a mood of freewheeling lightheartedness. And why not? After well over a decade at Louis Vuitton, the man is free.
Thu 02.13
The cool minimalism of the early nineties has been a theme that's popped up at the shows for the last few seasons, but leave it to the original master to finally get it just right. That's not to say Calvin Klein's Fall collection isn't modern. Actually, from the fresh dress cuts to the offbeat fabrications, Francisco Costa is proving he's far ahead of the curve.
Thu 02.13
Snowmageddon have you stuck inside? No worries! You've still got a front row seat to the best ticket in town – the Marc Jacobs Fall 2014 runway show. Make a hot cup of cocoa, put up your feet, and enjoy! It all goes down at 8 p.m. EST.