Author Archive
Thu 03.12
The new era of Coach is in full effect, as Stuart Vevers continues to up the once-tired brand's game. This cute, textured-leather mini bag (long live the mini!) is an easy and accessible gem, one you'll want to toss on crossbody come weekend or off-duty hours.
Mon 03.09
I am so excited to finally share our new Cinderella bag collection with you in celebration of the launch of the movie this week. Whimsical, feminine, and a little bit dreamy: we were inspired by the film to revamp our signature bag styles with twists fit for a modern-day princess.
Mon 03.09
Trust the Italians to bring a sense of magic to the runway. While the level of craftsmanship is always elevated, it's their flair for the nonchalantly fantastical that makes the Milan runways a standout.
Fri 03.06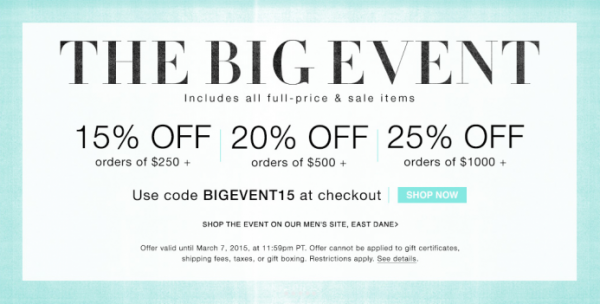 Another week down, another sale to celebrate it with! You deserve to splurge, and Shopbop's Big Event tailors to the biggest of splurgers. Now through tomorrow, you get 15% off a purchase of $250+, 20% off $500+, and 25% off $1,000+.
Fri 03.06
Need a late-week pick-me-up? Something to toss around on your off-duty days? Spring for ZAC Zac Posen's no-brainer backpack, perfect for a daytime weekend adventure. Or perhaps better yet, a lengthy shopping expedition.
Fri 03.06
Many prefer to buy German cars for their quality, and it seems the same can now be said for legwear! ITEM m6's compression tights and socks are made using the latest technology from German manufacturer medi.
Thu 03.05
Once again, Maison Martin Margiela is breaking out of the norm and creating a new reality all their own. Margiela bags aren't for everyone, and they're not meant to be.
Wed 03.04
In case you hadn't noticed, what with the sudden inundation of embellished and patchwork denim, soft and accessible suede, and fringe everything, the '70s are back in full swing…