Author Archive
Sometimes it's more entertaining to watch the show on the street than it is to watch the show on the runway. That's how I felt during Paris Fashion Week, especially any time I spotted a well-heeled attendee who hadn't been dressed by a brand (a trend that has gotten more and more common over the years). On the runways, we saw bags on chains at Nina Ricci and Valentino, oversized clutches at Balenciaga, and scarf-wrapped handles at Louis Vuitton…
Featured Items
It's the end of Fashion Month, and after weeks of the mad dash between shows, shoots, and everything else in between, I'm still reaching for my Gucci platform pumps. If that's not an endorsement for comfortable heels, I don't know what is. They're shockingly easy to walk in (just stay away from NYC's Meatpacking District and most Parisian streets, aka the locations of pretty much every show I went to), and with the wide variety of color and hardware options, are even easier to incorporate into your wardrobe.
Featured Items
When Ferragamo is good (which doesn't happen all the time, mind you), they are really, really good. And the Gancio shoulder bag is about at good as it gets, when it comes to a bag that ticks off certain boxes – criteria that frequently come up when discussing bags. Like timeless. Check. Ladylike yet modern? Check. Fully functional? Check, again. Altogether appealing on the eyes? Final check.
When it comes to Fashion Month street style, you see a lot of clown couture; sensible bags are typically kept at home, with front row attendees favoring the tiniest, flashiest, and often most controversial clutches and top handles on the market. Which is why I was so surprised to see that one of the biggest trends so far this season has been the oversized saddle bag…
Featured Items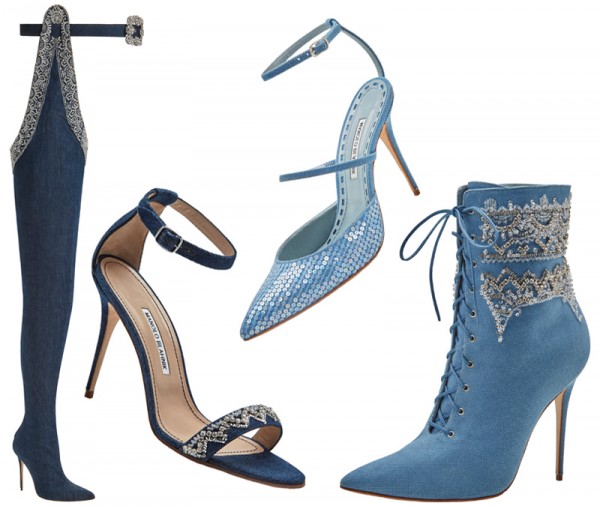 Every now and then, a collaboration that sounds almost too good to be true comes around. So goes the news of the union between possibly the most classic shoe designer of all time and the most stylish (and rebellious) pop star of our time: Manolo Blahnik x Rihanna. Their Denim Desserts collection consists of six styles featuring artisan-stitched embroidery inspired by Rihanna's henna hand tattoos, as well as sequins and, of course, plenty of sex appeal.
Clutch it like a winner. Of all the clutches I've come across, this is seriously the coolest one I have ever seen! A hard-as-nails minaudière with a logo done right (and you know that doesn't come along every day), it's got a fresh feature that comes as a total surprise. Lanvin's trademark scrawl of gold-tone hardware becomes a knuckle-duster when you lift it by its swingy hinges.
Featured Items
I'm flying to Paris tomorrow to complete the final leg of Fashion Month, and, as usual, I can't wait to see all of the bags – on both the runways and the street. So far I've noticed a couple of strong trends emerging, for the fashion crowd and celebrities alike: oversized saddle and top-handle bags. They cater to two different types of women (or at least two different sides of a woman)…
Featured Items
If you were stranded on a deserted island and could only have one beauty product, what would it be? Mine would be eye cream. Keeping the skin around my eyes smooth, glowing, and wrinkle-free has become somewhat of an obsession for me, and it will always remain one…even if my only companion is a deflated volleyball! I've long had three favorite creams that I alternate between depending on the season, but I've just found two new ones to add to the roster: Arcona's Eye Dew Plus and iS Clinical's Youth Eye Complex.
Featured Items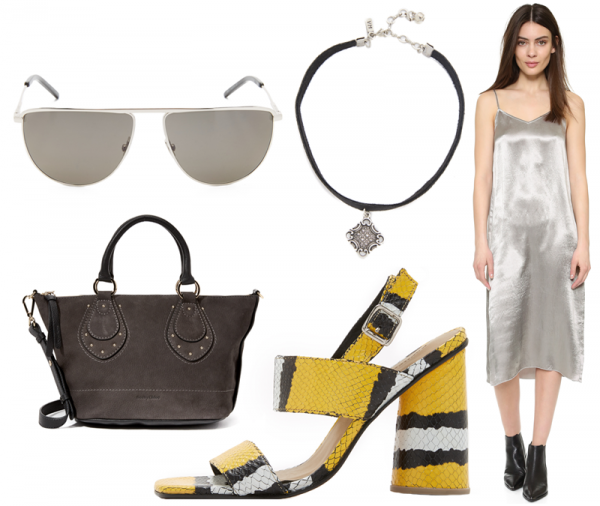 I've done my spring cleaning, so now I'm on to wardrobe restocking! This may seem counterproductive, but when you take into account the appearance of new trends each season, it's really more like a fun necessity. '90s-era slip dresses and chokers are experiencing a resurgence, and while it seems like 1995 was just yesterday, odds are you may not have saved your best crop tops and Doc Martens. Fortunately, Shopbop is here to help you get back on trend.
Featured Items