Bag Snob
Tue 03.11
While I consider myself both a Bag Snob and a Food Snob, I never thought the two would come together in quite this way. The results are hit or miss. Chanel, for one, did the gourmand well with steaks that were probably the most imaginative bags we've seen from the brand in years. I also fell for Nancy Gonzalez's handwoven croc wicker apples and pineapples.
Tue 03.11
Nothing puts me in the mood for spring-cleaning more than a new bag. It's motivation to put your older ones up for sale to make a little money for other must-haves! These are so fresh they have me wanting to pack away all my winter sweaters and coats, and break out the delicate colors and fabrics. Which of the white bags has you excited for this next season?
Tue 03.11
Here you go: a great Balenciaga classic without the signature Balenciaga fuss. Just good, clean, boxy-structured fun. Take a look at the proportions; this is a smaller bag than you might expect, which makes the overall effect so cute. Otherwise, in a big tote size, it would be a bit overwhelming.
Tue 03.11
Today's fashion news roundup features Jourdan Dunn speaking out against fashion industry racism, the new Zara lookbook, Lorde's MAC collab, and the cutest video of all time.
Mon 03.10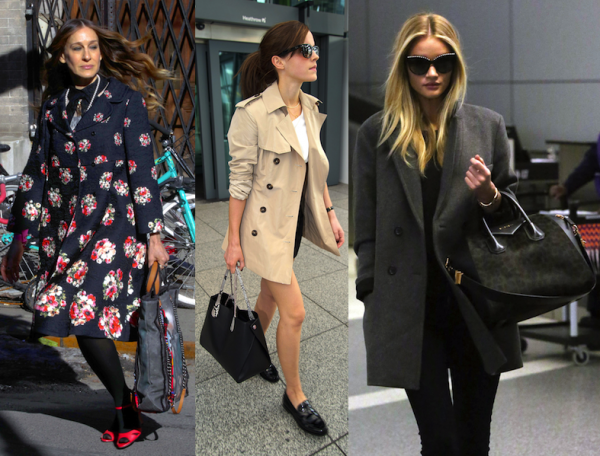 I bought four totes while I was at Paris Fashion Week. I'm an avid mini bag fan, but once I realized that I couldn't even fit so much as an invitation in, the hunt for the perfect tote began. Who better for inspiration than some of the most fashionable women in the world? Take Emma Watson's Spring 2014 Dior Addict – the look is classic with a twist, courtesy of python straps.
Mon 03.10
And with plenty of embellishments! I must have this stone, stud, and grommet accented Prada. There's a lot going on here for such a small bag, but with the vintage appeal, it works oh so well.
Mon 03.10
It feels great to strike out at night with a flashy clutch; it's that extra sparkle (literally and figuratively) that makes you feel special – and like a special night is in store. But make sure your awe-inspiring accessory is tasteful.
Fri 03.07
TGIF! Celebrate with our roundup of the week's biggest news…