Bag Snob
The latest topic for my Vogue China column, "Bag Chat with Tina," is bags that will brighten up your wardrobe without breaking the bank. I've found the best bags of the season that are both on-trend and on-budget because shopping for multiple styles is so much more fun than picking just one.
Watch the Valentino Spring/Summer 2016 show live at 8:30 am EST!
It's the holy grail. "Genius" and "perfect" are words you don't throw around too often – at least I don't when it comes to talking about a bag as a whole – but this is a genius, perfect bag. Starting with the most striking detail, look carefully at the front pouch…
Yellow is perky and red is hot, but if you ask me, no color energizes my spirits and warms my mood like pink. Which makes it the perfect way to kick off a busy week, as well as Breast Cancer Awareness Month. It's also rapidly becoming the unofficial color of the season.
Valextra has long been a favorite of Kelly's and mine. Their outlook is as quiet as luxury gets, and their pieces are as beautiful as bags can be. It's an acquired taste, no doubt, but once you've experienced the lasting richness of Valextra's leather and fine craftsmanship, you will be hooked for life.
Braids are having a moment. There's something about the texture, romantic and a little earthy, that feels so right. Just look to the recent ethereal hairstyles showcased by celebs like Amanda Seyfried, opting for a modern, less appropriated update on cornrows.
I prefer structure over schloppy, floppy bags. But sharply boxy bags are not always functional. They can be unforgiving at your side, difficult to get in and out of, and hard-edged to the touch. Not the latest bunch!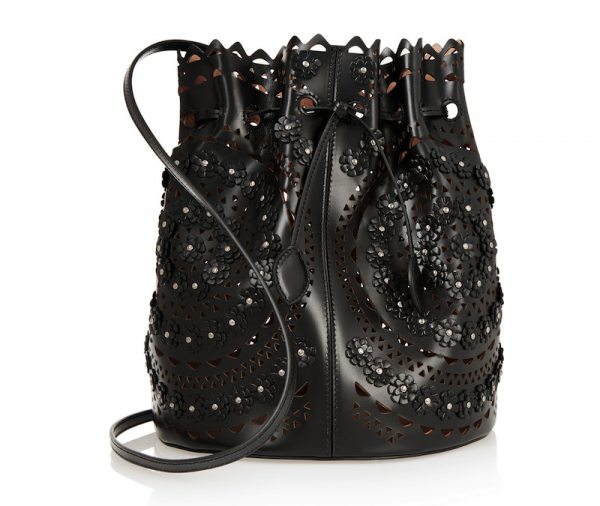 Thank you, Alaïa! Just when you think bucket bags are getting boring, one comes along that reinvigorates the love of the trend. Credit all their trademark laser-cut handiwork. These intricate details are insane!
Milli Millu founder and designer, Mireia Llusa-Lindh, is one of my favorite gals who knows her bags. Like me, looks are absolutely important to her, but the perfect bag also has details for conveniences.