Bag Snob
You've cleaned up a Thanksgiving-ravaged kitchen, put your feet up, and now it's time to shop! I'm sure you still have more family-and-friends-time to enjoy this weekend, though, so to maximize your sale-scouring experience, I've pulled together the best of the online deals
Featured Items
The turkey may not be cooked up yet, but sale season has already begun! With items up to 50% off, you can get an early jump on holiday shopping. I recommend picking up a variety of Anya Hindmarch stickers to use as stocking stuffers…
Featured Items
After a long day spent on a photo shoot with Barbie in Beverly Hills (Yes, it was as fun hanging out with Barbie and her friends as I always imagined it would be!), I treated myself to a quick stop at Barney's winter sale. From knee-high Givenchy boots and towering Alaïa platforms to The Row satchels and my favorite Nina Ricci Marche bag, it felt like an embarrassment of riches – and I was ready to indulge.
Featured Items
With this Shopbop sale, the more you spend, the more you save! Counterintuitive? Well, I guess it depends on your definition of "save." Now through November 30th, you'll get 15% off orders of $250 or more, 20% off $500 or more, and 25% off $1,000 or more…
Featured Items
'Tis the season that brings out the Santa in all of us. To play the part, a bag big enough to stash all your gifts is definitely in order. And when you're done granting everyone's wishes, the impending temperature dip certainly makes for the time of year that requires plenty of room for toting extra cold weather gear.
Featured Items
Each and every week doesn't start with a bang. Sometimes you get the luxury of easing on in, especially when it comes to weeks that end early like this one, which officially kicks off the holiday season. Speaking of luxury, these easygoing, new bags possess a different kind of luxe appeal, proving earthy embellishments with a rustic twist can be as alluring as the all-out glam stuff.
Featured Items
I remember reading an article in the WSJ a few months ago about how the sales of yoga wear have zoomed, but the number of people actually doing yoga has stayed more or less stagnant (the article was called "Yoga Poseurs"). I thought it was pretty funny, but I can see how that has happened…
Calling all bad girls and rabble-rousers. There's a new bunch of florals on the scene and while they may be fresh-picked, there's nothing sweet about this garden variety. My new favorite floral bags are mysterious, unexpected, and most of all, dark, proving the enduring flower theme shouldn't be strictly reserved for spring.
Featured Items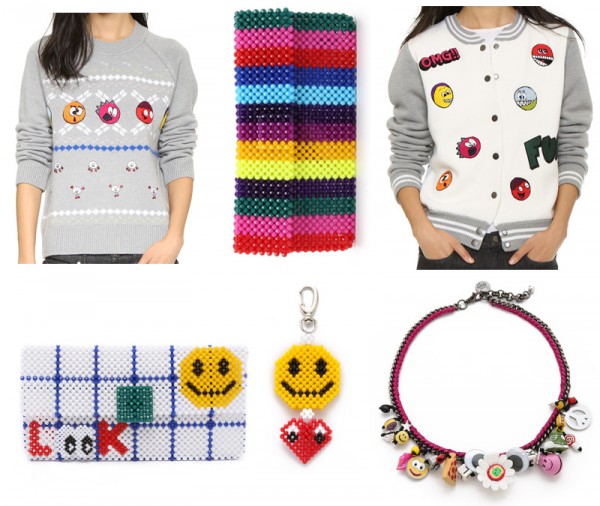 Dressing like a second-grader seems to be the thing right now. Come to think of it, it's not entirely unlike a man buying an expensive sports car during a midlife crisis. The cost of youth ain't cheap. My recommendation is to head over to Hobby Lobby and indulge in a day of DIY. For a few mere bucks, you, too, can be hip.
Featured Items