Bag Snob
Tue 09.02
Today my dear friend Nicky Hilton's book 365 Style hits shelves, and in honor of its release, I've asked her to share her must-have accessories – as well as a giveaway!
Tue 09.02
The electrified, New Wave-influenced mood of the '80s; the bold lines and primary-hued blocks of Piet Mondrian's mod-meets-modern paintings; and the playful verve and cool cartoonish wit of Japanese pop art, all fused into one symphonic clutch.
Tue 09.02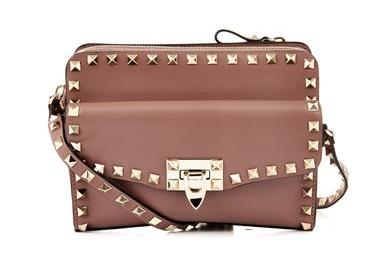 Upon first impression, this looks like your standard gorgeous, Rockstud-bedecked Valentino bag. In reality, it's so much more – with a genius design. Deftly constructed with a slim silhouette, this compact crossbody features a removable pouch that makes up the slender back portion of the bag.
Tue 09.02
Today's fashion news includes priceless advice for cardigan lovers and details on Rebecca Minkoff's wearable tech!
Mon 09.01
While summer may feel like it's over, as long as there are new fall giveaways to win, I'd say it's worth switching seasons! We've teamed up with Italian retailer Forzieriicon to bring you four beautiful bags, ranging from the fun and unusual to the classic. Each week, we'll reveal a new accessory, starting with this Charlotte Olympia…
Mon 09.01
I've admired Mary Katrantzou's picturesque prints for years, so her first bag collection is cause to celebrate! She's offering everything from embroidered circle and triangle clutches to colorblocked shoulder bags, but what got my attention first were the totes.
Fri 08.29
Recently, Cathy Horyn succinctly wrote of her longtime nemesis, Hedi Slimane and his accomplishments (or lack thereof) at the house of Yves Saint Laurent: "In two years as creative chief, he has barely broken a sweat as he fetches another pussy bow from the '60s time capsule."
Fri 08.29
Fact: An elegant and timeless clutch is never wrong. Another fact: Lanvin excels at creating elegant and timeless clutches, pieces that are as refined and nuanced as they are quietly evocative of the house and the distinct brand of femininity they represent.