Bag Snob
Thu 10.30
Looks-wise from the outside, this bag isn't anything special and the red "cow print" and rather cheap looking strap aren't something I would jump to get my hands on, but once you open up this bag, wow!! It's pretty awesome.
Thu 10.30
Unlike most celebrities, RiRi isn't one to follow style rules. She wears bras as tops, doesn't wear bras with tops, and if she loves a bag, she will carry it over and over again.
Thu 10.30
Calling all croc Snobs! Creative Director Santiago Gonzalez will be at Bergdorf Goodman today until 5 pm to offer an exclusive preview of Nancy's Resort 2015 collection, and in case you can't tell from the meticulously crafted rainbow weave above, it is GOOD.
Thu 10.30
I give Valentino a lot of love because honestly, Maria Grazia and Pierpaolo aren't doing much wrong these days. This latest confection only further solidifies my obsession. Hello, happiness! They've unleashed one of the most upbeat and perfectly irreverent bags you've ever seen, in time for the spring season.
Thu 10.30
Today's fashion news includes Isabel Marant's business advice!
Wed 10.29
When it comes to Halloween, Rebecca Minkoff's trick-or-treat mentality is all treats! Now through November 3rd, she's offering up to half off selected bags, shoes, clothes, and jewels in everything from fall-friendly aubergine to spring pastels (which, conveniently enough, can also double as fall pastels this year).
Wed 10.29
This week on Snobgrams, Tina fills her Hermès with Halloween goodies and attends an autumnal dinner party, while Kelly enjoys an adorable latte!
Wed 10.29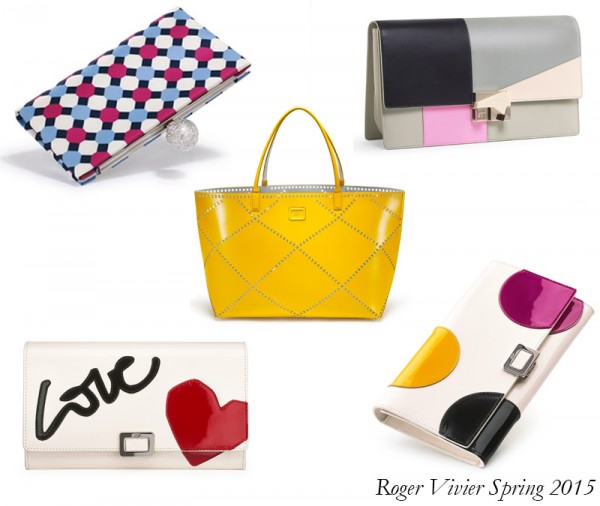 Next spring, Roger Vivier is taking us on a "stroll through the heat of summer," and I couldn't be happier to oblige early. Inspiration from the hot sun and cool evening breeze translates to pop art-heavy pieces that snap, crackle, and yes, pop.
Wed 10.29
Three words: simple, sleek, and thoroughly functional. Okay, so that's more like four words, but you get the idea. Perrin Paris has delivered one of the best backpack designs I've ever seen.