Bag Snob
Fri 03.07
TGIF! Celebrate with our roundup of the week's biggest news…
Fri 03.07
Jeremy Scott's first collection for Moschino made a big splash at Milan Fashion Week thanks to designs inspired by American brands like Budweiser, Hershey's, and yes, McDonald's. I was intrigued by his jacket bags, but I can't say I would wear any of these overcooked looks.
Thu 03.06
There was a time not long ago that when it came to bags, Phoebe Philo could do no wrong. But even brilliance can go tired and give way to the mundane; there are peaks and valleys (and I trust there'll be another peak!). The Céline Fall 2014 season's bags just left me feeling flat.
Thu 03.06
I have complained that Anya Hindmarch veered too far off into Novelty Land with her Capri Sun-lookalike foil-pouch clutch, but her sense of adventure isn't all bad. Actually, she's proven she has a real sense of savvy and even outright originality for the spring season.
Thu 03.06
Our fashion news roundup today features the front row at Miu Miu, Chanel bag prices, and shrink wrapped models.
Thu 03.06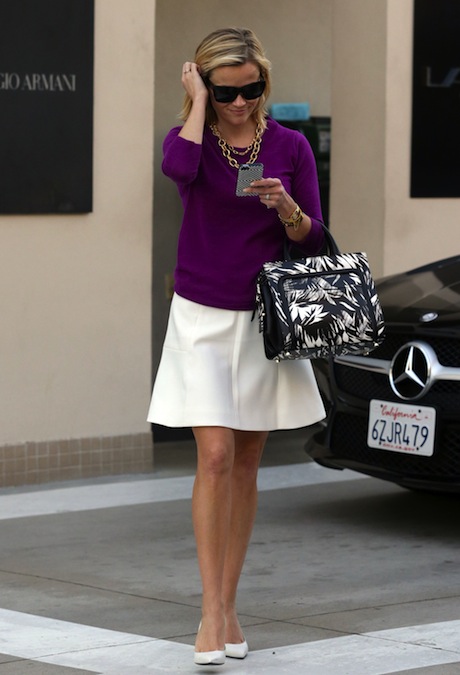 Another week, another set of swoon-worthy celebrity bags! Let us know who's carrying your favorite in the poll…
Wed 03.05
No pressure or anything for Nicolas Ghesquière. He was only granted the task of taking the reins at one of the most prestigious French houses in the world, in time for Fall 2014. Not that the beloved Ghesquière, he of much-praised Balenciaga fame, doesn't come with quite a pedigree. But any time there's a shift in power and a change in creative direction, one must tread carefully.
Wed 03.05
At first glance, I quite liked this bag. How perfect for summer, I thought. The structure, polished lock, and rolled leather top handle add sophistication to seasonal favorite rattan. It's not some slouchy straw bag you'll take to the beach, but it does evoke the look and feel of summer that we all love.
Wed 03.05
This week is all Paris Fashion Week, Chanel, and good food from our Snob Instagrams!