Bag Snob
Mon 03.10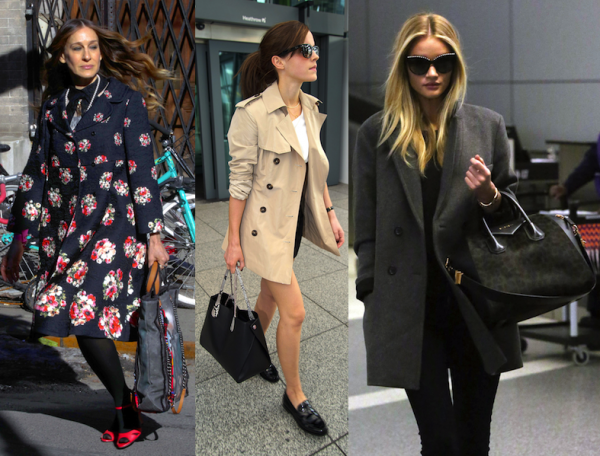 I bought four totes while I was at Paris Fashion Week. I'm an avid mini bag fan, but once I realized that I couldn't even fit so much as an invitation in, the hunt for the perfect tote began. Who better for inspiration than some of the most fashionable women in the world? Take Emma Watson's Spring 2014 Dior Addict – the look is classic with a twist, courtesy of python straps.
Mon 03.10
And with plenty of embellishments! I must have this stone, stud, and grommet accented Prada. There's a lot going on here for such a small bag, but with the vintage appeal, it works oh so well.
Mon 03.10
It feels great to strike out at night with a flashy clutch; it's that extra sparkle (literally and figuratively) that makes you feel special – and like a special night is in store. But make sure your awe-inspiring accessory is tasteful.
Fri 03.07
TGIF! Celebrate with our roundup of the week's biggest news…
Fri 03.07
Jeremy Scott's first collection for Moschino made a big splash at Milan Fashion Week thanks to designs inspired by American brands like Budweiser, Hershey's, and yes, McDonald's. I was intrigued by his jacket bags, but I can't say I would wear any of these overcooked looks.
Thu 03.06
There was a time not long ago that when it came to bags, Phoebe Philo could do no wrong. But even brilliance can go tired and give way to the mundane; there are peaks and valleys (and I trust there'll be another peak!). The Céline Fall 2014 season's bags just left me feeling flat.
Thu 03.06
I have complained that Anya Hindmarch veered too far off into Novelty Land with her Capri Sun-lookalike foil-pouch clutch, but her sense of adventure isn't all bad. Actually, she's proven she has a real sense of savvy and even outright originality for the spring season.
Thu 03.06
Our fashion news roundup today features the front row at Miu Miu, Chanel bag prices, and shrink wrapped models.