Bag Snob
Thu 12.18
In the age of mass-produced goods, it takes a bit effort to be unique. Not only is cultivating your own personal style paramount to standing out, the most literal way to do it is one of the best!
Thu 12.18
Today's fashion news includes the best-dressed women of 2014 and Puma's new creative director…
Thu 12.18
Ugly Christmas sweaters? No, thank you! I'll take the chic ones. We're one week away from the big day, and I intend to spend the whole time dressed in my holiday finest. From Red Valentino red crochet for the classic sophisticate to Aztec pattern for the Snob who doesn't want to look too Christmas-y, there's a knit to fit every style
Thu 12.18
Not sure what to get the Zooey Deschanel in your life? Whimsy-infused clutches make cute gifts for girls with the personalities to match, and some are even marked down right now (no real surprise there)! On the other hand, there are bags that require investments so steep they take the fun out of it…
Wed 12.17
This one's for all the mall warriors and department store troopers braving the last-minute holiday crowds.
Wed 12.17
To celebrate the holidays in style, we asked our favorite fashion insider friends to share the one thing that tops their wish lists this season.
Wed 12.17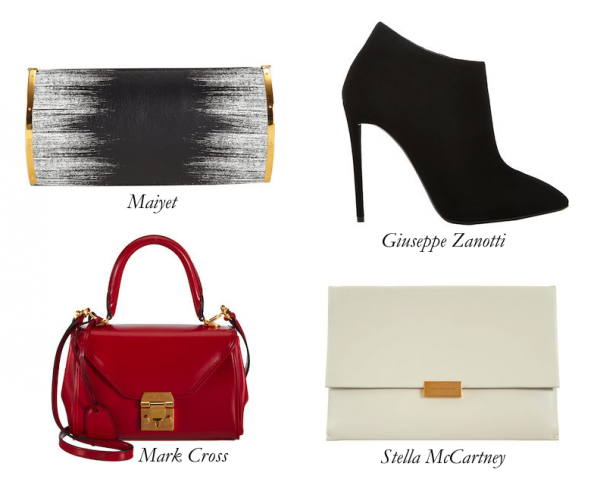 The only thing I love more than a sale is when the items in that sale are discounted even further, and Barneys never lets me down!
Wed 12.17
Are you regretting not taking advantage of those great Cyber Monday sales? No need to fret because Shopbop has your lazy butt covered! Instead of trekking out in the cold to crowded stores filled with frantic, last-minute shoppers, curl up on the couch and check out Shopbop for additional 20% discounts off already marked-down items.
Wed 12.17
Today's fashion news includes the fashion industry's latest firing and statement jewelry…