Bag Snob
Mon 03.02
Once uncommon and now nearly ubiquitous, the well-designed bucket bag is really on a roll these days. Here is yet another great bucket, among the many greats (including our very own Andie!). It seems like the style was almost made with a designer like Phillip Lim in mind.
Mon 03.02
Nothing speaks of spring like pastel hues. Except, that is, for a plethora of colorblocked pastel hues. My favorite seriously seasonal pieces let the sweetest shades in the spectrum shine together.
Fri 02.27
Frilly? Yes. Adorable? Definitely yes. Designer wunderkind Simone Rocha realizes a little bit of ruffle goes a long way, and this detailing travels the right amount of distance.
Fri 02.27
There is something so pure and innocent about this sweet print – which makes it all the more fun to spice up. Luckily, designers have done the work for us this season…
Fri 02.27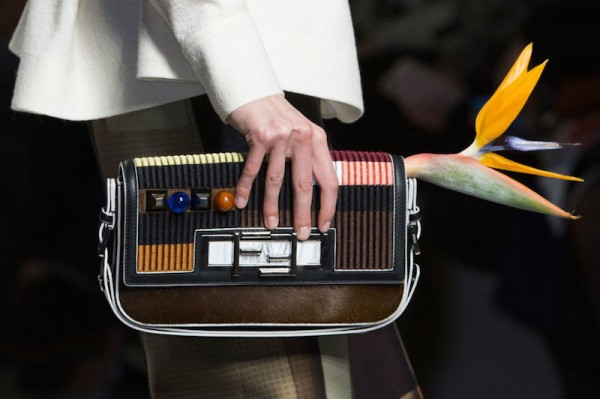 Today's fashion news includes the best accessories from Milan Fashion Week…
Thu 02.26
While it's easy to get caught up in the new softer textures and pastel-pale palettes of spring, let's not forget, it's still prime shopping time for the end-of-season sales. Just look at this delectable piece of arm candy from Pierre Hardy, now a full 50% off.
Thu 02.26
Today's fashion news includes Milan Fashion Week street and runway style…
Thu 02.26
Our bestselling bag, the Anara (named after Kelly's daughter) is back at HSN in fabulous new colors for Spring '15! This style sold so well, we don't even have any for ourselves (I had to order mine from HSN.com!). So what gives Anara that "It" factor?
Wed 02.25
Leave it to the Brits to bring the camp, cleverness, and cheekiness to the Fall '15 lineup. At London, there was no shortage of personality, to say the least. The question is: who do you want to play with come fall?