Animal prints
I never thought that a flat bag would appeal to me. After all, structure and interesting details are both literally and figuratively what give an accessory depth. But after lugging one heavy tote after another, I found myself seeking a sleek bag that packs well, is easy to store, and won't cause my shoulders to slump in discomfort. Conveniently enough, Guillaume Henry had exactly the same idea in mind. His latest design, the Irrisor, is about as simple and clean as a bag can get.
Featured Items
Is your bag taste aligned with the art that inspires you? Let's put that to the test with a fun game. Pick the art that inspires you the most and see if its corresponding bag also touches you at the core. Your feelings towards art are so personal and emotional – just like how you feel about your bags! I can't wait to see everybody's results. Make sure to comment here or on Facebook.
There's no need to spend a fortune on the most beloved color of the year. Rose quartz isn't just a shade of pink that's easy on the eyes and uplifting to the spirit. Soft and unassuming, it's a color that looks good on every skin tone. It's also just about everywhere right now!
Featured Items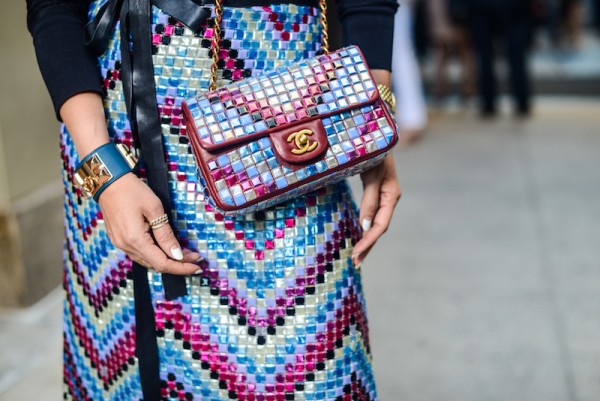 The runways proved that matching your bag to your ready-to-wear is the way to go for the Spring '16 season, but I say, why wait until then?
Featured Items
Show me a bag that's quintessentially Miu Miu and I'll show you a bag that exudes quirk and glamour in equal measure, thanks to an unfailing way with wacky combinations that somehow work. Like this well-balanced masterpiece of leopard-print calf hair, deep jade python, and aqua-blue suede (on the interior). It should add up to overkill on the eyes. Instead, it's total eye candy!
Why should little kids have all the fun when it comes to toting their stuffed animals around? It's time to bring the zoo with you, thanks to a new bunch of bags that are more suited to hang on a snob's arm than they are on the shelves at FAO Schwarz (I can't believe they're closing!), if barely so.
Nicky Hilton Rothschild has had quite the year! First, she had one of the most-talked-about weddings in recent months and now, a bag line. A longtime bag snob in her own right, Nicky has created a playful and stylish collection with Linea Pelle. The capsule line, released in time for Fall '15, was designed with practical classics in mind, but each bag has Nicky's unique, topnotch sensibility in tact.