Animal prints
Wed 07.02
A center panel of contrasting color (or texture!) can take a bag from basic to the big leagues with the simplest of juxtapositions…
Fri 06.20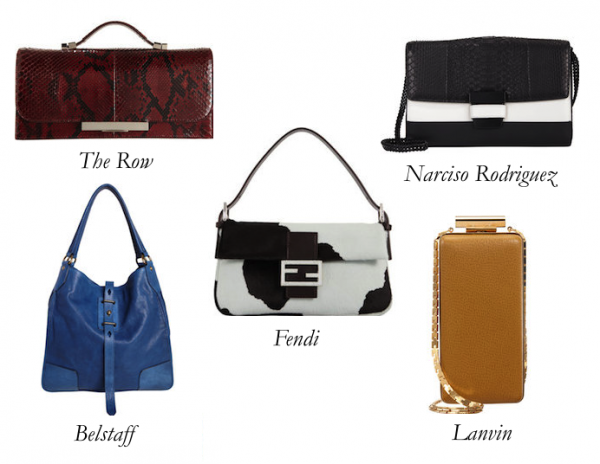 Barneys sales are the best, hands down. Shop with these bags in mind to get the most bang out of your sale buck.
Wed 06.18
Back in 2008, painter Hanneli Rupert launched what is now seen as one of Africa's first luxury bag brands – Okapi.
Thu 05.29
Already thinking ahead towards fall even though it's only unofficially summer? So am I! Get excited now, with a fresh crop of bags that are as mysterious as they are current. Dark romance and subtly tribal are two strong trends going into the next season, and the moods have been injected into both floral and animal prints.
Wed 05.28

Christian Louboutin is on a sleek, chic new kick, and no one is happier about his newly minimal (it's all relative, right?) aesthetic than I am.
Wed 05.21
You know those moments when you find yourself craving something like a banana split with a cherry on top?! (Yes, my cravings are very specific. Sometimes it's a pair of 6″ sparkly pink heels, but that's a hankering for another entry.) And then a bag, not a delicious dairy dessert, shows up on your doorstep, and you realize it's what you really needed?
Thu 05.08
I think of many bags as pieces of art, but my friend Maria Brito's new clutches take that idea to an entirely different level. The interior designer and Art Snob extraordinaire collaborated with three incredible contemporary artists just in time for the opening of NYC's Frieze Art Fair.
Thu 05.01
Before this season, the Boy bags in my life were all of the Chanel variety, but these days, I have other Boyys trying to steal my heart – and they're succeeding!
Fri 04.11
I've started writing a monthly column for HarpersBazaar.com that I hope you'll all be tuning in for! My first subject was spring cleaning, or rather, spring organizing (it's a lot easier to organize than to give away beloved bags!). At the start of a new season, I store the pieces I won't be wearing in boxes, and bring out all the others I've been waiting to carry.