Backpack
Wed 05.07
This one requires me to start with a disclaimer: the only reason this number isn't a "rag bag" is because the ultimate Gym Snob who uses this strictly to carry her spare trainers and a fresh T-shirt could do this backpack justice. Napa deerskin is butter-soft and tactile, but let's be real: 700 bucks for a glorified drawstring sack?
Fri 05.02
Remember when we all gasped at Lupita N'yongo's stunning Golden Globes' gown (and pretty much every other time she appeared anywhere)? The woman behind that look – as well as those of Michelle Dockery – is Micaela Erlanger. She's the stylist to the stars – and the best-dressed ones at that!
Fri 04.25
Okay, pricey exotic backpacks aren't exactly casual, but they're the perfect middle ground for Snobs who want to get the cool girl look without dressing like an actual schoolgirl. I saw a beautiful woman toting this exact Nancy Gonzalez the other day (her croc was in gray, but I can't resist featuring this bright cobalt!).
Fri 04.25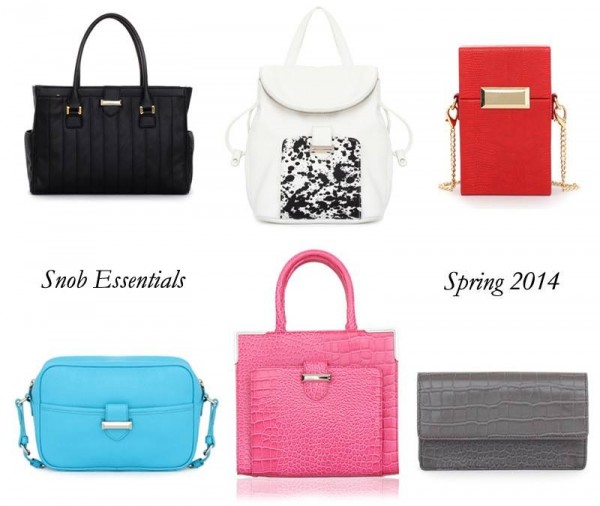 What did you dream of becoming when you were a kid? I told anyone and everyone that I was going to be a writer and a fashion designer…
Fri 04.11
I've started writing a monthly column for HarpersBazaar.com that I hope you'll all be tuning in for! My first subject was spring cleaning, or rather, spring organizing (it's a lot easier to organize than to give away beloved bags!). At the start of a new season, I store the pieces I won't be wearing in boxes, and bring out all the others I've been waiting to carry.
Wed 04.02
Rita Ora (or her assistant?) is carrying one of the cutest backpacks I've ever seen! I have to assume it belongs to Rita since the nude bag coordinates with her head-to-toe cream ensemble from Swedish brand Ann-Sofie Back's Fall 2014 collection. Well, almost head-to-toe! From the knee up, she's a classic bombshell topped with a black Trilby hat, but when does Rita ever do classic?
Mon 03.31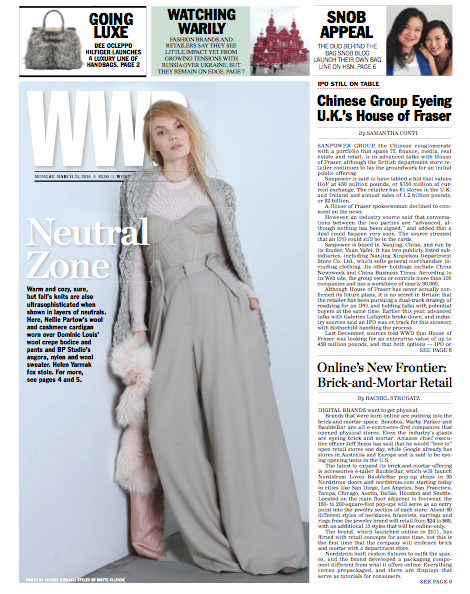 Our heartfelt gratitude goes out to Women's Wear Daily for making the launch of our Snob Essentials bag line today's front-page news! As the name suggests, we have covered all the bag essentials a Snob needs, from clutches to backpacks to everyday totes. Using vegan leathers, we've designed the whole line within an affordable price range ($68 to $128) without sacrificing quality.
Fri 03.28
A single glance at this, and I'm reminded of the age-old question: form over function? The best bags encapsulate both in the right measures so you don't even have to pose the query, but then there bags of the more unusual breed that make me pause and wonder.
Tue 03.25
It bags are not iconic in the classic sense. Some may stick around like the perennial favorite Birkin, but others come and go as trends do. Even the term "it" bag is relatively new. The phrase was first coined in the '90s when we gasped at the sight of Carrie Bradshaw toting a Fendi Baguette, cigarette unapologetically in hand. Did she make the Baguette cool, or did Fendi make Carrie cool?