Backpack
Hardware is a tricky thing. Too little and we're bored…too much and we're overwhelmed. Chloé got it just right with its mini Faye crossbody, and ever since, I've been on the lookout for bags with perfect amount of hardware.
It's that time of year again! Time to pay homage to the men in our lives in the best way we know how: by updating his carryall collection. Whether he's a bag enthusiast or tries to shove everything in his pockets each time he leaves the house…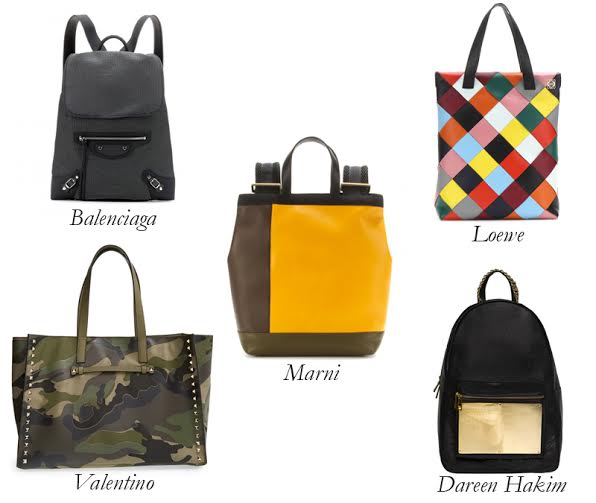 Memorial Day marks the unofficial start of summer, and it welcomes the official start of the travel season. And that means we need the perfect travel companion: the right bags! This time, it's on the outside that counts.
How could you not love blush pink? The soft hue goes with literally everything! I know I'm guilty of saying this often (especially while justifying an irresistible new purchase), but in this case, the shade really does.
What shouts summer vacation better than this duo? Nice, neutral, and easy to wear, there's nothing like a luxe leather backpack and a pair of new wedge sandals to get you in gear for your next trip, whether the beach or city beckons.
Not all logos are created equal, and I'm not just referring to my brands of preference. Anyone can showcase their signature ensigns loud and clear. But the bags that do it with beguiling shrewdness are the ones that really get our attention.
Ahhhh the inexplicable craze for all things Fendi continues! Bag monsters, stickers, and other quirky accessories (for your accessory) are still very much on-trend, and there's no finer example than that of the Karlito.
Well, not exactly free. But this ample selection of covetable bags, all comfortably priced under $200, is enough to make you feel like you're getting a steal or two…or ten.
Snobs, set your scaled-down studs to the side. From Marc Jacobs' chunky-round cabochons to Tod's mirrored metallic accents, there's a new breed of embellishment taking over the season.