Backpack
Wed 08.06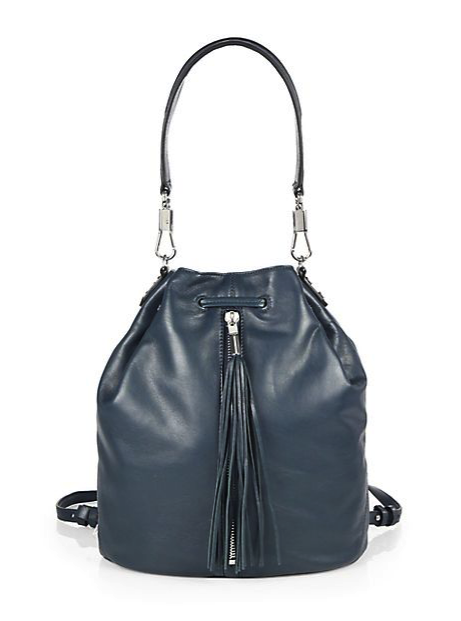 This is one of those special few designs that actually functions as advertised – as a backpack that converts into a handbag. Essentially, the shape is a bucket, so why not also use the Cynnie Sling as that? It's the trend of the moment, and will continue to be chic, even once Mansur Gavriel's supply is able to keep up with the demand.
Fri 08.01
Before heading off to whatever weekend adventures await, enter Luisa Via Roma's giveaway to win a bag from our own Snob Essentials handbag collection! This giveaway is only available until August 10th, so enter ASAP!
Mon 07.21
Oh, Karl. Love him or hate him, at the end of the day, you still kind of have to love him.
Mon 07.14
Where would we Bag Snobs be without the French? Not only did they give us Champagne and the word chic; they have blessed us with many of the most vital and beloved designers in the world.
Fri 06.27
Cult fashion brand Mansur Gavriel, best known for their nonchalantly elegant, streamlined approach to vegetable-tanned leather goods, has just gotten hotter – thanks to their newly launched e-commerce site.
Wed 06.25
Finally, the long-awaited Moschino jacket bags are here. Yep, now you can wear your leather motorcycle jacket and carry it, too!
Mon 06.23
What's the color of summer 2014? Officially turquoise! Celebs can't seem to get enough of our bags in the vibrant, summery hue, and we can't get enough of seeing these gorgeous girls in them!
Mon 06.23
Tina and I designed the Snob Essentials Runway backpack for countless scenarios, and one of our favorites is travel. Whether you're hiking around a tropical island or perusing the streets of Italy, this bag helps you get on your way, with no-muss, no-fuss. Who wants to spend time planning your outfit when you could be out exploring or shopping?
Thu 06.19
You've got a full social calendar this summer, and few of those events are harder to shop for than the athletic variety. Half the time you're just trying to relax with a beer and the other half the time you're expected to dress to the nines. Suiting up for the occasion is a game in itself!