Backpack
Fri 03.28
A single glance at this, and I'm reminded of the age-old question: form over function? The best bags encapsulate both in the right measures so you don't even have to pose the query, but then there bags of the more unusual breed that make me pause and wonder.
Tue 03.25
It bags are not iconic in the classic sense. Some may stick around like the perennial favorite Birkin, but others come and go as trends do. Even the term "it" bag is relatively new. The phrase was first coined in the '90s when we gasped at the sight of Carrie Bradshaw toting a Fendi Baguette, cigarette unapologetically in hand. Did she make the Baguette cool, or did Fendi make Carrie cool?
Fri 03.07
Jeremy Scott's first collection for Moschino made a big splash at Milan Fashion Week thanks to designs inspired by American brands like Budweiser, Hershey's, and yes, McDonald's. I was intrigued by his jacket bags, but I can't say I would wear any of these overcooked looks.
Mon 03.03
Who says you need to be decked out in camouflage to inject a little bit of boot camp chic into your look? Sometimes subtle is the way to go, and sticking with a neutral palette of lush olive, earthy brown, rich hunter green, and all-grown-up mahogany will leave you anything but fatigued.
Fri 02.28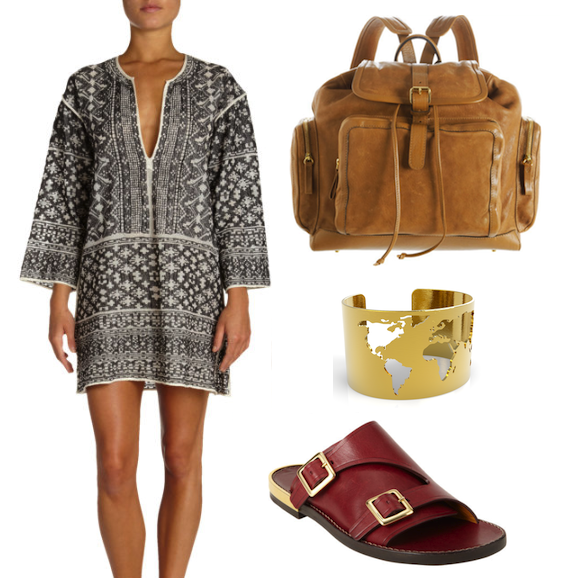 I just landed in Paris yesterday for another pavement-pounding Fashion Week, which got me thinking of how best to dress when you're out globetrotting. It has to fall somewhere between worldly and sensible (granted, that's a word rarely uttered along the front rows of any runway). What's your secret to traveling in style?
Sun 02.09
Brand name aside, Donna Karan is a designer who has always used her native city to inspire and guide her work. It's intrinsic; it's the DNA, and with her DKNY Fall 2014 runway show, she paid homage to the most densely populated city in the country with more zeal than ever.
Wed 02.05
From the low to the high, you absolutely must get a backpack if you don't already have one. But there's one major rule that comes with the territory: you must steer clear of looking like a schoolgirl (unless, of course, you're trying to look like a schoolgirl, but that's a story for a different day).
Tue 02.04
I wore DKNY everywhere during my '90s college years. While friends donned Gap sweats, I rollerbladed around Santa Monica in a full DKNY bodysuit – racing stripes included (the colors matched my blades!). They laughed at my sense of commitment, but as it turns out, I was ahead of my time. For Spring 2014, DKNY has reissued iconic '90s RTW and accessories with Opening Ceremony.
Fri 01.31
From Stella to Proenza to The Row, it is all about the backpack as a fashion item. But you don't need to go to the top of the line to get a topnotch style. Actually, you just need to go to Topshop.