Beaded/Embellished
Fri 03.07
Jeremy Scott's first collection for Moschino made a big splash at Milan Fashion Week thanks to designs inspired by American brands like Budweiser, Hershey's, and yes, McDonald's. I was intrigued by his jacket bags, but I can't say I would wear any of these overcooked looks.
Thu 03.06
There was a time not long ago that when it came to bags, Phoebe Philo could do no wrong. But even brilliance can go tired and give way to the mundane; there are peaks and valleys (and I trust there'll be another peak!). The Céline Fall 2014 season's bags just left me feeling flat.
Thu 03.06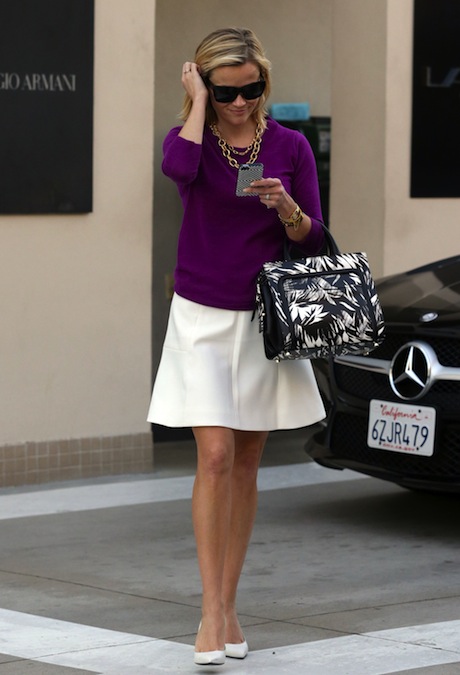 Another week, another set of swoon-worthy celebrity bags! Let us know who's carrying your favorite in the poll…
Wed 03.05
…And tulips and daisies and lilies. Some people say the first day of spring is March 21st (and technically, they are right). Others say it's when new buds have returned to the trees. But I say it's when a fresh crop of blossoms hits the shelves by way of my favorite accessory.
Tue 03.04
I say this with confidence: When it comes to mastery of the craft and virtuosity of divine execution, Maria Grazia and Pierpaolo are unparalleled. In a most emotional Fall 2014 show, the pair made their inspiration felt by each and every onlooker: unconventional women deeply rooted in a moment of change.
Tue 03.04
Nobody understands the importance of showmanship as well as Karl Lagerfeld. For Fall 2014, he took us to market, and the once-in-a-lifetime Chanel Shopping Center experience was one that left all attendees reeling. Strolling into the Costco-sized big-box market made for a surreal moment, one that made me wonder to myself (and I was not alone!), "Where am I?"
Tue 03.04
Face it – you've become permanently attached to your smart phone, tablet, and laptop. And by you, I mean me! It feels like my life would fall apart if any one of these things were to disappear or be damaged. Just like you would with anything that is so precious in your life, you make sure it's safe and snuggled up in the most fabulous coverings.
Fri 02.28
What is the essence of the Nina Ricci woman? That's the question Peter Copping explored at his show at the Jardin yesterday, and the answer he reaped was a most satisfying one. Not that we didn't have more than a hint already.
Thu 02.27
Did anyone else just catch that balmy breeze in the air? What a delightfully fresh summer bag! Sometimes a bag is all it takes to make you feel like a new season is finally in effect, and for me, Viktor & Rolf's eyelet-inspired creation is it.