Beaded/Embellished
Tue 07.22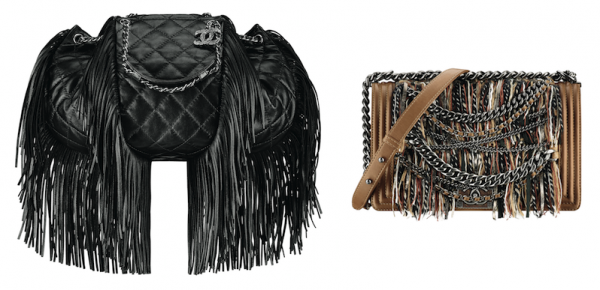 Still on the fence about fringe? Linger in limbo no more. Chanel's gutsy riff on the fashion world's latest love interest should tip you right over. You'll be walking with a lot more spring in your step, or at least zeal in your movements, thanks to their breeze-catching, precision-cut fringes.
Mon 07.21
Contrary to what we might hope, bags are not always "one size fits all." Skinny, young things may be able to get away carrying just about anything, but my well-endowed girlfriends have trouble finding even a simple crossbody. While you can certainly buy any bag out there, the truth is that different bags flatter different body types. See which will work best for you!
Mon 07.21
One of two things has happened here: either my eye has changed or Dolce is growing on me. While their bags once (and not a time too long ago) looked blatantly kitsch, two of their latest designs, released today, are charmingly kitsch – and trust me, there is a big difference between the two.
Fri 07.11
The month-long frenzy has almost reached its conclusion, and to celebrate the final game, I've rounded up some lucky bags for the competing teams!
Fri 07.11
When a glamour-obsessed fine jewelry line takes the plunge into clutches, you hope the results are going to be awe-inspiring. When New York-based Bochic (founded in 2004) takes the plunge into minaudierès, the result is a passionate collection worthy of old Hollywood.
Fri 07.11
When it comes to gray, the rule goes the paler the better for successfully speaking to the season's neutral trend.
Thu 07.10
What could be more summery than a white, laser-cut tote?
Thu 07.10
While a lot of what's going on here is amazingly cool, a perfect bag this is not…