Beaded/Embellished
Sat 09.06
I kicked off the week with the talented Peter Som, and his subtly Pop Art-inspired Spring '15 collection felt the perfect way to start. Looking to classic all-American beauties, like Lauren Hutton, Edie Sedgwick, and Carolyn Bessette-Kennedy, as his muses, he had women "who embody a certain boldness" in mind.
Fri 09.05
Less than three days left to enter to win a red Charlotte Olympia Pandora color clutch box! For September, we've teamed up with Italian retailer Forzieri to give away four beautiful bags, and this is only the first. Check back on Monday to see which one is next!
Tue 09.02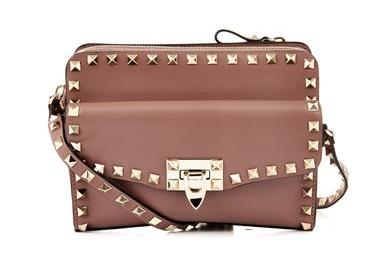 Upon first impression, this looks like your standard gorgeous, Rockstud-bedecked Valentino bag. In reality, it's so much more – with a genius design. Deftly constructed with a slim silhouette, this compact crossbody features a removable pouch that makes up the slender back portion of the bag.
Mon 09.01
While summer may feel like it's over, as long as there are new fall giveaways to win, I'd say it's worth switching seasons! We've teamed up with Italian retailer Forzieriicon to bring you four beautiful bags, ranging from the fun and unusual to the classic. Each week, we'll reveal a new accessory, starting with this Charlotte Olympia…
Fri 08.29
Recently, Cathy Horyn succinctly wrote of her longtime nemesis, Hedi Slimane and his accomplishments (or lack thereof) at the house of Yves Saint Laurent: "In two years as creative chief, he has barely broken a sweat as he fetches another pussy bow from the '60s time capsule."
Fri 08.29
By now you've either bought or added booties, a coat, and something burgundy-colored to your fall fashion wish list. What about a few more unexpected pieces, though?
Wed 08.27
The Wednesday blues getting you down? Fight them off with some cure-all shopping! Kirna Zabete has marked down its sale items up to 75% off, making it 100% guilt-free. Stock up on last-minute summer essentials, or ready your wardrobe for fall with blazers, jewels, and form-fitting Roland Mourets.