Beaded/Embellished
Lanvin bags often tend to lean towards the prettier, more traditionally feminine side. Now it looks like they've switched gears for the time being, from their recent braided and tassel shoulder style to this latest riff on all-over studs. The brand is full of attitude this season…
I am not one for a festival, but I never say no to Las Vegas. No, there will not be any camping. I am staying near the Life is Beautiful festival, where Kendrick Lamar and Stevie Wonder are slated to perform, among many others, and enjoying the glamour.
The results from New York Fashion Week are in, and the biggest bag trend off the Spring '16 runway is definitely the saddle bag. It's the perfectly relaxed counterpart to the season's loose silhouettes, sweetly lacy accents, and pajama-reminiscent looks.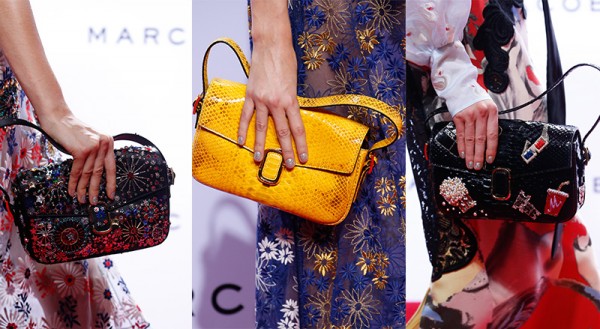 In a collection that shut down New York Fashion Week with a dazzling bang, Marc Jacob reminded us once again that he never disappoints in the dramatics department. New York's famed Ziegfeld Theatre set the scene for Marc's trademark genius theatrics.
While I may not be adventurous enough for a crazy, fun hairstyle these days (the '80s were a whole different story!), I can definitely project that side of myself with the right bag. Like this twist on the fur-covered front flap by Valentino.
I believe the best things come in small packages. Or at least the chicest things. Mini bags are not only still on trend, they're smaller than ever. They're micro mini, and you should think of them as accessories with little function other than aesthetic pleasure.
When a good sale comes your way, you stop everything you're doing and get to shopping. Items already discounted, some by as much as 50%, are getting an additional cut of 30% off just for Bag Snobs with the code BS30FR. And FREE SHIPPING. What?!
A little fringe is fun and on-trend. But not all fringe is created equal, and these fringe bags rival Animal the Muppet in their levels of crazy moppy-ness. But hey, maybe you like that kind of look. And maybe you've got a little bit of Animal in you yourself!
The original Balenciaga motorcycle bag, or more officially known as the Arena Classic City bag, had me up quite a few nights in search of different variations back in 2000. I had the ready-to-be-distressed leather version. I had the less-common pony hair. Hell, I even had it in denim and flannel.