Beaded/Embellished
Tue 03.18
These street style bags are creating trends! We've got tiny bags, novelty designs, and furry creations.
Mon 03.17
The fanny pack has gotten super fancy of late. So fancy it's received a new moniker, renamed the "belt bag" for fear of being unfashionable. But too bad: I still call it a fanny pack.
Wed 03.12
Forget the belt bag. It's all about the glove clutch. Best-known for their innovative and offbeat ball bag, Perrin Paris marks a new era with their Spring 2014 collection, one that brings them full circle. The century-old French glove-makers are going back to their haute-couture roots.
Tue 03.11
While I consider myself both a Bag Snob and a Food Snob, I never thought the two would come together in quite this way. The results are hit or miss. Chanel, for one, did the gourmand well with steaks that were probably the most imaginative bags we've seen from the brand in years. I also fell for Nancy Gonzalez's handwoven croc wicker apples and pineapples.
Mon 03.10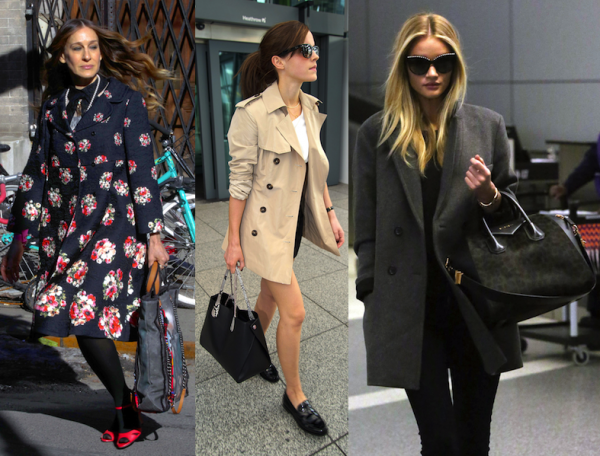 I bought four totes while I was at Paris Fashion Week. I'm an avid mini bag fan, but once I realized that I couldn't even fit so much as an invitation in, the hunt for the perfect tote began. Who better for inspiration than some of the most fashionable women in the world? Take Emma Watson's Spring 2014 Dior Addict – the look is classic with a twist, courtesy of python straps.
Mon 03.10
And with plenty of embellishments! I must have this stone, stud, and grommet accented Prada. There's a lot going on here for such a small bag, but with the vintage appeal, it works oh so well.
Mon 03.10
It feels great to strike out at night with a flashy clutch; it's that extra sparkle (literally and figuratively) that makes you feel special – and like a special night is in store. But make sure your awe-inspiring accessory is tasteful.
Fri 03.07
Jeremy Scott's first collection for Moschino made a big splash at Milan Fashion Week thanks to designs inspired by American brands like Budweiser, Hershey's, and yes, McDonald's. I was intrigued by his jacket bags, but I can't say I would wear any of these overcooked looks.
Thu 03.06
There was a time not long ago that when it came to bags, Phoebe Philo could do no wrong. But even brilliance can go tired and give way to the mundane; there are peaks and valleys (and I trust there'll be another peak!). The Céline Fall 2014 season's bags just left me feeling flat.