Beaded/Embellished
The word "blue" has gotten a bad rap in modern times, particularly in American culture. Blue Christmas, the Monday blues, singing the blues, heck, blue balls…I could go on until I'm blue in the face! In reality, blue is the most uplifting color of all. Just look to the sky on a bright, sunny day. It's an instant mood-enhancer, just like crystal-clear blue water.
Featured Items
Call it the holiday spirit of giving (or receiving), but we can't get enough of the current sales! And the latest certainly don't disappoint. Now through Friday the 11th at Neiman Marcus and Saturday the 12th at Bergdorf Goodman, get an additional 20% off already reduced merchandise, including these highly giftable finds and this stunning party dress…
Featured Items
Unless Santa is planning on being very good to you this year, there are just some bags so extravagant and so expensive that all we can do is sit and wonder at their beauty (and their attached price tags). These are those perfectly-crafted creations…
Featured Items
Each and every week doesn't start with a bang. Sometimes you get the luxury of easing on in, especially when it comes to weeks that end early like this one, which officially kicks off the holiday season. Speaking of luxury, these easygoing, new bags possess a different kind of luxe appeal, proving earthy embellishments with a rustic twist can be as alluring as the all-out glam stuff.
Featured Items
Getting back to nature has never been so chic and glamorous. Usually when you think of taking a hike, dusty trails and jagged edges come to mind. Some of these rock-inspired clutches definitely feature the latter, but in the sleekest way possible.
Featured Items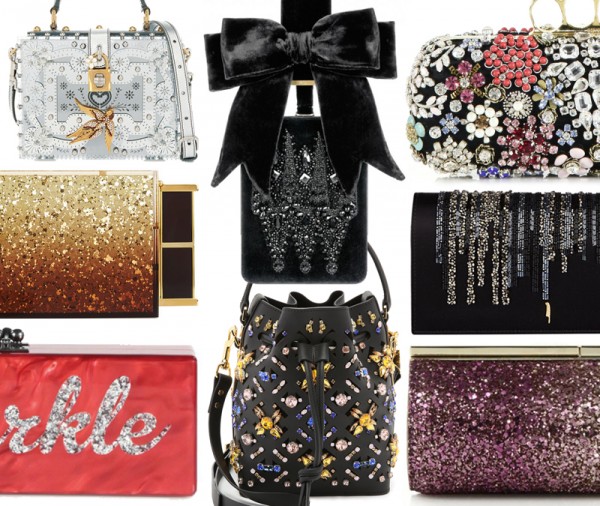 Forget spicing up your life. It's now the season to sparkle up your life! Nothing says "I'm feeling festive" like a bag that glitters, glimmers, and catches the moonlight. And if you're not feeling so festive to begin with, a bag like one of these will definitely put you in a shiny mood.
Featured Items