Beaded/Embellished
Mon 01.26
I may not want Frida Kahlo's head dangling from my arm, but a little Fendi monster, on the other hand? Yes, yes, yes. Here's the key difference: Karl is always in on the joke, and this time, I'm giggling and ogling.
Wed 01.14
This is the precisely right time of year to usher in perforation. A strategic sprinkling of holes and cutouts gives you a sense of the lighter season, without plunging all the way into spring. Some of these are classic and some are more novel, but they have one thing in common (besides their airiness): they're fresh all the same.
Fri 01.09
2015 may have just begun, but I already spot some bags bound to rule the year and I can't wait a second longer to invest. If I had to sum it up: Simple staples with elements of excitement, like shoulder bags in psychedelic chevron or old-school acrylic clutches in pearlescent blood red. Last year was all […]
Mon 01.05
At the moment, Giuseppe Zanotti isn't just serving up his standard selection of traffic-stopping shoes. He's also delivering an interesting twist on the backpack…
Fri 01.02
What's the latest trend in accessories? Personalized bags, of course. While you know I love a good monogrammed accent, there are plenty of other ways to make your bag strictly your own. Just look to Anya Hindmarch, a designer who has always had a similar fondness for personalization.
Wed 12.31
Valentino's multicolored chevron pattern has risen to popularity just as quickly as it would take a rainbow to appear after a thunderstorm – and the results are equally magical.
Tue 12.30
Take a hint from the latest runways and dive into color! But there's no need to perform an all-out wardrobe overhaul. Hold onto your favorite neutral colors for the main part of your ensemble because a boldly colored bag is the simplest way to ease into color and test which searing new hue really speaks to you.
Mon 12.29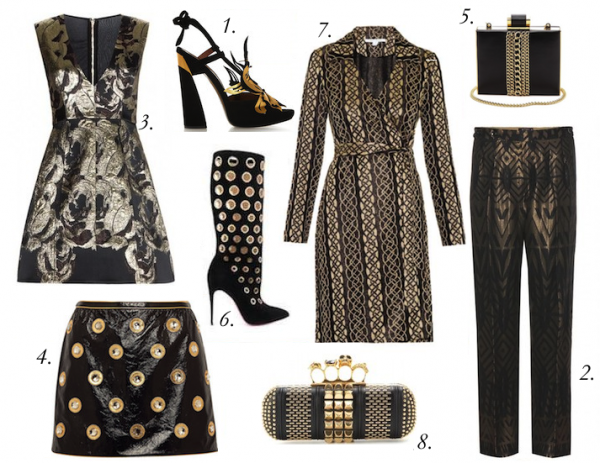 In the words of Wiz Khalifa, "Yeah, uh huh, you what it is." While he's referring to the combination of black and yellow, I say close enough! Black and gold is what's up. There's just something about this eternally cool, classy combination that feels right for ringing in the New Year.