Beaded/Embellished
Thanks to street style and social media, fashion trends change with such rapid speed nowadays, it means they come back around as fast as they go. Who can keep track? That's why you shouldn't ever rid of anything you love. If it's feeling tired, just put it in the back of your closet store it for another day.
Yellow is perky and red is hot, but if you ask me, no color energizes my spirits and warms my mood like pink. Which makes it the perfect way to kick off a busy week, as well as Breast Cancer Awareness Month. It's also rapidly becoming the unofficial color of the season.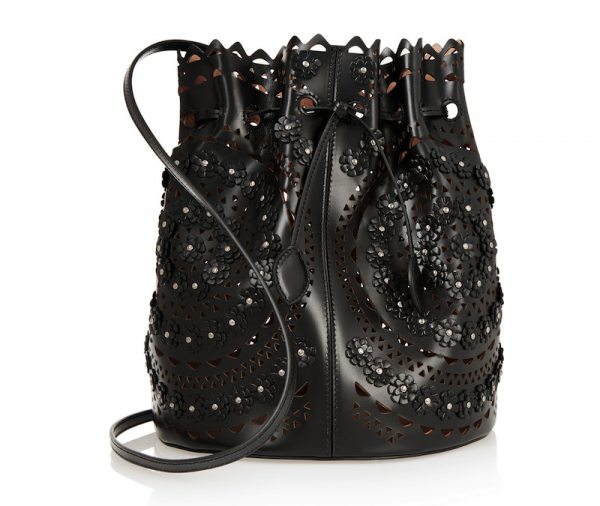 Thank you, Alaïa! Just when you think bucket bags are getting boring, one comes along that reinvigorates the love of the trend. Credit all their trademark laser-cut handiwork. These intricate details are insane!
We're more than midday through Monday, and I'm still not ready to face it. But I am ready to face a fresh bunch of happy-to-go lucky bags featuring, you guessed it, faces! Fashion is still in a lighthearted mood, so we might as well capitalize on the sense of novel fun.
Lanvin bags often tend to lean towards the prettier, more traditionally feminine side. Now it looks like they've switched gears for the time being, from their recent braided and tassel shoulder style to this latest riff on all-over studs. The brand is full of attitude this season…
I am not one for a festival, but I never say no to Las Vegas. No, there will not be any camping. I am staying near the Life is Beautiful festival, where Kendrick Lamar and Stevie Wonder are slated to perform, among many others, and enjoying the glamour.
The results from New York Fashion Week are in, and the biggest bag trend off the Spring '16 runway is definitely the saddle bag. It's the perfectly relaxed counterpart to the season's loose silhouettes, sweetly lacy accents, and pajama-reminiscent looks.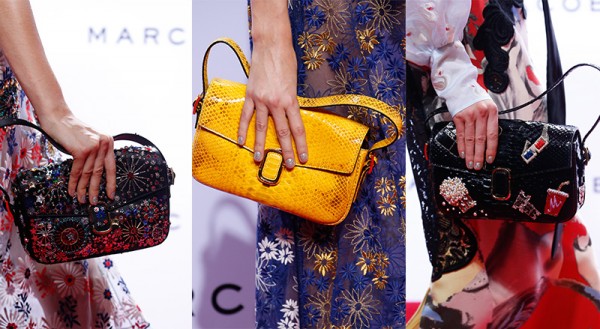 In a collection that shut down New York Fashion Week with a dazzling bang, Marc Jacob reminded us once again that he never disappoints in the dramatics department. New York's famed Ziegfeld Theatre set the scene for Marc's trademark genius theatrics.
While I may not be adventurous enough for a crazy, fun hairstyle these days (the '80s were a whole different story!), I can definitely project that side of myself with the right bag. Like this twist on the fur-covered front flap by Valentino.