Beaded/Embellished
When it comes to days of the week, each one receives some kind of love: Sunday Funday, Hump Day, "Thursday's the new Friday," TGIF…Except Monday. Odds are Monday is your least favorite day because, well, it's kind of a drag.
It's not news to any of us that sparkle gets you noticed. And adding a glittering embellishment to an otherwise simple black or neutral bag isn't a revolutionary idea for any designer, not by any means.
Mourning the finale of Game of Thrones? To celebrate the season that finally gave us hope that Khaleesi would come into full power (no spoilers here, as I haven't read the books; just my wishful thinking on my part along with everyone else's!), here is an outfit that is befitting of Daenerys Stormborn…
If you have not adopted the use of a pouch that can be transferred from bag to bag, you are seriously making your life very difficult. The catch-all essential, for everything from receipts to lip gloss to keys…
There are beach bags – your classic straw totes and big, striped numbers – and then there are beachy bags, which belong to an entirely different category. A much more fun category, if you ask me!
Shop sale pieces from last night's winners…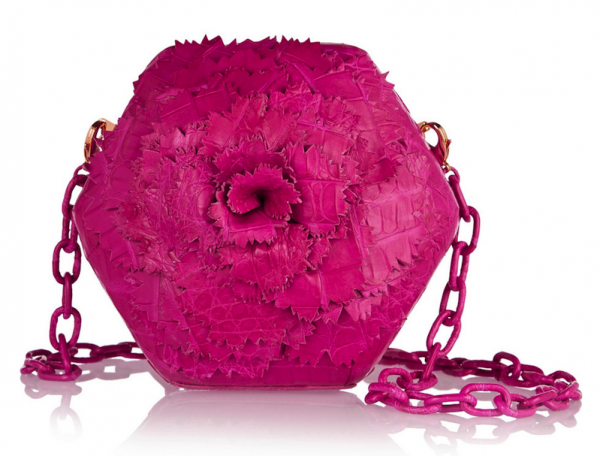 A brilliant statement clutch as much a beautiful display object as it is a key piece of function. No one needs to tell Nancy Gonzalez that. She's nailed the balance yet again, this time with her flower-embellished hexagonal box.
We may be far from the rainforest, but that shouldn't stop us from going to the tropics. Add some fun to the daily grind of the urban jungle with this season's tropical-inspired bags, which happen to be perfect for city living.
Feel the rainbow, taste the rainbow! I know, I know. The Rockstud is played out. I would be sick of Valentino's ubiquitous pyramid studs myself, but this is such an adorable shape, I can't resist these colorful pieces of arm candy (including the hardware that comes with them).