Beaded/Embellished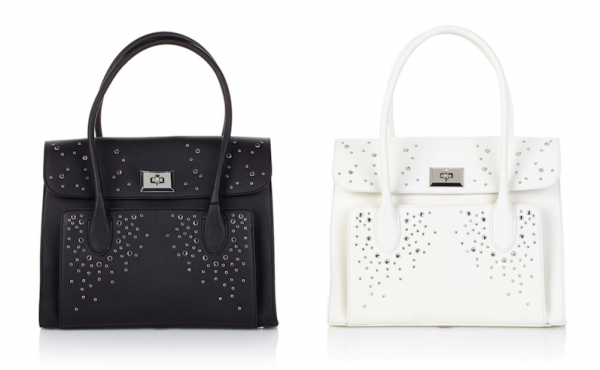 The Anya satchel is my favorite bag from the Snob Essentials Cinderella collection. Our fairy-tale ingénue is all grown-up, leaving the pumpkins behind and embracing big-city style. She's also developed an elevated flair for drama.
I am so excited to finally share our new Cinderella bag collection with you in celebration of the launch of the movie this week. Whimsical, feminine, and a little bit dreamy: we were inspired by the film to revamp our signature bag styles with twists fit for a modern-day princess.
New York Fashion Week may be over, but the number one trend seen along the catwalks is just gearing up. Channel the free-spirited days of the '70s with platforms, floppy hats, off-the-shoulder peasant tops, and bell-bottoms so exaggerated you can't even tell if they're pants or a dress.
We're used to seeing Alaïa bags of the big, top-handle tote variety (not that I'm complaining), so it's refreshing to see this convenient shoulder-to-crossbody style…
Dresses and jewels weren't the only things to shine on the Grammys red carpet. Check out my breakdown of the best and brightest bags from music's busiest weekend, as told to The Hollywood Reporter.
These Dolce & Gabbana box bags are so insanely cute for spring, I already can't get enough of them. This is the side of Domenico and Stefano I enjoy: when they blend their deeply rooted Italian pride with dreamy whimsy and a bit of humor.
It might sound nutty, but here it is: You need to accessorize your accessories right now, namely your bags. Thanks to the still-strong buzz surrounding Fendi's friendly, furry monsters, this '90s trend (remember Prada's robot charms!) is making a strong comeback.
This season's Firenze4Ever theme was Obsessions. As women, we're overly obsessed with so many things that our lives sometimes end up paralyzed by the ridiculous standards society places upon us; yet even more paralyzing are the unobtainable standards we place upon ourselves…