Canvas/Linen
Some say, "if it ain't broke, don't fix it," but Victoria Beckham's not afraid of taking that risk, and this play on her much-loved Quincy proves that she's more than up for the challenge.
Maybe it's because today is Friday, or maybe it's because My Theresa has such great pieces right now (and free shipping worldwide from Nov. 18-24), but I'm feeling the spirit of holiday gift-giving already and I've pulled together a list of presents any Snob would be happy to receive!
After spending so much time associating the acutely eyed Tomas Maier with Bottega Veneta's famed intrecciato (and the endless ways he reimagines it), it's always refreshing to be reminded of what he does under his own name. This cute canvas shoulder bag is super-sporty, with a breezy tomboy vibe.
Calling all sci-fi fans and cartoon nerds! This kitschy bag trend is officially out of hand, but if there's any occasion where it's acceptable to whip out a Sponge Bob bag or an Archie and Veronica clutch, Comic-Con International is the place to do it.
While it's tempting to bring your favorite soft calfskin, luscious suede, and elaborate exotics to the beach or pool, you know tossing such skin on the sand or wet concrete goes against your better judgment. And really, at the end of a long, sweaty, sun-scorched, splash-soaked day by the water, it's not worth the worry.
This is the brand's first baby bag, and it seems first time's the charm! A perfect mix of function and style is hard to come by in this arena, but founder Princess Marie-Chantal of Greece is a mother of five. She knows a thing or two about what's needed from a diaper bag!
What better way to celebrate Earth Day than with eco-friendly FEED totes? They're the perfect summer beach bags, and better yet, the purchase of just one of these provides meals for between 25 and 50 school kids.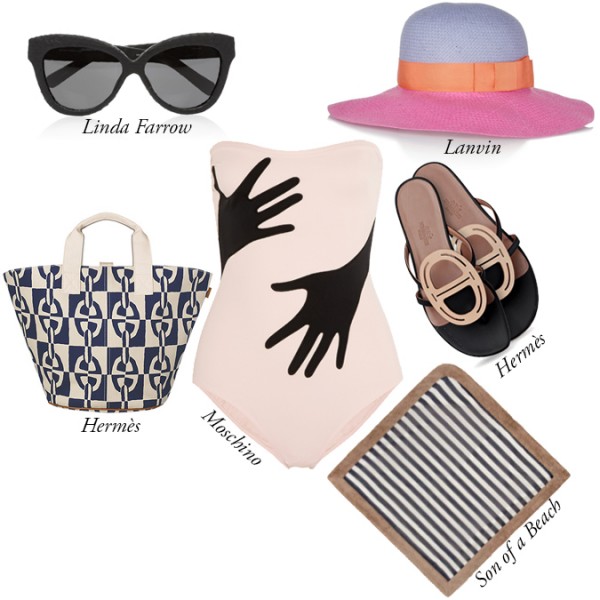 These aren't exactly the typical vacation must-haves that you can throw in your raffia tote and leave on the beach while you wade out into sea. They're more like what you'd be wearing while lounging on the deck of a 210-footer out on the ocean! Would you indulge in these luxe accessories for your next tropical getaway?