Celeb Bags
Here's a simple ode to the power of the bag. I've said a bag can make or break an outfit more times than I can count, and it seems a few celebrities of the moment tend to agree. Whether in clutch or crossbody form, these bags are petite yet potent, and their ability to elevate an otherwise ordinary outfit is proven, from slashed jeans to a sharp red suit.
Featured Items
In honor of Mother's Day this upcoming Sunday, I've pulled together a list of gift options (bags, natch) that will not only delight her sartorial sense, but will give her the function she needs as a parent – of a child of any age. Take Elle Macpherson's Hermès Jypsiere. She carried this when her kids were toddlers, and thanks to the timelessness and high-quality nature of Hermès pieces, it remains a go-to for her even now that they're older.
Featured Items
Front is the new back. And pack is the new bag. When it comes to casual dressing, the latest celeb bag trend isn't just the roomy backpack, from the classic and quilted to the rugged and safari-inspired. It's carrying your backpack in the front. Think 360° and use the straps to your full advantage. Also, use your hands. While the appeal of the backpack has long been in its capacity to free you up, now is the time to take a hands-on approach.
Featured Items
These days, it seems that a Birkin alone is not enough to satisfy top models. To stand apart from the Hermès-clad crowd, a custom Birkin is the accessory to have. Heidi Klum carried her camo version back in January, and now Elle Macpherson is giving us even greener eyes with her zebra-print iteration.
Featured Items
Off-duty model fashion always piques our interest – especially when covetable bags are involved – and few models get more photographer attention than Victoria's Secret Angels. Their individual styles aren't just on display in lingerie and swimwear shoots; they're even more prominent in everyday moments. From Adriana Lima's well-priced basic black tote to Alessandra Ambrosio's on-trend Fendi to Candice Swanepoel's classic Chanel Flap, there's enough variety to suit every personality – and with the frugally-priced alternatives I found, every budget as well.
Featured Items
If there's one thing we love, it's discovering noteworthy new brands. Well, that and discovering one of my investment-purchase bags has gone up, not down, in value over the seasons, but I digress. There's cool, and then there's L.A. cool (Okay, I'm biased. Once an L.A. girl, always…).
By now, many of you have thought about who you will vote for in the upcoming presidential election, and while that is most certainly a civic duty to embrace, the race has obviously gotten tense. Give yourself a quick break from the fray by voting on something a little more fun: the best celebrity look of the week. Each woman carried a great bag, but all were styled differently – some glammed up and some more casually…
Featured Items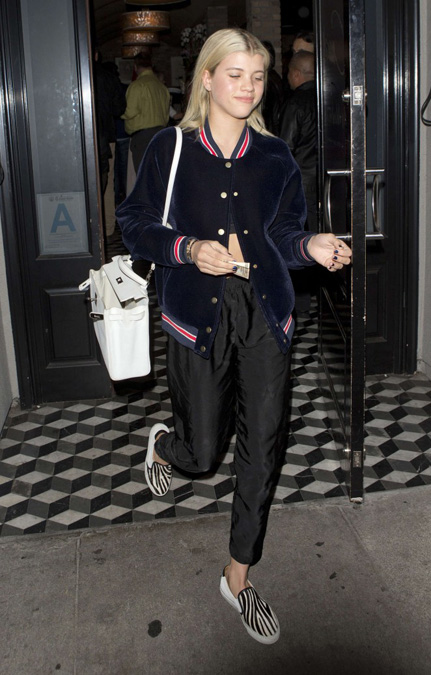 Yet another Insta-famous kid sibling is stealing the spotlight. Nicole Richie's 17-year-old sister, Sofia, was snapped leaving Craig's Restaurant in West Hollywood this past week, and I couldn't help but notice. The navy velvet Tommy Hilfiger bomber jacket, breezy cropped trousers and minimal top to match, zebra-striped slip-on kicks, and, of course, shrunken white Hermès Kelly, carelessly left wide open for maximal nonchalant appeal: I'm really digging her look.
Featured Items
Gigi Hadid just made two major fashion points: There are no rules anymore when it comes to dressing for couture shows, and there are endlessly edgy ways to work winter white. I'm loving Gigi in a breezy white coat with tattered denim and a whimsical clutch. Her A.L.C. jacket, a glamorous update on the standard trench, is the perfect way to polish up a pair of seriously ripped One Teaspoon boyfriend jeans (note: the Aussie label is the go-to for off-duty denim).
Featured Items