Celeb Bags
Camo may have originally been designed as a means of fitting in with one's surroundings, but that is certainly not how the fashion crowd utilizes it now. In fact, the effect is quite the opposite. Sure, Heidi Klum would look good carrying anything, but when I saw this photo on my friend The Bag Hag's Instagram, I barely even registered her presence. Look at that Birkin!
Winter dressing can be a real downer, especially when you're navigating the New York City sidewalks and temperatures are barely hitting the above-freezing mark. Enter Vanessa Hudgens for some mid-winter style inspiration. She was spotted in the city on Tuesday, after stopping by SiriusXM Studios, in a look that's color-blocking perfection.
Featured Items
I've been loving the ladylike vibe of street style lately. My fingers are crossed that the trend will continue through the upcoming Fashion Month, but I'm sure some clown couture will sneak its way in, as always. Oh well! Until then, let's revel in some sophistication. Whether you're dressed in a pleated mini like Taylor Swift or leather sweats and sneakers like model Irina Shayk, a structured, feminine bag will always look good. Gigi Hadid's sleek Saint Laurent is my favorite…
Featured Items
The '90s were a lot of fun, plain and simple. It was definitely an interesting decade: We had learned from the mistakes of the '80s but maintained enough of the residual carefree attitude to have a great time, especially when it came to dressing. Kelly and I wore high-waisted jeans with all of our tops – and in my case, bustiers, aka bras disguised as tops (and I use the word "disguise" loosely). Nineties style was relaxed yet high in edge and attitude, and it's clear not much has changed now that the era has long passed; the trends are back in full effect, especially for today's most in-demand "it" girls.
Featured Items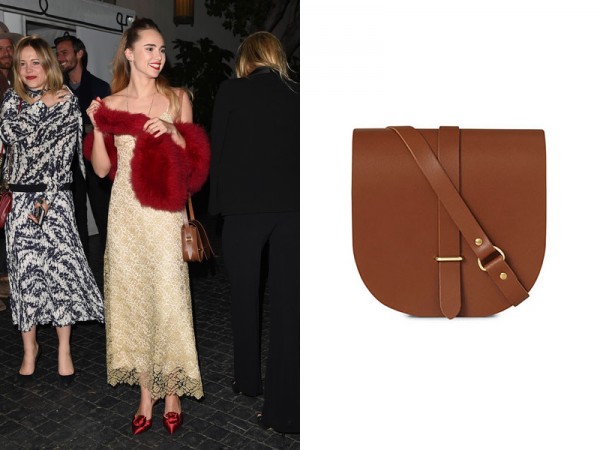 Carrying a saddle bag on the red carpet? That's not something you see every day – and for good reason. Somehow, though, Cambridge Satchel's vintage-inspired design seems surprisingly appropriate hanging off the shoulder of Suki Waterhouse.
Featured Items
It is hard to resist the whiles of the supremely romantic city of Florence and the legendary artistic heritage that's so deeply embedded in its bones. As the birthplace of the Renaissance, arguably the culturally richest era in the history of time, Florence is where artists roamed and reaped divine inspiration in the process. Centuries later, everywhere you turn, history and beauty pours from the cobblestone streets and statue-studded piazzas. It's no wonder some of the best bag craftsmen in the world are found here.
Each time I see a photo of Jen Garner, I think, how can you not love this woman? In this case, that love is due in part to her Sunday-chic style.
Featured Items
As much as I resist trying to be tempted, whenever a see a celebrity carrying a cute bag, I get serious FOMO and start searching for it online immediately. These are the ones that had me scrambling this week…
When it comes to identifying and celebrating fashion's "it" girls, no brand seems to be as knowledgable as Mulberry, whether they're designing bags in tribute to these icons (remember their beloved Alexa Chung-inspired messenger?) or collaborating with them (as was the case with last year's Cara Delevingne collection).