Celeb Bags
Thu 08.14
Rihanna fully clothed! It doesn't happen everyday, but she does it well in this gray and white pinstriped Alex Wang ensemble. The boxy, asymmetric crewneck top and pants make for a sophisticated update on the tracksuit, courtesy of Alex's Pre Fall '14 collection.
Mon 08.11
Admit it. You love scrolling through celeb profiles on social media, and few provide more scrollable content than SJP. Sure, it took a while for her to jump on the Instagram/Twitter bandwagon, but some things are worth the wait.
Fri 08.08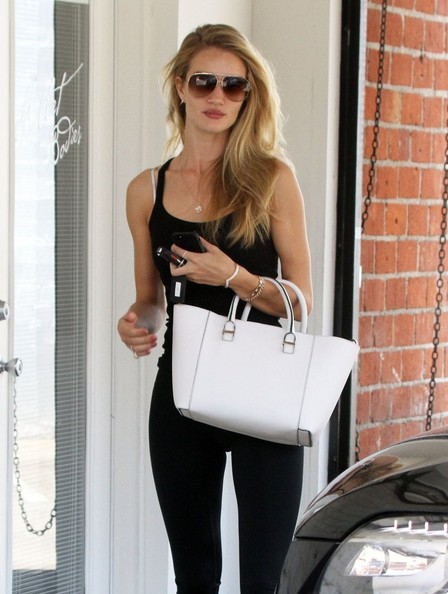 Suddenly, canvas totes and water-resistant nylon sacks aren't looking so hot for accompanying you to your next sweat session. Rosie Huntington-Whiteley showed us how to look super-posh for the gym on August 6th with her Victoria Beckham Quincy tote in tow. All it takes is a luxurious bag to upgrade standard monochrome-black exercise apparel.
Tue 07.29
Remember how eagerly we anticipated the premiere of each new season of Sex and the City? The excitement would overtake every woman I knew, whether they lived in a bustling metropolis or not. And it wasn't just to observe and empathize with Carrie Bradshaw's love life but to gaze at the shoes and bags worn by Sarah Jessica Parker.
Fri 07.18
Ever-bright Reese Witherspoon was looking weekend-ready as she stepped out in Beverly Hills on Thursday. Carrying Maiyet's Peyton tote in juicy orange, she is a pretty picture of California sunshine. Such a bright, vibrant bag isn't merely the kind of accessory mid-July calls for to keep energy up, it brings life to Reese's deliciously airy, laser-cut ensemble.
Tue 07.15
Good things come in pairs – like lean, leggy, fabulously successful, young blondes! We already knew that Karlie Kloss and Taylor Swift are well on their way to becoming besties, but who knew Taylor is so tall and supermodel-cute? Caught leaving lunch in New York City on July 14th, these two look like twins…
Thu 07.10
No other brand is more connected to the center of the fashion universe (good old New York!) than DKNY.
Thu 07.03
It's a real success for a designer when a celebrity repeats a bag, let alone when she Instagrams it, so Mindy Kaling is letting it be known – she loves Thalé Blanc just as much as we do.