Celeb Bags
Wed 08.14
Anne Hathaway has an easy, confident style that's hard not to adore. She's always carrying something unique – this time it's Freedom of Animals' black and teal Melia. Besides its standout look, the bag is also noteworthy for being vegan-friendly. Its NYC-based brand constructed it from vegetable-dyed, recycled faux leather and lined the interior in organic cotton.
Fri 08.09
Reese Witherspoon was spotted leaving the Rossano Ferretti salon in Beverly Hills recently wearing a sweet and chic, smart summer look.
Fri 08.02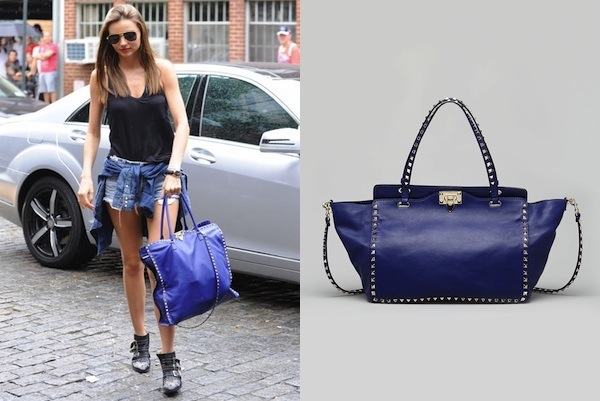 On the move and right on, Miranda Kerr hit the notes of casual style perfectly while running errands in New York City on July 28th.
Wed 07.24
Roger Vivier's Prismick Zig Zag shoulder bag is one of the best pairings of black and white I have ever seen. Asymmetric and geometric, it delights with expertly stitched lines for a multi-dimensional effect.
Thu 07.18
There were a lot of great contenders, but the snob votes are in and we pronounce Alexander McQueen's Heroine mini the "it" mini bag this fall. Heroine's miniaturized structured shape has been seen on the likes of Zoe Saldana and Sienna Miller who chose to wear them crossbody.
Fri 07.12
When you're rushing around NYC like Miranda Kerr, a mini bag is the only way to go. I love Louis Vuitton's toned down Monceau BB (at Louis Vuitton for $1,720). Okay, bright pink patent isn't exactly toned down – I'm talking monogram-wise. And remember, Loeffler Randall has a Frugal option!