Frugal Snob
Fri 11.21
One can never go wrong with a boho-chic hobo. Well, maybe you could go wrong with one on the red carpet or at a black-tie affair, but let's not split hairs. When it comes to daily life, a good leather hobo is always laidback, inherently comfortable, and can even add an element of effortless glamour. Like this one.
Thu 11.13
Think the holiday shopping season is still far off? Think again. With Thanksgiving right around the corner, it's going to be gift-giving time before you know it. Not to worry. We have plenty of easy-chic holiday gift ideas for you, natch. Let's start with the small stuff.
Wed 11.12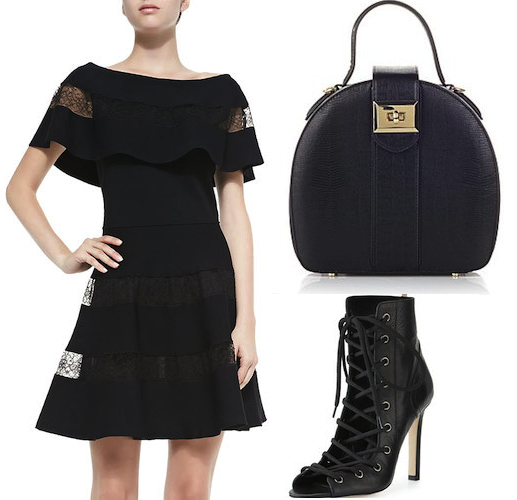 No matter the current trends, nothing remains more polished and sophisticated than black on black…on black.
Mon 10.20
How fun is it to host a party for 900 of the chicest New Yorkers? Let's just say days like these make me love my job! The launch of shop-in-a-shop Birdcage was one of the best events I've ever had the pleasure of being involved with.
Wed 10.15
It may seem like summer just ended, but the truth is that the holidays are already creeping up on us. Soon you'll be even busier than you are now, and for times like those, you want to streamline everything, including your bag!
Tue 10.14
Had you told me 15 years ago that one day Ms. Bradshaw would be carrying a bag that Kelly and I designed, I would have fainted, which is almost what I did this morning when I saw the lovely SJP with our green Jewel Box!
Thu 10.09
Animal-printed calf hair is an autumnal must, but generally you have to cough up big time to get the look. Our solution? Faux-ny pony!
Fri 10.03
It's been a while since I've found myself drawn to a slouchy, effortless tote. The kind you can – and undoubtedly will – use to death, and then will continue to use because once it's all worn in, it suddenly has a whole new look. But here I am again, and this time it's Linea Pelle's frugal find that has demanded my attention.