Frugal Snob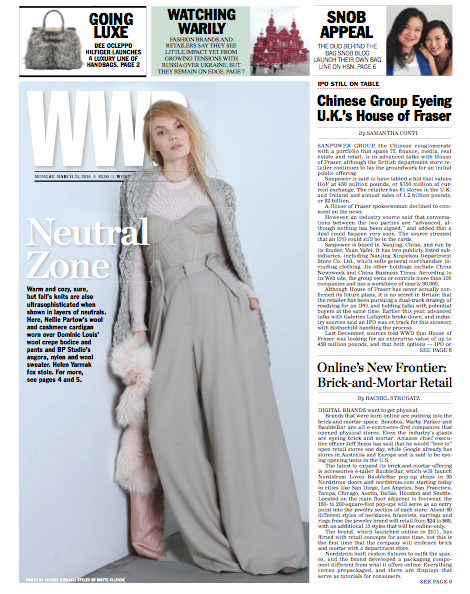 Our heartfelt gratitude goes out to Women's Wear Daily for making the launch of our Snob Essentials bag line today's front-page news! As the name suggests, we have covered all the bag essentials a Snob needs, from clutches to backpacks to everyday totes. Using vegan leathers, we've designed the whole line within an affordable price range ($68 to $128) without sacrificing quality.
Ilse Valfré is a Mexican artist promoting some serious girl power. Through her incredible art, she makes having a healthy attitude about being a girl part of your daily routine – namely because her messages are scrawled out on a number of cheeky accessories you can carry with you all the time. Female empowerment has never looked cuter! Accessories available at Valfré.
Once considered a novelty, the ubiquitous box shape is now a staple in our bag collections. It's still a fun diversion from your go-to essentials, though, which is why it can be hard to justify splurging on a piece like this Maison Martin Margielaicon (on thecorner.com for $1,745). If you're hesitant, go with Pour La Victoire's black Bonne Tonne (on Shopbop for $395).
From Stella to Proenza to The Row, it is all about the backpack as a fashion item. But you don't need to go to the top of the line to get a topnotch style. Actually, you just need to go to Topshop.
There are few times I'll set aside my mini bag, but I'm always willing to do it for an adventure, whether it's surfing, skiing, or my favorite – shopping. And since adventures can sometimes be rough and tumble (sample sale, anyone?), you want a tote that's not going to break your heart when it gets a scratch – a.k.a. one with a sweet and low price tag.
I love the days when Target collection lookbooks are released. They let you prepare your shopping list for the big day when the pieces go up for sale, and thanks to London-based label Peter Pilotto, I have a feeling all of our wish lists are going to run long. Designers Pilotto and De Vos may be scaling back on price, but on print? Never.
Soft lambskin leather plus a clean canvas plus just a dash of hardware plus three color choices: the Elizabeth and James Cynnie bag adds up to a great frugal snob option.
This isn't your average bow-shaped bag. This is a bow that has morphed into a cool, futuristic style, ensuring your basic black clutch gets in on the excitement this season. ZAC Zac Posen often has a knack for producing frugal snob-approved finds that are as uniquely feminine as they are affordable, and this easy blend of patent and flat leather is a no-brainer.
Forget the clutch for now. It's the pouch that's the real fashion-editor favorite of the moment. Why, you ask? Pouches are easy to grab, more low-key than their structured counterparts, and instantly make you look like an insider. And don't think they're meant to be reserved just for day (while they do make for perfect street-style photographer fodder).