Frugal Snob
It's been a while since I've found myself drawn to a slouchy, effortless tote. The kind you can – and undoubtedly will – use to death, and then will continue to use because once it's all worn in, it suddenly has a whole new look. But here I am again, and this time it's Linea Pelle's frugal find that has demanded my attention.
The ever gorgeous Emmy Rossum rung in her 28th birthday this weekend with none other than the wine-hued Snob Essentials croco-embossed pouch!

When former CFDA Fashion Incubator mentor Christine Park started Time's Arrow last year, she took inspiration from her mother's bag collection – pieces minimalist in style, yet heavy on interior organization. In this way, the Fall '14 Ishi clutches and crossbodies are certainly on-brand.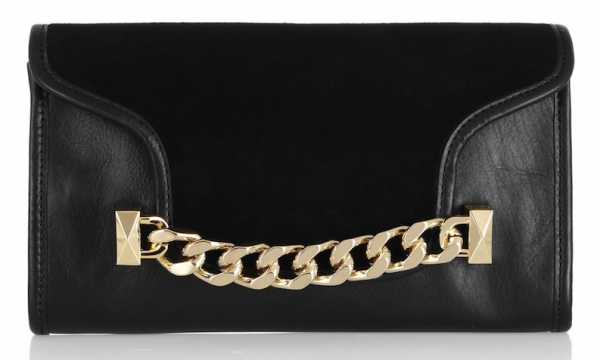 Let's think ahead for a minute. The party season is coming up and that may even include end of summer events. The point is, you need to start looking for evening party bags.
This is a prime example of everything a Frugal Snob bag should be: flirty, fun, noncommittal, and lighthearted (no pun intended). If something like this cheekily romantic bag happened to veer off into the quadruple-digit price range, you would surely hear me exclaim that such a novelty purchase isn't worth a big investment. But that's not the case!
Don't let the fresh crop of fall goods already in stores fool you. We are still in the midst of summer (happily!), and that means it's not time to throw in the beach towel just yet. What I need now is an all-out fun bag, something non-committal and capricious that's not going to require a lot of thought or pondering. Especially since I'm going to Vegas next week.
Maggie Copeland founded Brooklyn-based Palethorp with a focus on high-quality leathers and snakeskins (even the signature lining is snake-printed), or more often than not, a juxtaposition of the two. The results are perfect summer fun, and as if the prices weren't reasonable enough to begin with, the label is offering Snobs an exclusive 40% discount!
While it's tempting to bring your favorite soft calfskin, luscious suede, and elaborate exotics to the beach or pool, you know tossing such skin on the sand or wet concrete goes against your better judgment. And really, at the end of a long, sweaty, sun-scorched, splash-soaked day by the water, it's not worth the worry.
What's the color of summer 2014? Officially turquoise! Celebs can't seem to get enough of our bags in the vibrant, summery hue, and we can't get enough of seeing these gorgeous girls in them!