Frugal Snob
While it's tempting to bring your favorite soft calfskin, luscious suede, and elaborate exotics to the beach or pool, you know tossing such skin on the sand or wet concrete goes against your better judgment. And really, at the end of a long, sweaty, sun-scorched, splash-soaked day by the water, it's not worth the worry.
What's the color of summer 2014? Officially turquoise! Celebs can't seem to get enough of our bags in the vibrant, summery hue, and we can't get enough of seeing these gorgeous girls in them!
Tina and I designed the Snob Essentials Runway backpack for countless scenarios, and one of our favorites is travel. Whether you're hiking around a tropical island or perusing the streets of Italy, this bag helps you get on your way, with no-muss, no-fuss. Who wants to spend time planning your outfit when you could be out exploring or shopping?
In a world dominated by seriously fashionable, but often serious-minded handbags — think your classic leather with metal accents — JumpFromPaper bags look more like images ripped from a coloring book, albeit a flawlessly colored-in one.
Some weekends call for a clutch you don't have to overthink. You know those weekends when you're going out to a festive dinner or boozy brunch with a big group and you don't want to worry about someone spilling Pinot Noir or a Bloody Mary when you set your precious bag on the table.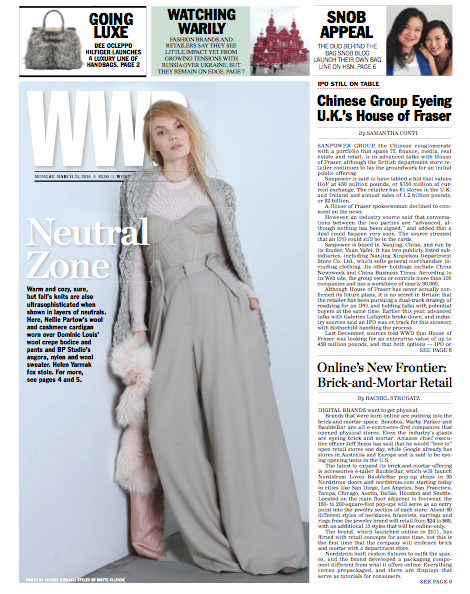 Our heartfelt gratitude goes out to Women's Wear Daily for making the launch of our Snob Essentials bag line today's front-page news! As the name suggests, we have covered all the bag essentials a Snob needs, from clutches to backpacks to everyday totes. Using vegan leathers, we've designed the whole line within an affordable price range ($68 to $128) without sacrificing quality.
Ilse Valfré is a Mexican artist promoting some serious girl power. Through her incredible art, she makes having a healthy attitude about being a girl part of your daily routine – namely because her messages are scrawled out on a number of cheeky accessories you can carry with you all the time. Female empowerment has never looked cuter! Accessories available at Valfré.
Once considered a novelty, the ubiquitous box shape is now a staple in our bag collections. It's still a fun diversion from your go-to essentials, though, which is why it can be hard to justify splurging on a piece like this Maison Martin Margielaicon (on thecorner.com for $1,745). If you're hesitant, go with Pour La Victoire's black Bonne Tonne (on Shopbop for $395).
From Stella to Proenza to The Row, it is all about the backpack as a fashion item. But you don't need to go to the top of the line to get a topnotch style. Actually, you just need to go to Topshop.