Clutch
Wearing your art (or your favorite artists) on your sleeve is not a new concept. But never before have art and fashion been more fluidly fused.
Not only is Roger Vivier running the streets, it's taking charge of the red carpet too! Scarlett's intricately-beaded clutch is a work of art in its own right, but what has me reeling is the mix of hues.
Leave it to Alexander Wang to rethink and revamp the way a frame bag should look. I love the level of ingenuity and original design at play. The silver bar looks crazy-modern, while Balenciaga's bicycle-inspired theme continues, with a polished roller chain…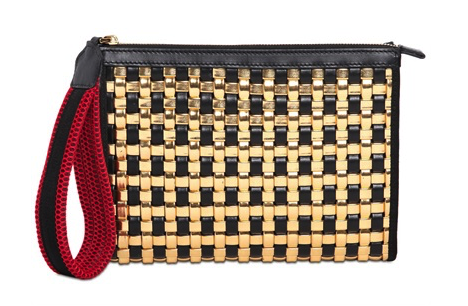 This season, Marni is wisely offering the look of woven rattan for summer, without any of the prickly maintenance that comes with it.
Don't get me wrong: I love a good piece of kitsch. But is it all a bit much? Between Urania Gazelli's Tik Tak clutches in your choice of "green apple" (acidic neon-green") or "orange" (obviously a bright shade of orange), which will not freshen your breath nor necessarily your style…
Looking to shop spring's biggest trends? Check out Tina's appearance on Good Morning Texas! She highlighted the season's best bags at every price point…
Now if I'd really wanted to trick you, I would have made this a post on how fabulously chic these five bags are. While I love a good prank, I just can't let it come in the form of my bag. As for you Snobs who are brave enough to take a fashion-themed joke and run with it…