Clutch
Fri 04.04
Graphic black and white was last year's biggest spring trend. Actually, it was probably the biggest trend of the year, one that has stuck around and likely won't go anywhere too soon. Because really, when is the classic duo not in style?
Mon 03.31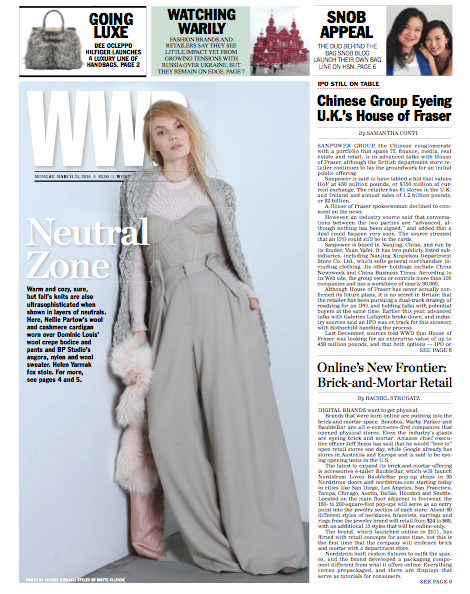 Our heartfelt gratitude goes out to Women's Wear Daily for making the launch of our Snob Essentials bag line today's front-page news! As the name suggests, we have covered all the bag essentials a Snob needs, from clutches to backpacks to everyday totes. Using vegan leathers, we've designed the whole line within an affordable price range ($68 to $128) without sacrificing quality.
Fri 03.28
With the weather finally warming up just the tiniest bit, some us of may be getting back in touch with our sporty sides. Why not show that off in our wardrobes, too? Athletic stripes add a sense of sports club chic to bags from every price point, whether it be an already sleek clutch or an oversized tote.
Fri 03.28
Here's a surefire way to make a neutral piece pop: the juicy infusion of yellow doesn't merely read like a lightning bolt on a classic deep-gray clutch, it's also exactly what the summer calls for. Mark my words: you will be amazed by how wearable and versatile bright lemon yellow is once you welcome it into your palette.
Thu 03.27
Some collaborations are nothing but a natural fit. Smythson's latest Panama Collection marks the second capsule partnership between the leather company and artist Quentin Jones. Best of all, I love Smythson and their clean, simple shapes readily lend themselves to artistic embellishment.
Tue 03.25
What I love about Charlotte Dellal is her unapologetic sense of whimsy and fun. Sure, I may not always love the prices of her more novel bags, but the pieces never fail to make me stop and smile. For Charlotte Olympia Cruise 2014, the designer is satisfying her sweet tooth – just in time for Easter! Ice cream cone heels, gummy bear clutches, licorice ankle straps…what's your candy crush? Available at Bergdorf Goodman.
Fri 03.21
Maison Martin Margiela loves to fool our eyes and toy with our notions of what things should traditionally be, and here's an instance where they've been highly successful on both fronts. This super-adorable wristlet clutch is shaped like a soft sunglasses case, a silhouette you rarely – if ever – see in actual bag form.