Clutch
Fri 08.15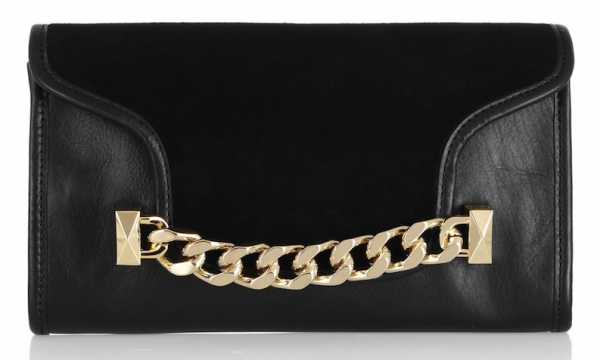 Let's think ahead for a minute. The party season is coming up and that may even include end of summer events. The point is, you need to start looking for evening party bags.
Wed 08.13

Following up on our discussion on Pierre Hardy's attention-seeking shoe, the art-inspired designer has now unleashed another eyeful on us. Think of this embellished clutch as the second installment in his cheeky nod to Pop and graphic art, as well as fashion's recent romance with all things overtly silly.
Wed 08.13
A bag like this is the epitome of elegant, refined cool. No surprise it's brought to us by the boys at Proenza Schouler. Likely named as a playful nod to famed poet T.S. Eliot, the soft fold-over PS Eliot clutch is quintessential Jack and Lazaro, just all grown up.
Tue 08.12
Thanks to the brilliant Roland Mouret's arguably long-overdue foray into bags, my favorite dresses now have perfect companions. On his Fall '14 runway, the French designer, he of the body-transforming dresses and sensuous, geometric genius, unleashed a first line of bags with his typically top-notch collection.
Mon 08.11
The king of streetwear reigns on. In the time of hashtags galore, endless abbreviations, and tweets and retweets, Phillip Lim is leading the pack once again, thanks to his new trio of bags that are as much a commentary on our current culture as they are comment-worthy.
Fri 08.08
Don't fix what's not broken, right? The ID-bracelet motif is still working for Maison Martin Margiela, and I'm continuously fascinated by their creative iterations.
Thu 08.07
An exotic bag is one of the most luxurious accessories you can collect, but that kind of luxury comes at a steep cost. With feathers, you get the exotic look without the accompanying price tag! They also add instant glitz and glam to even the most mundane of outfits…
Wed 08.06
Remember that line from "Under the Sea," the most famous song in Disney's The Little Mermaid, that goes something like, "Life is much better, down where it's wetter"? Jokes aside, Sebastian the crab may know a thing or two about philosophy, but his mantra doesn't apply to this piece by Shrimps.