Clutch
It's so easy to get caught up with all the high-end designer bags that continuously get released – too easy, actually. So easy it can get boring! There are moments when nothing feels more satisfying than nabbing a great bag that looks far pricier and prettier than its frugal price tag. Kelly just handpicked the trendiest clutches under $100. Now I'm showing you my favorite timeless scores under $200. Because making a super-savvy purchase is worth gloating about.
Featured Items
When it comes to breaking down bag styles, the clutch is where the fun happens. It seems the smaller the bag, the bigger the impact – and the more you can let loose. But often times, the bummer that comes with spending too much on something fun kills the joy in the process. These clutches here will give you ample reason to party, while hitting all the current trends, from lively embellishments to alluring textures, to keep you at the top of your game, as always.
Featured Items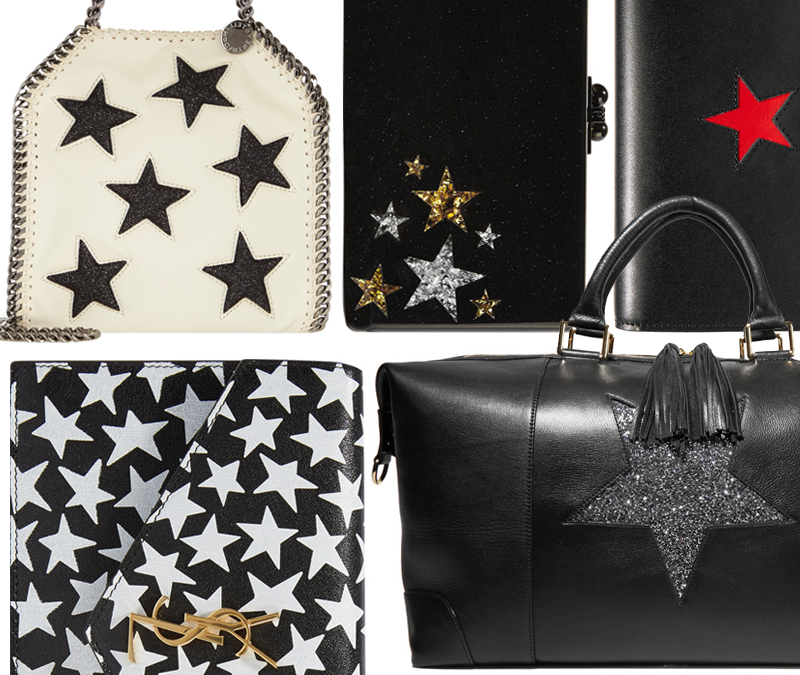 According to my new BFF, famed astrologer Susan Miller, the stars are aligned for anyone born within four days of August 26th. Over the next year, we lucky August babies will be enjoying the kind of good fortune people only experience once in a lifetime! It just so happens that stars are my favorite print, and coincidentally, they are everywhere in fashion right now – most importantly, of course, on bags…
Featured Items
Right now, the overarching trend in bags is everything optimistic and fun. It's not the shape that makes a bag a must-have anymore. Instead of specific silhouettes, it's all about the vivacious and expressive. Think details that catch the eye for bags that are personality-driven and tell a story – so you can tell your own story with your bag. What's not to love about that?!
Featured Items
Stripes: No longer relegated to sports or prepsters, the fashion set has claimed them for our own. And trust we have really run with them. This season, almost every major designer has gone stripe-happy, but I can say with confidence that none have done it as well as Gucci. Can I just say Gucci, Gucci, Gucci is all I dream about? Every. Single. Day. Never would I ever think that stripes, chains, and bows could be so well-executed. But here they are, along with my other favorite stripes of the season!
Featured Items
Happy Fat Tuesday! I don't know about you, but any holiday that encourages you to indulge in decadent foods (Did you know Mardi Gras was originally a binging festival so people could stock up, so to speak, on fatty foods ahead of giving up their favorite treats for Lent?), wear anything and everything flashy, and let loose in the streets gets my support. Maybe you're storming the French Quarter as we speak or maybe you didn't even realize beads were being tossed around with reckless abandon today.
Featured Items
Rose quartz may be my favorite on-trend color that's always tempting me, especially as of late, but like a pretty appetizer instead of a robust meal, I still easily tire of lightweight colors of little substance. That's why black is my mainstay entrée.
Featured Items
There are seemingly endless incarnations of the Jimmy Choo Candy clutch. The dense little acrylic box has been adorned with images ranging from an icy cocktail to glowing graffiti spelling the word "yes" to the Union Jack flag, just to name a few. But this latest trumps them all when it comes to coolness. Depending on how you look at the clutch (printed on a lenticular lens), the oversized '80s-inspired eye opens wide and closes shut.
Featured Items