Clutch
Tue 02.10
Dresses and jewels weren't the only things to shine on the Grammys red carpet. Check out my breakdown of the best and brightest bags from music's busiest weekend, as told to The Hollywood Reporter.
Fri 02.06
With a forecast of temperatures hitting a balmy 0 degrees for New York Fashion Week, it may be hard for some of us to think about spring and all the sweet, pastry-shop colors that come with it. But winter be damned!
Thu 02.05
Years ago, I bought a cube-shaped Chanel bag in quilted, black patent leather. Simple though it was, this cute, little silhouette always attracted attention; it was no surprise to me when Karl revisited the style a few seasons ago at Fendi with petite bag accents.
Thu 02.05
If you'll be celebrating Valentine's Day with a special someone, you're going to need a memorable date night outfit, and on this particular holiday, it's fair to say that red is overdone…
Tue 02.03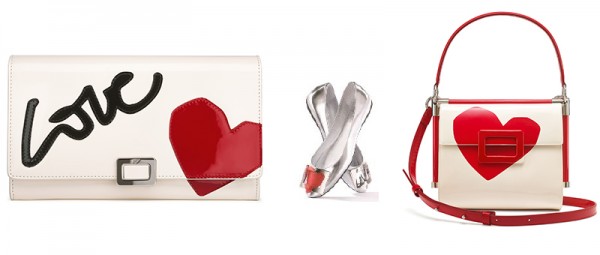 At once playful and painterly, this offbeat, asymmetric heart and delightfully haphazard scrawl proves a great makeover for the French house's signature Miss Viv' shoulder bag (I especially like the way the trademark buckle is obscured in the symbol of passion), slender Mini Buckle clutch, and metallic silver Gommette T-Shirt Love flats.
Mon 02.02
Mary Katrantzou strikes us once again with the immediate visual impact of her work. In the case of her latest clutches, it's all about symbols. Don't expect such a visionary designer to toy with initials and logos in a run-of-the-mill way…
Fri 01.30
Any true fashion lover recognizes it as an art, especially when you look at all of the stunning couture we're seeing for Spring '15…
Fri 01.30
Now for a certain breed of spring bags, under the sea is where it's at. Here, my pick of the best earthly beauties a mermaid would give up her flippers for, running the gamut from deep-diving shimmery texture to leathers the color of Caribbean water.
Thu 01.29
This season's Firenze4Ever theme was Obsessions. As women, we're overly obsessed with so many things that our lives sometimes end up paralyzed by the ridiculous standards society places upon us; yet even more paralyzing are the unobtainable standards we place upon ourselves…