Clutch
Fri 12.12
Do you ever feel like you're being watched? Maybe it's because there are suddenly too many bags to count out there with eyes of their own! From the subtle and sophisticated to the unapologetically campy, I've narrowed it down to just five gaze-worthy bags. But even with five, I can promise you'll still get an eyeful.
Thu 12.11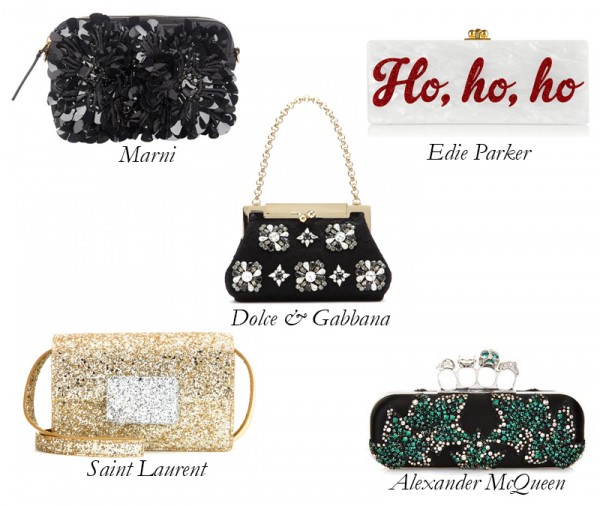 Maybe it's just the holiday spirit taking over my senses, but suddenly I'm seeing a whole brigade of bags that could double as festive decorations for your Christmas tree. From clusters of beads and jewels to fanciful adornments to glitter galore to in-your-face lettering, forget the strung bright lights…
Thu 12.11
ring on the beach! Or the jungle. Or the wallpaper of famed New York City restaurant Indochine, for that matter. Whatever the reference this motif brings to mind, fresh foliage-print bags are making for a truly tropical take on resort. Bring them out now, sunny holiday or not, to take yourself out of the current season, so to speak.
Mon 12.08
Wow! Here's to even more art as bag and bag as art. In celebration of Art Basel, exotic-skin mix-master Adriana Castro has applied the fierce talent and unique eye of acclaimed Spanish Pop artist Antonio De Felipe, whose work the designer fell for during one of her trips to Spain.
Fri 12.05
Do you ever get the feeling that your bag wishes it was something else? Lately, I've noticed a number of clutches that seem to have minds of their own. As if they are not completely content to be themselves. I don't know about you, but I appreciate a bag that doesn't fantasize about being another object entirely.
Thu 12.04
The throes of winter call for extra layers, more substantial fabrics, and yes, plenty of fur and shearling (whether real or faux) to help keep you toasty. While our bags clearly don't require the same treatment, this season's slew of nubby shearling and frothy fur bags are making me want to bundle up, down to my tote.
Mon 12.01
From bright and early on Black Friday to the evening hours of Cyber Monday, this is a long weekend to milk the sales if I've ever seen one. To top it all off, this Cyber Monday NET-A-PORTER is offering 30-50% off plenty of awesome merchandise. Here, my top picks of their just-marked-down bags…
Fri 11.28
You know when something's a no-brainer? Like when a sale gets so good, like doubly discounted good, that it would just be dumb to pass up? Today marks one of those happy situations. Our exclusive code gives you an extra 20% off all already reduced sale items on Luisa via Roma