Convertible
I've been eying the Chanel Boy since it first came out; I just haven't been able to pull the trigger, as I've been over-thinking it (a twist on a classic, does it read too trendy?). But now there's this version. The Chain bag.
This bag is a trip. It's essentially a tiny suitcase, and how cute is that? It reminds me of the old days of airplane travel (before my time!) when people got dressed up to fly and flight attendants were chic and glamorous.
What do you think: luxurious ice cube tray or cool-as-ice clutch? While part of me is fighting the urge to place Fendi's box clutch in the freezer, that wouldn't a wise move for such an expensive little piece of hand candy.
Bags are beginning to blur together. Perhaps that's why I'm currently so attracted to bags like the insect Damien Hirst for Prada Entomology bag. These days, it takes a lot to stand out, even for designers with a wealth of creativity. Take Stella McCartney, for example.
As the line between art and fashion continues to blur (just look at Chanel's Spring '14 collection), so does the line that divides jewelry and bags. If Tom Ford has anything to do with it (and what does Tom Ford not have a hand in, really?), it will evaporate entirely.
There are days when it's all about the bag. You take out your wardrobe's best and enjoy putting forth the energy to baby it with precious treatment. And then there are those days when life gets in the way and you're too busy to worry about taking care of an investment piece while you go about your business.
Sometimes my relationships with brands are like my most volatile relationships in life. What I love most about Maison Martin Margiela is one minute I'm hating on them, and the next I'm back in love.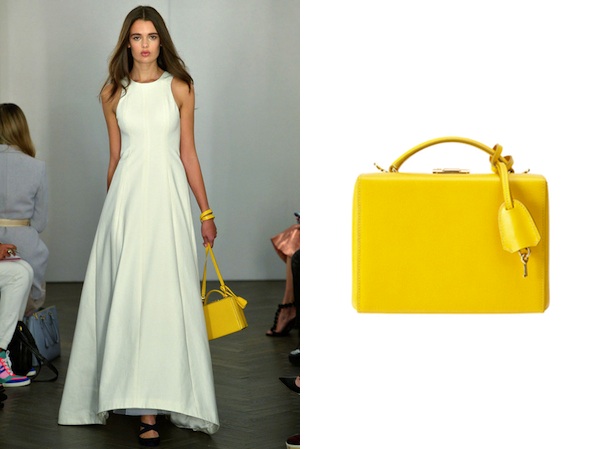 When designer Emilia Wickstead needed accessories to accent her Spring 2014 runway creations for London Fashion Week, she knew just which luxe bag was right for the job – Mark Cross' Grace Box. Only one bag, you say? That's all you need when it comes in a rainbow's worth of hues!