Couture Snob
Sun 02.09
Brand name aside, Donna Karan is a designer who has always used her native city to inspire and guide her work. It's intrinsic; it's the DNA, and with her DKNY Fall 2014 runway show, she paid homage to the most densely populated city in the country with more zeal than ever.
Sun 02.09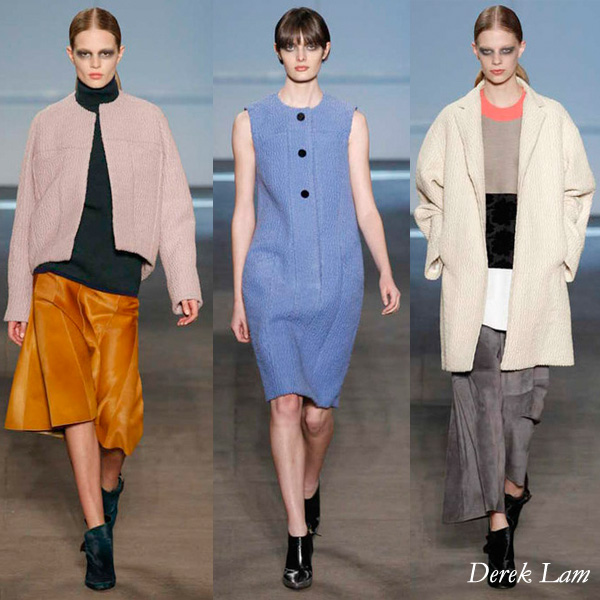 In my backstage interview with Derek Lam, I asked him to describe his Fall 2014 collection in one word. The answer? Energy. Sportswear-infused and as comfortable as it is polished, the high-octane theme made for a most luxurious collection.
Sun 02.09
Stuart Vever's first collection for Coach is completely straightforward for those worried that the brand's typicalicon customer wouldn't get it. Americana idealized and suburbian Oregon track homes in the fall serve as inspiration for a utilitarian collection that purposely lacks polish, but instead is infused with charm. Colors are literal fall foliage of ochre and auburn.
Sun 02.09
It was rather hard to focus at Victoria Beckham's show this morning. I had the good fortune of being seated directly across from David and the adorable kids. But alas, no amount of Beckham-clan cuteness could successfully distract me from such an incredibly elevated collection. Victoria's theme: the "embodiment of a modern and sophisticated spirit," and she delivered it in spades.
Sun 02.09
It's not easy being Alexander Wang. Between responsibilities helming both the house of Balenciaga and his own eponymous line, the 30-year-old is currently shouldering more than most take on in a lifetime. No matter to him, it seems. He carries it all with natural grace and insoluble ease (and a big happy smile; every time I see him he's smiling!).
Fri 02.07
Calling all sexy outdoorswomen, hot bowling enthusiasts (and leggings enthusiasts, for that matter), vixen-cum-tomboys, and models with definitive senses of style: Rag & Bone's Fall 2014 collection just hit the runway, and it was made just for you.
Fri 02.07
Who you calling ingenue? Jason Wu is proving himself to be the new master of edgy sophistication. Opening with a dark, mature, introspectively and attractively moody tone right out of the gate, his Fall 2014 collection presents a supremely modern interpretation of the femme fatale.
Tue 02.04
If you believe Punxsutawney Phil, winter is far from over, which is why it's so exciting that Shopbop is unloading hundreds of items from their winter collections at 70% off! The best Valentines often come from yourself, so why not indulge in a few of these guilt-free treats? You'll need a cute bag for your February 14th plans, whether they involve a special someone or a group of friends.
Tue 02.04
I wore DKNY everywhere during my '90s college years. While friends donned Gap sweats, I rollerbladed around Santa Monica in a full DKNY bodysuit – racing stripes included (the colors matched my blades!). They laughed at my sense of commitment, but as it turns out, I was ahead of my time. For Spring 2014, DKNY has reissued iconic '90s RTW and accessories with Opening Ceremony.