Exotics
Wed 04.16
When it comes to certain snakes, the saying is, "red on black, venom lack; Red on yellow, killer fellow." Looking at this mini McQueen, though, I have to disagree. It's poisonous.
Tue 04.15
Sometimes the perfect handle is all it takes to make a simple tote feel special. It's the power of a detail, the potency of one great touch. And speaking of touches, it's looking like Alexander Wang still has one with some magic to it.
Thu 04.10
Did someone say beach? It was very likely me who uttered the magic word. I am so ready for the shore and sea after what very well has felt like the longest winter known to man (and Snob) since the Ice Age. I'm really not exaggerating – we had golf ball-sized hail strike Dallas in April!
Wed 04.09
Nobody rocks a crossbody like SJP! The busy mom of three walks her kids to school and gets her own groceries so she knows all the best hands-free bags out there, and her latest find is just as stunning as it is functional – the Elisabeth Weinstock United States crossbody.
Wed 04.09
Balenciaga just got serious. The words that come to mind upon first impression of this top-handle tote? Incredible. Beautiful. Classic. Decadent. This is, of course, Balenciaga's big answer to the Birkin, but knockoff or tawdry imitation it isn't. Thanks to their signature tube-shaped hardware, it's merely a dutiful nod to the holy grail of bags, one that shows nothing but respect.
Tue 04.08
Whether you're going totally casual or out for a luxurious evening, pale gray is color to be in right now – and it's not going anywhere anytime soon. The right shade of gray is always chic and exact. There is such a sense of polish and clarity in wearing steely gray, especially when you do it with utmost confidence. For the warmer months, you ought to consider it your ultimate neutral.
Fri 04.04
Some weekends call for a clutch you don't have to overthink. You know those weekends when you're going out to a festive dinner or boozy brunch with a big group and you don't want to worry about someone spilling Pinot Noir or a Bloody Mary when you set your precious bag on the table.
Thu 04.03
By now it's quite clear that Nancy Gonzalez has a special gift for croc creations. Just look at this bouquet of exotic flowers! Now she's taking that delicate touch to little toucan charms, one of which she'll be giving away with the purchase of every bag today and tomorrow at Bergdorf Goodman.
Mon 03.31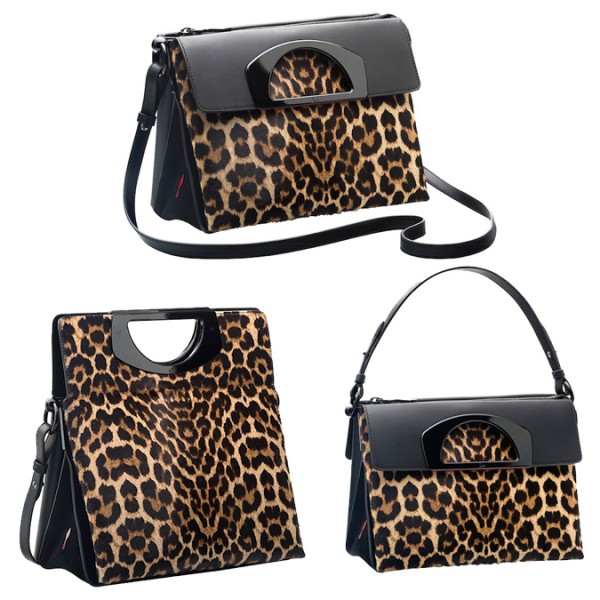 Bon voyage, studs, grommets, glitter, and heavy-metal hardware, and bonjour, clean lines, smooth metal, and pristine cutouts! From spikes to structure, I like the direction Christian Louboutin bags are headed for Fall 2014.