Exotics
New, now, and not to be missed: You don't want to jump on every trend the Spring '16 collections have to offer – because in the age of social media saturation, trends are a dime a dozen. You've got to be selective. That's why I'm stopping just short of a dozen…
Featured Items
Sometimes you've gotta go big, and now is that time. It's looking like more is most definitely more this summer. When you're seeking out embellishments, unfettered exuberance is the only way to go. Store away the boring and plain bags for later. Minimalism will surely come back soon as an opposing reaction to this current bubbly mood, so for now, let's live in the moment and fall in love with the exciting trims, appliqués, embroideries, hardware, heavy stitching, and anything else you can throw on a bag that will stick.
Featured Items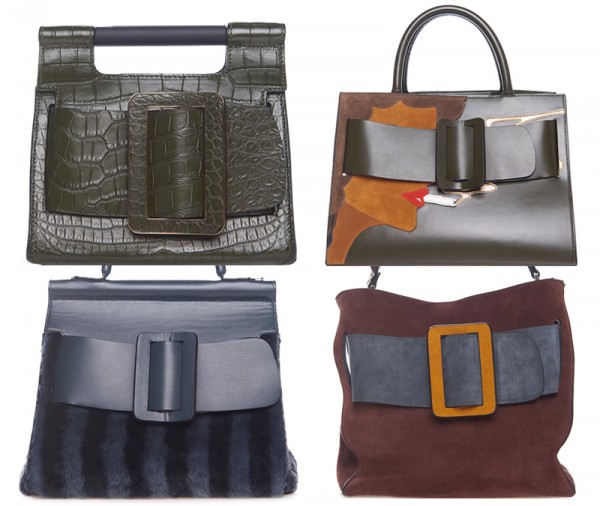 Few brands can pull off a bag punctuated by a gigantic, belt-like buckle. Then again, BOYY isn't your average brand. The brainchild of Jesse Dorsey and Wannasiri Kongman grabbed our attention a couple of years ago, thanks to their label's way with strong, masculine lines and decidedly un-precious details. I have two BOYY bags myself, and I've always loved the duo's unique take on classic styles.
Featured Items
We love pastels, but they can be tricky. If the hue is even the slightest bit off or styled in the wrong way, you end up looking like you're a six-year-old out in the yard hunting for Easter eggs. That said, there's little that brings a greater sense of renewal than pulling out your lightest and brightest accessories for spring…
Featured Items
The business of re-commerce is bigger than ever, thanks to social media and technology. With so many sites around, it's hard to navigate and zero in on the best. I recently discovered LGS in Dallas (and Chicago!), founded by two childhood friends, Brielle Buchberg and Lindsay Segal. LGS is Brie and Lindsay's joint vision: A curated designer retail experience and consignment boutique rolled into one.
If personalizing your bag felt like a new trend a year or two ago, now it's essentially a must-do. We are living in the age of the bag accessory, but not all charms are created equally. Nancy Gonzalez just gave the rest of the best a run for their Snobbiness with the their new chain charms, launching today at their Make It Yours Event at Bergdorf Goodman in New York.