Exotics
While Madonna's recent performance at the Grammys was controversial as ever (well, at least her cheeky red carpet look was!), she's got me inspired to channel a modern matador myself. And so does Nancy Gonzalez's dramatic crocodile clutch.
Mary Katrantzou strikes us once again with the immediate visual impact of her work. In the case of her latest clutches, it's all about symbols. Don't expect such a visionary designer to toy with initials and logos in a run-of-the-mill way…
Peekaboo, I see you! The Vogue "It" Bag competition hasn't concluded yet, but I'm calling it now. Fendi's Peekaboo satchel in mini or micro size is it! While the micro is no doubt the trendier of the two, the mini will be more functional in the long run.
Now for a certain breed of spring bags, under the sea is where it's at. Here, my pick of the best earthly beauties a mermaid would give up her flippers for, running the gamut from deep-diving shimmery texture to leathers the color of Caribbean water.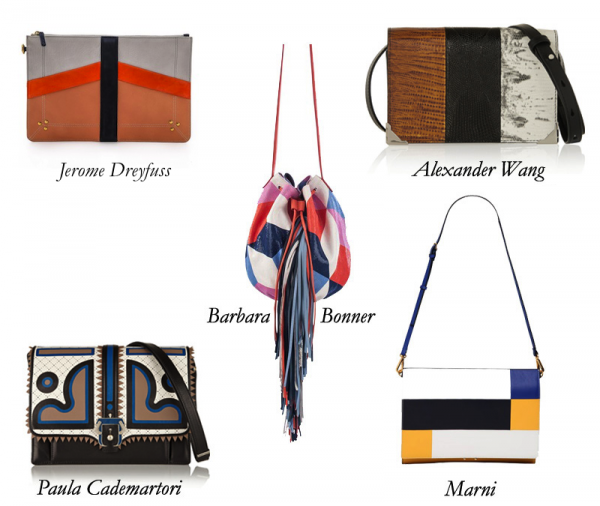 Bohemian glam: an oxymoron if one has ever made it into the fashion lexicon; these are two words that are as different as can be…Yet the pairing makes perfect sense when it comes to the must-have bags of the season.
In my second installment for The Hollywood Reporter, I pick out the most memorable clutches from Sunday's SAG Awards. From Julia Robert's black Givenchy clutch to Emmy Rossum's sparkly Armani minaudière, here's a look at the 10 best pieces of arm candy…
Think high shine, hedonistic exotics, and unadulterated embellishments, all enough to inspire you to partake in some late-night decadence.
Honey, I shrunk the backpack! The mega-popular mini-bag trend will not be going anywhere. And I'm not complaining. What's cuter than a tiny mini backpack?
Feeling frisky? We all need to let loose every now and then, or we at least crave a bag that knows how to have a little fun on our behalf. Jimmy Choo is feeling the mood right now, as exhibited by two of their new shoulder bags.