Exotics
Thu 07.10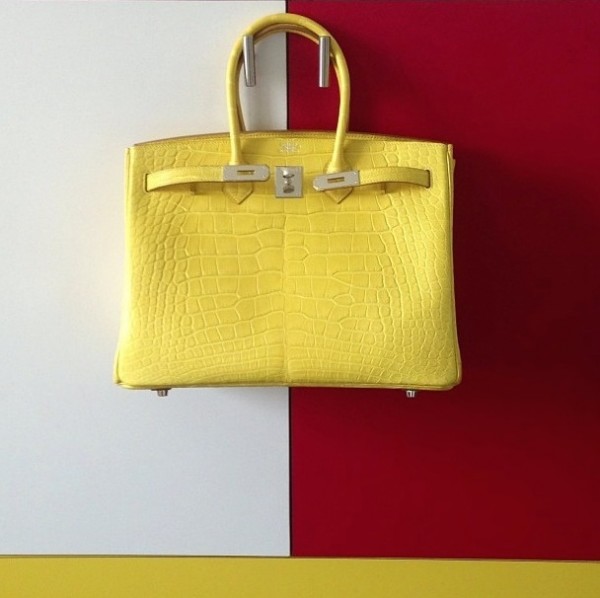 There is nothing worse than pulling out your most treasured exotic-skin bag to find it dry, cracked, or peeling – or worse yet, all three. A very wise woman once told me that our designer bags are like fine cars: they need tuning regularly.
Tue 07.08
There are moments when the right color selection is all it takes to take a collection from cool enough to outright covetable…
Fri 07.04
I can't think of a better way to celebrate the ultimate all-American holiday than with a roundup of looks from some of my all-time favorite all-American designers!
Wed 07.02
A center panel of contrasting color (or texture!) can take a bag from basic to the big leagues with the simplest of juxtapositions…
Tue 07.01
Okay, so before you go and hate on this bag, as I was prepared to do upon first glance, take a closer look: "Hidden-TF" is the crossbody's official name. Meaning, you, the wearer, have the option to hide the purposefully blatant initialized logo, or you can show off your dedication to Mr. Ford to all your friends.
Mon 06.30

I cannot get enough of Chloé bags lately! The current object of my desire is the Camille crossbody bag: an absolutely adorable mini-bucket bag laden with some serious hardware.
Wed 06.25
They're grrreat…?! Fashion has officially gone lowbrow, and we're hitting new levels of irony. From the fast-food drive-through to the supermarket, think cheap, suburban Americana for a high price.
Mon 06.23
Last week I appeared on Good Morning Texas to talk packing tips. The less you have to lug around when traveling, the better, but you also want to bring everything you need. With a few special tricks and some organizers, you can fit everything and maybe even have room left over for some shopping!