Exotics
Mon 06.09
Attending the Maui Film Festival, Lupita Nyong'o reminded us once again why she's an emerging style icon…
Wed 05.21
You know those moments when you find yourself craving something like a banana split with a cherry on top?! (Yes, my cravings are very specific. Sometimes it's a pair of 6″ sparkly pink heels, but that's a hankering for another entry.) And then a bag, not a delicious dairy dessert, shows up on your doorstep, and you realize it's what you really needed?
Tue 05.20
I'm so excited to see this off-the-runway power piece hit the shelves. Viktor & Rolf's edgy tote is one of those rare finds where the level of function is equal to the high level of fashion.
Mon 05.19
Is there anything more adorable (besides my boy, of course) than Tod's mini and micro D-Cube bags? Readers have been requesting them in every color since I first posted a photo of my periwinkle blue version, and it seems that Katie Holmes is equally enamored!
Wed 05.07
Ferragamo is ready for Mother's Day! Today, the house launched a bag collection and campaign to celebrate women, most notably Salvatore's late daughter Fiamma. She not only designed the iconic Vara pump, but was also responsible for Ferragamo's first bag collection, making her a pretty important lady over here on Snob Essentials.
Wed 05.07
Behold: the decadent of the decadent. What could be more luxurious than a tote deeply understated in shape, set in polished crocodile? One that's deep emerald green crocodile. While everyone knows that Azzedine Alaïa knows his way around a mean laser-cut perforation, I believe sumptuous skin combined with a subtle silhouette is where he really shines.
Tue 05.06
Never have I wished more for a daughter than I have this season. If only, so she and I could wear matching mama-and-baby bags. With all the delightful minis out there, from Tod's to Saint Laurent, I'm so happy to report Dior's iconic Bar and Addict bags have joined the miniature revolution.
Mon 05.05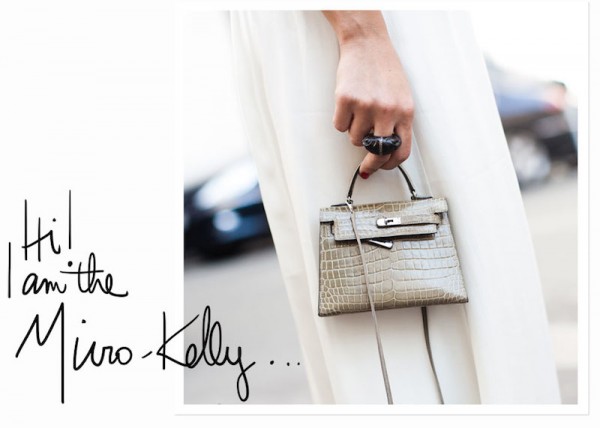 There are women who are merely front-row fixtures, and then there's Deena Aljuhani Abdulaziz. You can always count on the always-elegant Deena to raise the style bar during fashion week. The terrifyingly chic fashion entrepreneur is the owner of D'NA boutique.