Exotics
Python and the pool don't go well together (water damage!) – until now. Eternal innovator Devi Kroell's brilliant design showcases the beauty of snakeskin while keeping it safely sealed away from water, whether you're at the pool, beach, or bar.
Lately, I've been carrying around my wallets-on-chains more than any other bags, especially while traveling. It's so liberating to know you require nothing more on your shoulder than your cell, ID, a bit of cash, and a credit card or two.
If you know anything about me, it's that I love a good exotic bag. But I understand the hesitation, as well as the primal fear that can come with the prospect of the purchase…
Texture is a word that comes up a lot when talking bags. Smooth, grainy, rough, pebbled, furry, plush, soft, rugged…there are endless varieties and almost as many ways to describe them. But some bags out-texture the rest, so to speak.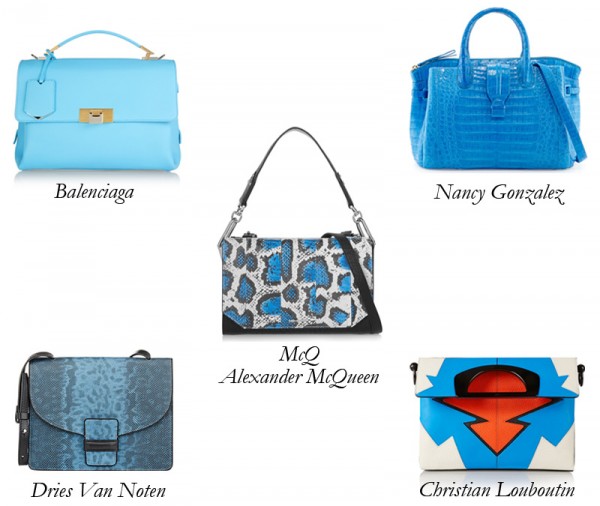 If you're like me and don't like to get your hair wet or actually lay out, going to the pool is a fashion event unto itself. As a matter of fact, the only time I do allow the sun to hit my face is when I'm taking a selfie. But I do like lounging by the swimming pool…
Have enough red-soled heels in your closet? (I think we all do.) It's time to start getting hip to Christian Louboutin bags. We weren't always so enthusiastic about the sexy shoe guru's handbags, but the brand's new collection of oversized clutches is absolutely divine!
We love exotics because well, they're exotic, but this takes the jungle vibe a step further. It's downright dangerous looking! And who doesn't crave the element of danger every now and again?
When we're in our twenties, a lot of us enforce a few life goals to hit by the time we're 30. Whether it's a fast-accelerating career, dream wedding (and a dream husband to go with it), or a baby on the way, 30 is the age when we feel things ought to get "serious" in one way or another.
I remember my aunts buying Etienne Aigner back in the '90s. In Hong Kong, the brand's stores were full of well-heeled women and men. I had forgotten about this storied label until recently, but they are most certainly making their mark again now!