Exotics
I have often joked that there is something about Hermès leathers, much like the world's most addictive drugs, that get women (well, me at least) high. The scent of Hermès leather is like no other, and once you catch a whiff, you only want more.
Featured Items
As we head towards the holiday season, extravagance and fantasy begin to occupy our minds. For fun, as research, or for the sole sake of ogling, here are the most expensive bags money can buy, that are, indeed, worthy of their staggering prices.
Featured Items
With higher volume and nearly instantaneous exposure, luxury fashion is accessible to everyone now – and that's a positive development. Luxury fashion shouldn't be a clique of "mean girls" (and boys) but an alluring force in which everyone who's interested can potentially take part.
At first glance, you may not look at these bags and think that they're all tribal-inspired, but there are many kinds of tribes; and by the looks of these, I want to join every last one! Which do you belong to?
Thanks to street style and social media, fashion trends change with such rapid speed nowadays, it means they come back around as fast as they go. Who can keep track? That's why you shouldn't ever rid of anything you love. If it's feeling tired, just put it in the back of your closet store it for another day.
I prefer structure over schloppy, floppy bags. But sharply boxy bags are not always functional. They can be unforgiving at your side, difficult to get in and out of, and hard-edged to the touch. Not the latest bunch!
Love Tom Ford but hate the hefty price and weight of his bags? The Jennifer is one of his most iconic styles, but the earlier version featuring a giant zipper-trimmed flap adds so much heft, you have no choice but to wear it crossbody if you want to walk straight.
Show me a bag that's quintessentially Miu Miu and I'll show you a bag that exudes quirk and glamour in equal measure, thanks to an unfailing way with wacky combinations that somehow work. Like this well-balanced masterpiece of leopard-print calf hair, deep jade python, and aqua-blue suede (on the interior). It should add up to overkill on the eyes. Instead, it's total eye candy!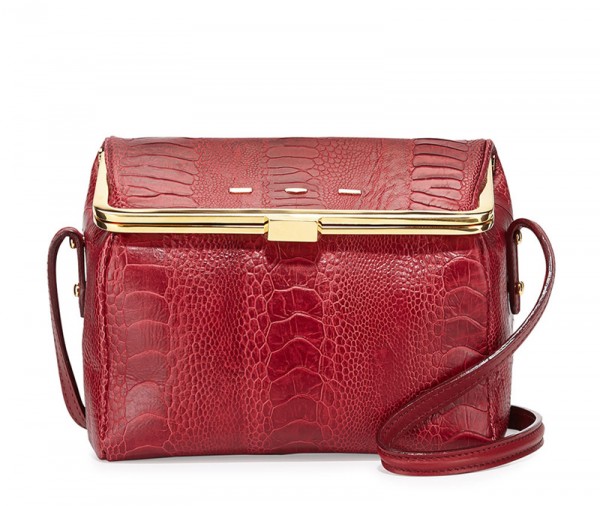 Who knew a tackle box could be so cute and chic? Clearly this isn't your average fishing accessory, although I would call it a major catch (wink)!