Fur
Tue 11.11
Fur bags may not keep us warm like our coats and vests do, but there's something special about them. Much like pumpkin spice lattes (and pumpkin anything, really), these are luxuries best enjoyed during a certain time of year – and that time is now.
Wed 10.22
So why would you wear head-to-toe leopard?! Pick one of these great pieces, the staples I'm choosing to invest in myself, to wear at a time, and you will have them begging for more.
Tue 10.21
Don't think of blue as a hue so different from black. Just think of the shade as jet-black's more mellow, yet equally mysterious and often just as neutral sister. I am!
Tue 10.14
If you haven't gotten the hint, the must-have color of the season is green. All subdued shades are great, but it's deep, lush forest green that's especially inviting, particularly when you want to show monochrome-level dedication.
Thu 09.25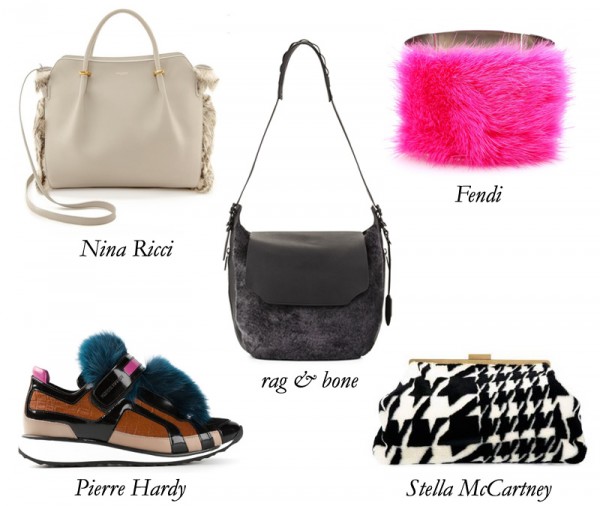 At the end of September, we're finally starting to feel a fall chill coming, but it's hardly time to break out the full-length fur. I'm not willing to wait any longer, though, so I've found a few smaller pieces to tide us over (faux-enthusiasts, included!).
Tue 09.23
Now that Milan Fashion Week has wrapped up, it's official: It's no surprise that the best bags on the Italian runways belong to Fendi, from the incomparable Karl Lagerfeld.
Thu 08.07
An exotic bag is one of the most luxurious accessories you can collect, but that kind of luxury comes at a steep cost. With feathers, you get the exotic look without the accompanying price tag! They also add instant glitz and glam to even the most mundane of outfits…
Wed 08.06
Remember that line from "Under the Sea," the most famous song in Disney's The Little Mermaid, that goes something like, "Life is much better, down where it's wetter"? Jokes aside, Sebastian the crab may know a thing or two about philosophy, but his mantra doesn't apply to this piece by Shrimps.