Fur
Mon 06.30
Nancy's foray in to new exotics is as exciting as the bags themselves. When the queen of crocodile takes on a new (and arguably equally decadent) material, you take notice…
Fri 05.30
This bag is kind of ridiculous…in a good way. You know what I mean. It is so over-the-top and crazy that it crosses the line and eases into "awesome" territory.
Wed 05.07
Ferragamo is ready for Mother's Day! Today, the house launched a bag collection and campaign to celebrate women, most notably Salvatore's late daughter Fiamma. She not only designed the iconic Vara pump, but was also responsible for Ferragamo's first bag collection, making her a pretty important lady over here on Snob Essentials.
Thu 05.01
It's been a little while since we've covered a Zagliani bag, and I can confidently say their new Fall 2014 collection is most definitely making me sit up and take notice once again. Recently appointed Creative Director Giorgia Scarpa (formerly of Prada and Dior), now on her third collection for the Italian luxury house, is hitting her stride. As they say, third time's a charm.
Fri 03.21
Metallics? Hello, liquid luster! Black patent leather? Think shinier than your lip gloss. Astrakhan lamb fur? So sumptuous! And crocodile? This is as divine as exotic skin gets. Jason Wu is keeping his girls classy for Fall '14 with an insanely gorgeous bag collection set strictly in neutral tones.
Tue 03.18
These street style bags are creating trends! We've got tiny bags, novelty designs, and furry creations.
Fri 03.14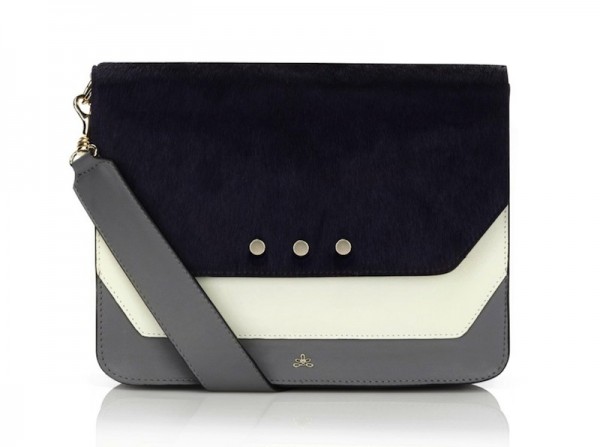 I'm so in love! Navy pony hair layered over blocks of gray and white isn't just unexpected, it's striking and deeply chic. We see more than our fair share of pony on a regular basis, so I've got to hand it to Milli Millu for coming up with such a unique incarnation. Navy blue looks as glossy as satin and exotic as anything I've seen.
Mon 02.24
I love The Row, but I'm sorry: this clutch is ridiculous. While it's not hard to embrace the bohemian tassel-accented hobos and fringe-trimmed clutches of their current Spring '14 collection, this time, they've taken their embellishments too far.
Fri 02.14
Inspired by the geometric color-play of the Ballet Ruses, the J. Mendel Fall 2014 collection came forth, from start to finish, with uncommon creations that ooze luxury and desirability in the truest sense of the words.