Fur
Mon 02.24
I love The Row, but I'm sorry: this clutch is ridiculous. While it's not hard to embrace the bohemian tassel-accented hobos and fringe-trimmed clutches of their current Spring '14 collection, this time, they've taken their embellishments too far.
Fri 02.14
Inspired by the geometric color-play of the Ballet Ruses, the J. Mendel Fall 2014 collection came forth, from start to finish, with uncommon creations that ooze luxury and desirability in the truest sense of the words.
Thu 02.13
We're never surprised to see fur grace the Fall runways, but the number of fur bags this season is off the charts. From Donna Karan's shaggy style (her 30th anniversary collection was all about movement) to DVF's trim shoulder bags, black seemed to be the shade of choice, with Vera Wang also throwing her noir beaver shopping bag into the ring.
Tue 02.11
In the tenth year of her namesake brand, the always-wearable and ever-relatable Tory Burch gives us another collection of staples. She's also achieved a slice of global domination, what with over a 100 boutiques and an instantly recognizable logo. Luckily, the trademark was nowhere to be found on this runway.
Sun 02.09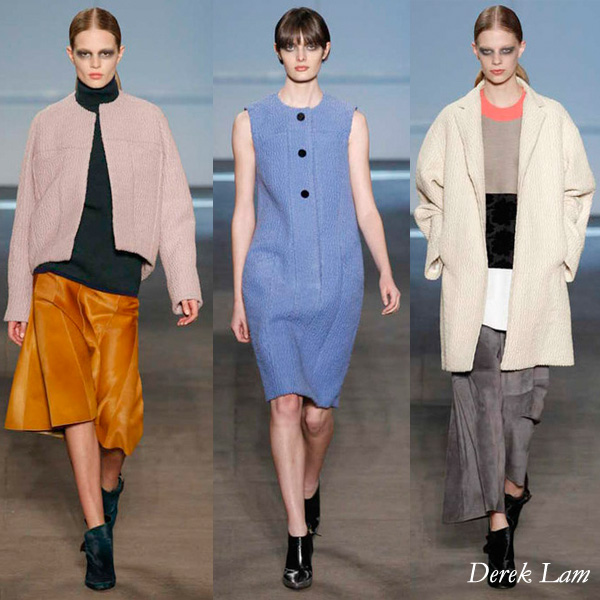 In my backstage interview with Derek Lam, I asked him to describe his Fall 2014 collection in one word. The answer? Energy. Sportswear-infused and as comfortable as it is polished, the high-octane theme made for a most luxurious collection.
Fri 02.07
Who you calling ingenue? Jason Wu is proving himself to be the new master of edgy sophistication. Opening with a dark, mature, introspectively and attractively moody tone right out of the gate, his Fall 2014 collection presents a supremely modern interpretation of the femme fatale.
Tue 12.31
As we look forward to the Resort treats, covetable Spring musts, and everything else tempting us into 2014, let's pause and take a look back at the best of the past year. A lot of bags have come, stolen our hearts, and gone, but only a handful have what it takes to withstand the test of time (even if we're only talking 12 months).
Sat 11.16
When Valentino announced they were holding a fashion show in Shanghai, celebrating the opening of the largest boutique in Asia (8,500 square feet and second only to the flagship in Milano), I expected to view the Spring 2014 collection I saw in Paris.