Luggage/Travel
I just got back from a trip to Mexico, and even though it was only for a few days, you know I brought more than a few bags. Hey, when you pack well, you can do that! If you prefer an even more streamlined suitcase, though, just one or two of the below will do. Take this striped Sophie Anderson handmade cotton tote (on Forward by Elyse Walker for $425). You can carry it on the beach or when you're farther inland, as a daily shopper bag. If it gets dirty, just throw it in the wash and get back to relaxing!
Featured Items
By the time Friday rolls around (and it sure took its time), you feel tired and frazzled, but much like the weekend, another bag is always waiting to offer you a sense of renewal. Plop down that less-organized-than-it-was-on-Monday work tote and get yourself one of these ladylike top handles. You can't help but feel sophisticated and put-together with polished accessories like these – even if you're in your sweaty yoga pants.
Featured Items
When it was revealed last year that Chris Benz, he of the neon mesh details, gutsy tropical prints, and skewed ladylike designs (he launched his own line when he was just 25 years old in 2007, and it lived for five years), was taking the helm at Bill Blass, it came as something of a surprise. But then again, who better to revive the all-American sportswear label than the Seattle native, who could make sequins feel streetwise and ruffles feel anything but retro? We got the honor of interviewing Chris, right in time for the release of the Spring collection, featuring breezy shopper totes and sporty duffels, easy slip-on sneakers, and lots more to covet in a perky citrus palette.
This bag makes me want to plan a weekend trip, stat. For their new Flight bag collection's inspiration, which also includes a smaller satchel style, Rag & Bone looked to quintessential English luggage, like the traditional Gladstone bag, with a vintage '70s twist, à la the oversized domed rivets.
Featured Items
This may surprise you, but I do not own a single black suitcase. I only buy standout pieces, so I know they won't get lost in the shuffle of the carrousel. When your bag is unique, people are less likely to mistake yours for their own.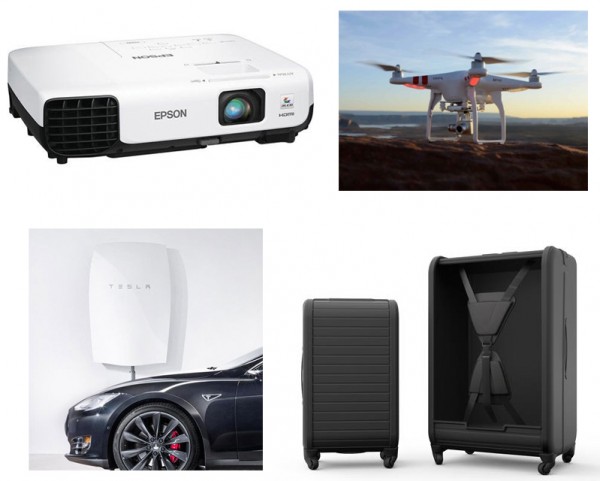 The classic question goes, what do you get the man who has it all? Well, we finally have an answer. The latest technology!
Memorial Day marks the unofficial start of summer, and it welcomes the official start of the travel season. And that means we need the perfect travel companion: the right bags! This time, it's on the outside that counts.
Bing Crosby fantasized about a white Christmas back in 1942, and some things never change. I can't speak for Bing, but I know I'm still hoping to see white come December 25th…
I'm having a monogram moment. This is no doubt due to Petite Malle mania, but even more so because of Louis Vuitton's latest collaborations. In honor of its 160th birthday, the house is celebrating the iconic LVs with the help of six art and design legends.