Luggage/Travel
Tue 06.25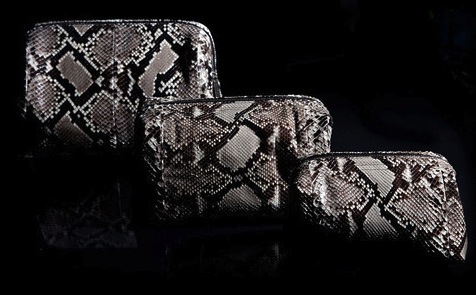 Tina talks her serpentine obsession.
Fri 06.21
Whether you're driving to a quaint beach house or flying to the sunny surf in Tulum, sometimes all you need to recharge your batteries is a little weekend getaway.
Thu 06.13
I just landed in Florence, so my mind is focused on all things travel! It's hard to pare down your suitcase (I have three with me and had a nightmare the night before flying that Kelly and Rich left me on the curb with it all 'cuz it wouldn't fit in our car!) – I'd rather just make sure everything's organized. That's where Flight 001 comes in…
Thu 05.16
With a suitcase like this, the fantasy of the ultimate in glamorous traveling is realized. The fantasy, of course, also includes a full-time porter – because in true old-world form, this trunk doesn't come with wheels. All for the sake of Industrial Revolution-era romance! (Nineteenth-century snob Anna Karenina would be all over this.) No shock […]
Fri 05.03
Mom bags – as in suitable for diapers – these are not. These Five Essentials are the bags women want, covet, and deserve for Mother's Day. This isn't a holiday for practical gifts (Mom is practical all year long!). That, to me, is disrespectful. Instead, show your mother how much you love her by showering […]
Wed 05.01
I went to see End of the Rainbow recently, a musical about the months leading to the end of Judy Garland's life. It stars Tracy Bennett, who was so spectacular I could not believe what I was watching. Mesmerizing performance aside, I was fixated on one of the props on stage: an opulent vanity trunk that opens […]
Fri 02.01
I was recently invited to experience the St. Regis Shenzhen, which opened just one short year ago. How could I refuse a stay at the new Kingkey 100 property, a.k.a. the tallest building in Southern China?! I've stayed at many St. Regis hotels before– NYC, Aspen, and Beijing – it's hands down one of my favorite hotel brands.
Fri 01.25
UPDATE: Congrats to the winner- @Jade_Melissa – enjoy your bag and stay at the St. Regis! I am on the most magnificent tour in Shenzhen, China. A Grand Tour, in fact. Not unlike the grand tours taken for centuries by affluent travelers in the past. They'd go on these extensive, opulent journeys around Europe and […]