Luggage/Travel
Mom bags – as in suitable for diapers – these are not. These Five Essentials are the bags women want, covet, and deserve for Mother's Day. This isn't a holiday for practical gifts (Mom is practical all year long!). That, to me, is disrespectful. Instead, show your mother how much you love her by showering … Continue reading Because She's Worth It: The Five Essentials for Mother's Day
I went to see End of the Rainbow recently, a musical about the months leading to the end of Judy Garland's life. It stars Tracy Bennett, who was so spectacular I could not believe what I was watching. Mesmerizing performance aside, I was fixated on one of the props on stage: an opulent vanity trunk that opens … Continue reading T.T. Trunks Mademoiselle Trunk: Down to a T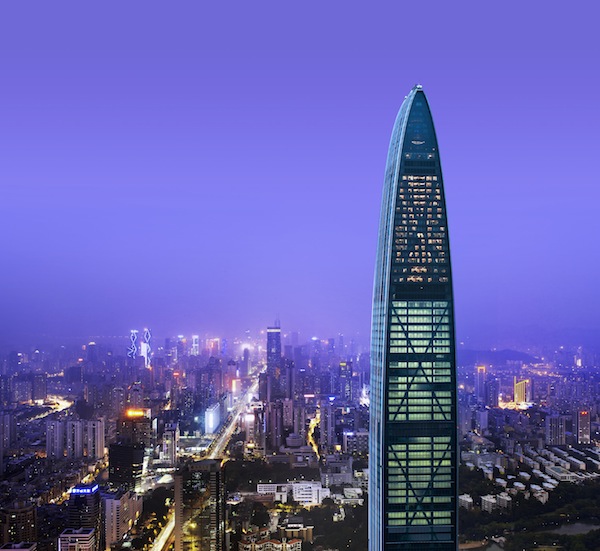 I was recently invited to experience the St. Regis Shenzhen, which opened just one short year ago. How could I refuse a stay at the new Kingkey 100 property, a.k.a. the tallest building in Southern China?! I've stayed at many St. Regis hotels before– NYC, Aspen, and Beijing – it's hands down one of my favorite hotel brands.
UPDATE: Congrats to the winner- @Jade_Melissa – enjoy your bag and stay at the St. Regis! I am on the most magnificent tour in Shenzhen, China. A Grand Tour, in fact. Not unlike the grand tours taken for centuries by affluent travelers in the past. They'd go on these extensive, opulent journeys around Europe and … Continue reading The St. Regis Grand Tourista – and Grand Giveaway!
In Paris, the men's shows for Fall/Winter 2013 continued, leading to another round of fine bags for men, that I'm looking forward to gracing the city streets. The French houses (and an American) managed to create covetable accessories that were neither too outlandish nor feminine. So the question I have to ask is who's your … Continue reading Men's Bags of Fall 2013: Part 2
The only reason I want to hear about cold weather nowadays is because of the related gear (read: bags) and threads. Otherwise, I really don't about the chilly days and nights of winter, as layers are only so much fun for a Florida guy.
With a powerhouse voice and real acting chops, Emmy Rossum is a rare breed of double-threat. Have you watched Shameless yet? It's my new guilty pleasure: the Gallaghers are the family you love to hate but can't help but love. Indeed, producers initially feared Emmy was "too pretty" for therole, but she plays Fiona with … Continue reading The Five Essentials Featuring Emmy Rossum
Downton Abbey is back on PBS this Sunday, and I can't wait! My biggest burning question – will Lady Mary and Matthew really get married?? What will she wear for the wedding? As early 20th century British aristocrats, the star-crossed couple is always dressed to the nines. And with this season kicking off the 1920s, … Continue reading Getting into Character: The Five Essentials for Lady Mary