Messenger/Cross Body
Fri 03.14
Calling all commitment phobes and on-a-budge babes: a quintessential Frugal Friday bag means all the pleasure of an easy, no-brainer find and none of the pain that comes with making a big investment purchase. Pour La Victoire has a knack for pulling off nice designs for an even nicer price and their latest is perfectly cute and preppy.
Tue 03.11
Nothing puts me in the mood for spring-cleaning more than a new bag. It's motivation to put your older ones up for sale to make a little money for other must-haves! These are so fresh they have me wanting to pack away all my winter sweaters and coats, and break out the delicate colors and fabrics. Which of the white bags has you excited for this next season?
Mon 03.10
And with plenty of embellishments! I must have this stone, stud, and grommet accented Prada. There's a lot going on here for such a small bag, but with the vintage appeal, it works oh so well.
Wed 03.05
No pressure or anything for Nicolas Ghesquière. He was only granted the task of taking the reins at one of the most prestigious French houses in the world, in time for Fall 2014. Not that the beloved Ghesquière, he of much-praised Balenciaga fame, doesn't come with quite a pedigree. But any time there's a shift in power and a change in creative direction, one must tread carefully.
Tue 03.04
I say this with confidence: When it comes to mastery of the craft and virtuosity of divine execution, Maria Grazia and Pierpaolo are unparalleled. In a most emotional Fall 2014 show, the pair made their inspiration felt by each and every onlooker: unconventional women deeply rooted in a moment of change.
Mon 03.03
Who says you need to be decked out in camouflage to inject a little bit of boot camp chic into your look? Sometimes subtle is the way to go, and sticking with a neutral palette of lush olive, earthy brown, rich hunter green, and all-grown-up mahogany will leave you anything but fatigued.
Tue 02.25
The moment Coco Chanel slipped her beau's oversized sweater on over her dress, so began the revolution of glamorous cross-dressing. Nearly a century later, the combination holds strong, and there's nothing quite as perfect as a sumptuously too-big sweater and a delicate slip dress when it comes to transitional dressing.
Mon 02.03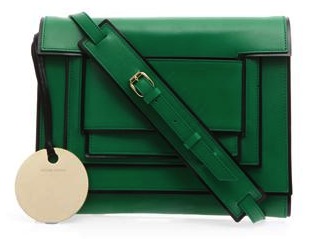 Lush, verdant, grassy green: this color is key for the upcoming season, and not just because St. Patrick's Day is on March 17th…although, how perfect would this be to take out that night?
Thu 01.30
Not too big and not too small, structured but not overly so, and neutral enough to go with all your favorite staples: You can count on a daily bag to be practical, but rarely do they inspire excitement. Not these five. More than just an afterthought, these daily bags have great designs and details to spare, so you won't find yourself making a compromise while following the KISS rule: Keep It Simple and Stylish.