Messenger/Cross Body
Tue 12.03
Calf hair is as luxe as any skin out there – and it's the exotic you don't have to feel guilty about (unless you're an animal lover, that is). Tactile and touchable, soft but not too plush: I love the unique texture, especially as winter approaches and smooth leather and suede start to look commonplace.
Fri 11.22
Adorable, affordable, and unarguably appealing: Diane von Furstenberg knows what fellow women want, and it's accessible bags like the Sutra. Whether you're shopping around for a friend or sister or you're feeling like giving yourself a little something, this makes for a great gift at a genius price.
Wed 11.20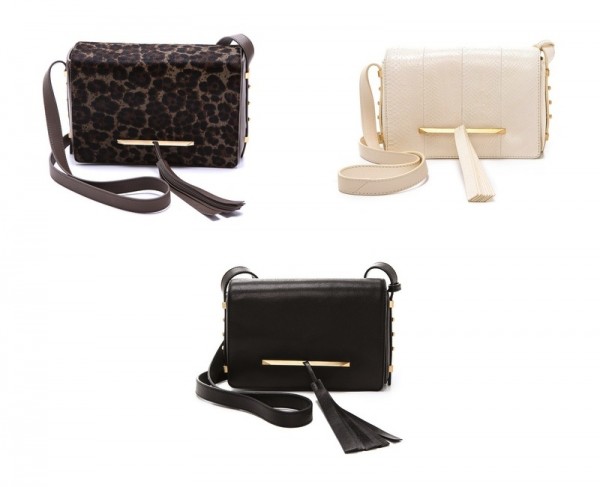 I don't need to tell you how difficult it is to find unique and stylish bags under $400. Let alone chic EXOTIC bags. Unless you're perusing The Outnet and Barneys Warehouse with Sherlock-level stealth, it's basically unheard of. Put the binoculars down: the Bo and Brigitte bags by B Brian Atwood are the answers to all your bag dreams
Thu 11.14
Walking around the NYU campus provides you with a lot of hilarious, insightful, or plain quintessential college conversations. Lately though, internships and jobs have been a popular topic – and more importantly, what to wear to an interview.
Tue 11.05
Romeo, Romeo, wherefore art thou Romeo?! Maybe if Juliet had managed to nail this beauty she would have maintained the will to live, with or without her man. There are great daily bags, and then there are the great daily bags that transcend their genre. The Zagliani Romeo falls at the top of the latter category.
Thu 10.31
Don't ask me to pronounce the name of this brand. Which is going to be a problem because when I start carrying this bag, everyone will be asking.
Wed 10.30
I love saddle bags, but I still have yet to find a version that actually reflects the easy, graceful lines of a beautifully made horse saddle. For me, there is nothing more effortlessly chic than the breezy spirit of a saddle bag.
Wed 10.30
I've been eying the Chanel Boy since it first came out; I just haven't been able to pull the trigger, as I've been over-thinking it (a twist on a classic, does it read too trendy?). But now there's this version. The Chain bag.