Messenger/Cross Body
Mon 08.18
I'm going to say it: the Drew collection is the best thing to come out of Chloé in quite some time. From my initial impression of the classical black style topped with gold hardware to a preppy variation in deep green suede and tan leather and now on to this supremely sportier yet thoroughly sophisticated update, the Drew is maintaining solid momentum.
Fri 08.15
If there's one thing that makes leaving the summer sun behind more bearable, it's the rich hues of fall, and none is more tempting than aubergine (honestly, I think I like saying the word more than anything else!).
Mon 08.11
The king of streetwear reigns on. In the time of hashtags galore, endless abbreviations, and tweets and retweets, Phillip Lim is leading the pack once again, thanks to his new trio of bags that are as much a commentary on our current culture as they are comment-worthy.
Thu 08.07
I knew it was only a matter of time until my girl Jill Haber was going to wow and woo me again, but here is something unexpected…
Wed 07.30
The saying goes, if it ain't broke, don't fix it, but the latest variations on Jérôme Dreyfuss' well-loved bag styles have me thinking that change can be a good thing. A very good thing.
Tue 07.29
Remember how eagerly we anticipated the premiere of each new season of Sex and the City? The excitement would overtake every woman I knew, whether they lived in a bustling metropolis or not. And it wasn't just to observe and empathize with Carrie Bradshaw's love life but to gaze at the shoes and bags worn by Sarah Jessica Parker.
Fri 07.25
Maggie Copeland founded Brooklyn-based Palethorp with a focus on high-quality leathers and snakeskins (even the signature lining is snake-printed), or more often than not, a juxtaposition of the two. The results are perfect summer fun, and as if the prices weren't reasonable enough to begin with, the label is offering Snobs an exclusive 40% discount!
Thu 07.24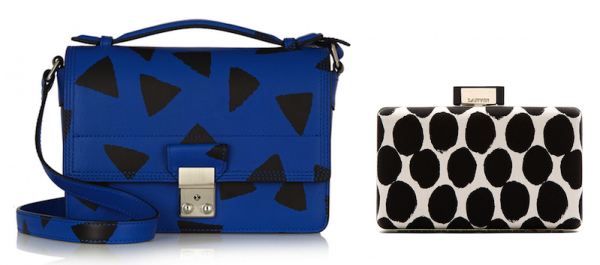 Polka dot or animal spot? Painterly circles or graffiti-inspired triangles? Or something else entirely? Honestly, when something looks this good, it doesn't really need to be defined with a precision-perfect touch.
Tue 07.22
Sleek, clean, and created for instant organization: Consider Maiyet's Amonet bag your new little helper. We're seeing a lot of these über-compartmentalized bags lately, as if it's almost a new trend, and I'm loving it. It's like designers are finally getting the fact that function is just as important as the way things look.