Messenger/Cross Body
Wed 09.03

When former CFDA Fashion Incubator mentor Christine Park started Time's Arrow last year, she took inspiration from her mother's bag collection – pieces minimalist in style, yet heavy on interior organization. In this way, the Fall '14 Ishi clutches and crossbodies are certainly on-brand.
Tue 09.02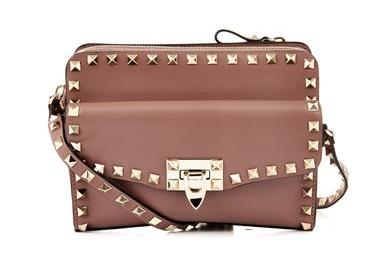 Upon first impression, this looks like your standard gorgeous, Rockstud-bedecked Valentino bag. In reality, it's so much more – with a genius design. Deftly constructed with a slim silhouette, this compact crossbody features a removable pouch that makes up the slender back portion of the bag.
Fri 08.29
Recently, Cathy Horyn succinctly wrote of her longtime nemesis, Hedi Slimane and his accomplishments (or lack thereof) at the house of Yves Saint Laurent: "In two years as creative chief, he has barely broken a sweat as he fetches another pussy bow from the '60s time capsule."
Fri 08.22
Our Fall '14 collection is up and running on HSN.com. For Fall, we took on a jet-set mindset and looked to our favorite European cities for inspiration. Naturally, the effortless ease of Parisian girls, along with their inimitable unstudied mode of glamour, inspired the Paris crossbody pouch.
Thu 08.21
"Pale pink for fall?" you say? "Buy pastel now?" you wonder, aghast? I know, I know. It seems a little backwards – but that's precisely what I like about the prospect of purchasing this newly released 3.1 Phillip Lim bag right now.
Mon 08.18
I'm going to say it: the Drew collection is the best thing to come out of Chloé in quite some time. From my initial impression of the classical black style topped with gold hardware to a preppy variation in deep green suede and tan leather and now on to this supremely sportier yet thoroughly sophisticated update, the Drew is maintaining solid momentum.
Fri 08.15
If there's one thing that makes leaving the summer sun behind more bearable, it's the rich hues of fall, and none is more tempting than aubergine (honestly, I think I like saying the word more than anything else!).
Mon 08.11
The king of streetwear reigns on. In the time of hashtags galore, endless abbreviations, and tweets and retweets, Phillip Lim is leading the pack once again, thanks to his new trio of bags that are as much a commentary on our current culture as they are comment-worthy.
Thu 08.07
I knew it was only a matter of time until my girl Jill Haber was going to wow and woo me again, but here is something unexpected…