Messenger/Cross Body
Thu 01.09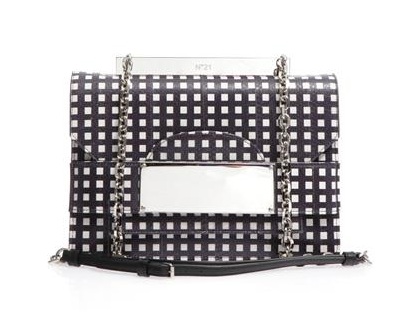 Are you of age? Meet No.21, Alessandro Dell'Acqua's new and first project after parting ways with his eponymous brand in 2010, and no, you don't have to show some ID.
Tue 01.07
There is color-blocking as a trend, and then there is color-blocking as a concept. While the former has been done to death, a geometric combination of shades inspired by artist Piet Mondrian are feeling right at the moment.
Fri 01.03
Ethnic, tribal, exotic, folkloric: whatever you call it, far-off flair is a recurring theme as designers plunge into Resort and look forward to Spring. While some bags lean towards kitschy and over-the-top, when done right, they exude a well-balanced vibe I think of as ethno-chic.
Thu 01.02
How are you liking 2014 so far? It's about to get even better! We're coming to the end of the holiday sale season, which means one thing – that the discounts are the best they've been yet. Take neimanmarcus.com's. It's 40% off already reduced pieces. The bag selections are perfectly varied to please all sorts of Snobs from kitschy Charlotte Olympia Hollywood bags to the more serious Jason Wu.
Tue 12.31
As we look forward to the Resort treats, covetable Spring musts, and everything else tempting us into 2014, let's pause and take a look back at the best of the past year. A lot of bags have come, stolen our hearts, and gone, but only a handful have what it takes to withstand the test of time (even if we're only talking 12 months).
Wed 12.18
Soft lambskin leather plus a clean canvas plus just a dash of hardware plus three color choices: the Elizabeth and James Cynnie bag adds up to a great frugal snob option.
Mon 12.16
It's time for another roundup of my favorite man bags, the ones that have recently inspired me. Not only to do some shopping for the men in my life, but to get in touch with my tomboy side. Minimal and functional, sensible and stylish: they're all about simplicity.
Tue 12.10
In case you'd forgotten, here's when Alexander Wang is at his invaluable best: when he makes practical basics for the girl who likes to keep her cool. It's difficult to find something that speaks to your personal style when something truly practical is required, but leave it to Alex to take on the task and serve up satisfaction.