Messenger/Cross Body
Wed 09.17
The word "utilitarian" gets thrown around a lot when talking bags, but Alexander Wang is taking it literally this season.
Wed 09.17
This outfit makes me want to go pick a few pumpkins, then go sip on an appletini while curling up next to a fire. Is it just me? Rihanna is wearing the coziest outfit ever, draped in a Stella McCartney Long-Sleeve V-Neck Chunky Sweaterdressicon and carrying the corresponding Stella McCartney Crossbody Bag (they're sold together!).
Mon 09.15
The ever gorgeous Emmy Rossum rung in her 28th birthday this weekend with none other than the wine-hued Snob Essentials croco-embossed pouch!
Mon 09.15
Didn't win the Aspinal of London clutch? No matter! We're on to our third Forzieri giveaway bag, and we think you're going to like it. No, not like – love. I make no secret of my Marni obsession, and Tina was equally enamored with Consuelo Castiglioni's colorblocked Trunk back in April.
Wed 09.03

When former CFDA Fashion Incubator mentor Christine Park started Time's Arrow last year, she took inspiration from her mother's bag collection – pieces minimalist in style, yet heavy on interior organization. In this way, the Fall '14 Ishi clutches and crossbodies are certainly on-brand.
Tue 09.02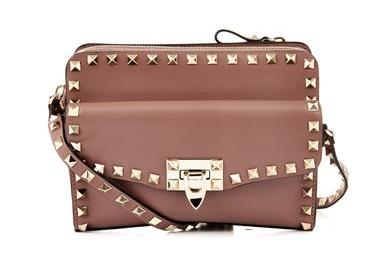 Upon first impression, this looks like your standard gorgeous, Rockstud-bedecked Valentino bag. In reality, it's so much more – with a genius design. Deftly constructed with a slim silhouette, this compact crossbody features a removable pouch that makes up the slender back portion of the bag.
Fri 08.29
Recently, Cathy Horyn succinctly wrote of her longtime nemesis, Hedi Slimane and his accomplishments (or lack thereof) at the house of Yves Saint Laurent: "In two years as creative chief, he has barely broken a sweat as he fetches another pussy bow from the '60s time capsule."
Fri 08.22
Our Fall '14 collection is up and running on HSN.com. For Fall, we took on a jet-set mindset and looked to our favorite European cities for inspiration. Naturally, the effortless ease of Parisian girls, along with their inimitable unstudied mode of glamour, inspired the Paris crossbody pouch.
Thu 08.21
"Pale pink for fall?" you say? "Buy pastel now?" you wonder, aghast? I know, I know. It seems a little backwards – but that's precisely what I like about the prospect of purchasing this newly released 3.1 Phillip Lim bag right now.