Bag Snob
For those looking forward to Tom Ford or Burberry's Autumn/Winter 2016 runway shows this upcoming Fashion Month, I have some disappointing news: they won't be taking place until September. The upside? You'll be able to buy the pieces as soon as the models step off the catwalks! It's crazy to think that every brand isn't doing this yet, but I have a feeling many will soon be shifting runway and retail to coincide over the next few years.
Rose quartz may be my favorite on-trend color that's always tempting me, especially as of late, but like a pretty appetizer instead of a robust meal, I still easily tire of lightweight colors of little substance. That's why black is my mainstay entrée.
Featured Items
Whether you're happily (or unhappily) single, dating, engaged, or married, there's one thing that will bind us all together this Valentine's Day: the love of bags! And if Cupid's arrow strikes just right, you might get to take home one of the best. To celebrate the holiday, Nancy Gonzalez and Snob Essentials are giving away a sweet treat in the form of this glossy pink croc saddle bag.
There are seemingly endless incarnations of the Jimmy Choo Candy clutch. The dense little acrylic box has been adorned with images ranging from an icy cocktail to glowing graffiti spelling the word "yes" to the Union Jack flag, just to name a few. But this latest trumps them all when it comes to coolness. Depending on how you look at the clutch (printed on a lenticular lens), the oversized '80s-inspired eye opens wide and closes shut.
Featured Items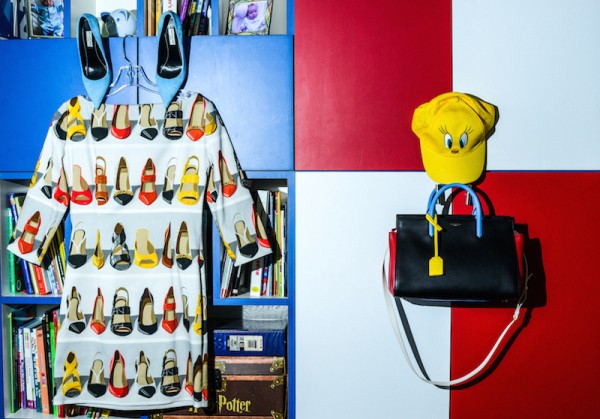 I know pastel colors are the thing this season (and I thank Pantone for the sudden omnipresence of Rose Quartz and Serenity, a fresh take on sky blue), but I still love a good bold color story. Which is why I'm serving one up right now!
Featured Items
Anne Hathaway's been out of the limelight lately, as she prepares for the arrival of her first baby, but all it takes is one stellar red carpet appearance to remind the world of just how chic and fabulous you really are – especially when pregnant. There's nothing wrong with plain old maternity wear for these occasions, but I love when women make non-maternity clothes work in spite of their growing bellies…
Featured Items
Chinese New Year is coming up on February 8th. Since it's an auspicious time when wearing the right things will bring you good luck, I've gone ahead and rounded up the best and most appropriate pieces for the occasion. And remember, as well, that for the feast, you must eat long noodles (for long life), dumplings (they symbolize money!), and an entire fish served with the head and tail intact…
Featured Items
Sometimes a kiss is more than a kiss (the best ones are, anyway!). That's certainly the case with my new NH 1300 necklace from Nouvel Heritage. I love the idea that you never own jewelry; you're merely holding it for the next generation. And as one of the most sentimental pieces I've collected, this diamond-encrusted treasure will surely be passed on and cherished. Not only can you engrave a name on the side of the charm, but it also comes engraved with your – or a loved one's – pout.
Featured Items
I don't usually recommend fixing what isn't broken, but the execution of the new Double (pronounced "dooblay") bag is nothing short of pure Prada perfection. Now my go-to daily tote is better than ever with an updated look as sumptuous as it is chic. Thanks to the marshmallow cream and caramel version, I'm salivating as I write this, dreaming of my favorite salted caramel sundae that's totally verboten on my January health kick (I'll be back to eating steak et frites and cupcakes by February). Until then, the bag will satiate my craving.