Patent Leather
Rose quartz may be my favorite on-trend color that's always tempting me, especially as of late, but like a pretty appetizer instead of a robust meal, I still easily tire of lightweight colors of little substance. That's why black is my mainstay entrée.
Featured Items
Lately, I've been carrying around my wallets-on-chains more than any other bags, especially while traveling. It's so liberating to know you require nothing more on your shoulder than your cell, ID, a bit of cash, and a credit card or two.
Texture is a word that comes up a lot when talking bags. Smooth, grainy, rough, pebbled, furry, plush, soft, rugged…there are endless varieties and almost as many ways to describe them. But some bags out-texture the rest, so to speak.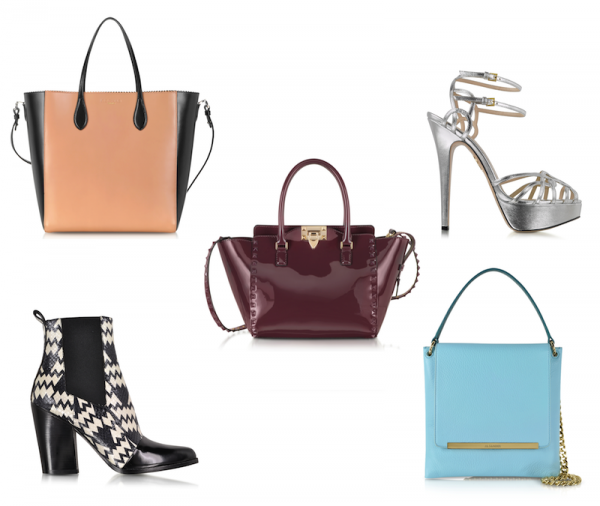 Nothing combats a mean case of the Monday blues like some surprise sale action, so to kick off the week right, Forzieri.com is holding a five-day exclusive Snob special. From today through Friday, November 21st, enter the Snob code "SNOB30" to receive 30% your order of at least $500 on all Fall/Winter collection bags and shoes.
Seasons and decades can pass, but Mark Cross' classic Grace box never gets old. Then again, that's not to say that some fresh embellishments won't make the eternal style suddenly feel like a must-have of the moment…
Behold: the decadent of the decadent. What could be more luxurious than a tote deeply understated in shape, set in polished crocodile? One that's deep emerald green crocodile. While everyone knows that Azzedine Alaïa knows his way around a mean laser-cut perforation, I believe sumptuous skin combined with a subtle silhouette is where he really shines.
You know I love a good pouch. That slim silhouette and slender profile are all I need for my absolute essentials some days, but sometimes you crave a pouch with a little more staying power, so to speak. One that you could technically squeeze a little more into if you needed to, one with a strap. Like Tamara Mellon's Attraction bag.
I say this with confidence: When it comes to mastery of the craft and virtuosity of divine execution, Maria Grazia and Pierpaolo are unparalleled. In a most emotional Fall 2014 show, the pair made their inspiration felt by each and every onlooker: unconventional women deeply rooted in a moment of change.